Samson StudioDock 3i Monitors with iPod Dock
Samson is a small manufacturer of studio gear and audio monitors. Nope - not a typo - a different company from Samsung. Good luck with that one. Back on topic - Samson just released a new speaker system that's perfect for your office, home studio, or listening room. The StudioDock 3i system is a pair of studio-quality monitors, one with an iPod dock and USB interface. You can mix your music and check playback, all on the same system.
The StudioDock will charge an iPod that's docked, and because it uses a USB interface, the quality is great. What's even better?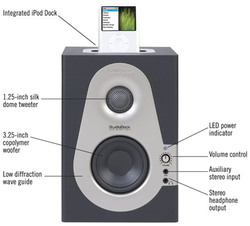 The StudioDock 3i has a built-in 30 watt amplifier to provide 15 watts to each speaker. Each speaker features a 3.25-inch copolymer woofer and a 25mm silk dome tweeter, all magnetically shielded.
A front panel 3.5mm input lets you plug in other sound sources easily, and there is a headphone jack so you can listen to the iPod while it's charging.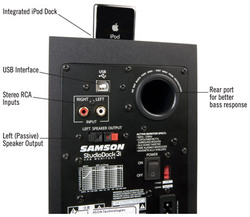 This seems like a really attractive solution for someone looking for a self-contained iPod playback system. -Leslie Shapiro
Via Samson
LATEST VIDEO
WHERE TECHNOLOGY BECOMES ENTERTAINMENT