S1Digital FX Edition Media Center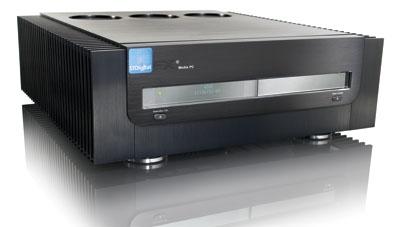 A computer in the living room? Madness! Computers are big and noisy. They aren't reliable, they aren't remote-controllable, and they can't even handle high-def. Keep them the hell away from my media room!
Yes, yes, you may know all those arguments, too. But if you've never considered putting a PC in your media room, think again. For one thing, it totally fits with our modern, multitasking lifestyles. We're always doing several things at once: checking e-mail, surfing the Web, editing photos, all while watching our favorite TV shows. And besides shifting those common home-office tasks to your living space, today's new generation of Windows Vista PCs - with their massive hard drives and sophisticated Windows Media Center interfaces - are the perfect vault for storing and accessing all your media.
One company that has embraced this concept with both arms is S1Digital. Its new FX Edition Media Center is a custom-designed, Vista-based Media Center PC built for the high-definition living room from the ground up. And while Windows Media Center PCs are nothing new, the FX is among the first dedicated entertainment servers to take advantage of Vista's ability to support a CableCARD high-def tuner. At least in theory, this not only means you can store and play back all your photos, music, and movies, but you can also record shows in high-def directly off your cable service. (Previous Media Center PCs have been restricted to off-air recording of high-def channels.) To sweeten the pot, S1Digital even stocks the FX with a dual-format HD DVD and Blu-ray Disc drive, eliminating any format-war woes.
The Short Form
Price $6,148 / s1digital.com / 888-632-6897
Snapshot
Ultra-quiet operation, a dual-format high-def disc drive, and a slick interface offset the occasional Vista quirkiness in this high-end living-room PC.
Plus
•Simple-to-use interface •Terrific channel-guide options •Support for both HD DVD and Blu-ray Disc •Whisper-quiet
Minus
•Slow channel changing •Occasional restarts required
Key Features
System as tested: •FX Edition Media Center ($5,499) •Dual CableCARD tuner option ($450) •Autonomic Mirage Media •Controlsoftware ($199) •Intel Core 2 Duo 2.66-GHz processor, 2-GB RAM, 1-terabyte storage •Windows Vista Ultimate operating system •NVidia GeForce 8500 graphics card optimized for high-definition playback, with scaling up to 2560 x 1600 •Combination HD DVD and Blu-ray Disc drive that also burns DVDs and CDs •Stores music, videos, photos, and TV
But this is all new territory: Vista Media Centers, and especially Vista with CableCARD, are virtually untested in the marketplace. And with Vista getting some negative press these days as a still-buggy operating system, I was excited but wary as I pulled my FX from its box. Would it serve up good times? Or would Vista crash the party?
Setup Let's start with the hardware. Appearances and heft can tell you a lot about an A/V component - and you'll know from the minute you set the FX Edition Media Center on its shelf that it's a serious bit of business. Its weight and build quality reminded me of a good multichannel amplifier, thanks to sturdy heat sinks that line the sides. These cool the hot-running silicon via passive heat pipes, thus avoiding the noisy fan that's a fixture in most PCs. The result is essentially silent operation: Short of putting your ear on the chassis, you can't hear any mechanical noise whatsoever.
The front panel is sleek, with only Power and disc Open/Close buttons and a two-line, scrolling display. The rear panel, meanwhile, has everything needed to connect to your home theater system. For video, you'll find HDMI and DVI-I, as well as a multipin connector with an included dongle for breaking out component- and S-video, plus a SCART plug for European TVs. Audio connections include four minijack outputs for 7.1-channel analog, as well as a TOSlink digital audio output. (My unit also had eight RCA analog audio jacks that are currently inactive but could be tapped later.) Additionally, there are six USB 2.0 connections, an IEEE-1394 (FireWire) connection, an eSATA connector for adding external eSATA storage, and a Gigabit Ethernet connection. Given that so many features of Windows Media Center involve Internet downloads, a broadband connection is a prerequisite.
The HDMI output is currently limited to video only, but S1Digital expects this to be resolved in an HDMI 1.3 upgrade next year. (Current owners can expect to pay about $250.) Even without 1.3, though, the FX will decode Dolby TrueHD and DTS-HD Master Audio soundtracks from the high-def disc formats onboard and output them via the 7.1-channel analog jacks. The TOSlink digital output carries all other audio signals.
As noted, one of the big advantages of Vista-based machines is their ability to integrate with CableCARDs for receiving and recording encrypted cable channels without a cable box. My system was outfitted with dual CableCARD slots as well as an ATSC off-air digital tuner, with each tuner requiring its own cable feed. (DirecTV is reported to be working on a Media Center CableCARD as well, which S1Digital says will be field-upgradable.) Of course, if you've ever done it, you know that installing a CableCARD is (insert sarcasm here) a treat in itself, and it typically requires a visit from your cable company. In my case, two visits and several phone calls were required before it was up and working.
Included with the FX is a Logitech wireless Bluetooth keyboard with a built-in fingerpad for mouse-pointing. But if you restrict the FX to functioning solely as an entertainment server - something that S1Digital recommends - you'll more likely find yourself using the included IR Media Center remote to operate it, or one of the third-party controller options. For instance, there are modules that support advanced control with Crestron, AMX, and HAI automation systems. My FX also came loaded with Autonomic Control's Mirage Media Control software, which delivered a touchpanel interface on Flash-enabled Web browsers. Also due soon are reasonably priced remotes that take advantage of Vista's SideShow capability, displaying metadata right on the remote to allow file selections without powering up your display.
Final installation includes some simple configuration - mainly, setting up the electronic program guide, selecting the TV aspect ratio and resolution, and establishing the media sharing among other computers on the network. Incidentally, these and all other installation tasks should be handled by the dealer; the FX is not available directly to consumers.
One of the coolest features of Windows Media Center is the ability to stream programming to extenders located in other parts of your home. Currently, up to five extenders can be supported, each streaming an independent program. Vista extenders are just now reaching the market - but I used an Xbox 360 as an extender, and it worked wonderfully. It delivered the same interface as the main zone and enabled remote viewing of live and recorded programs, including those in HD; it also let me browse my entire photo and music library.
Performance Any review of a Windows Media Center PC is as much a review of the operating system as it is of the hardware (if not more). And whatever your feelings about Microsoft, you can't deny that its Media Center has a slick, simple-to-use interface. Activities are intelligently divided into TV + Movies, Sports, Online Media, Pictures + Videos, Music, and Tasks. The majority of system control is reduced to just Up, Down, Left, Right and Enter, making it easy enough for anyone to master. The display is also optimized for widescreen TVs, with media spreading the width of the screen and allowing the display of more information at once.
The FX includes DVR functionality in spades, and the 1-terabyte hard drive can store approximately 100 hours of high-def programming. For the most part, watching TV from a media server is no different from using any other tuner. However, the FX was slow to change channels, taking about 2 seconds between button presses - a potential bug for inveterate channel-surfers.
LATEST VIDEO