Roku Announces OS11.5 Upgrade & New Products for Fall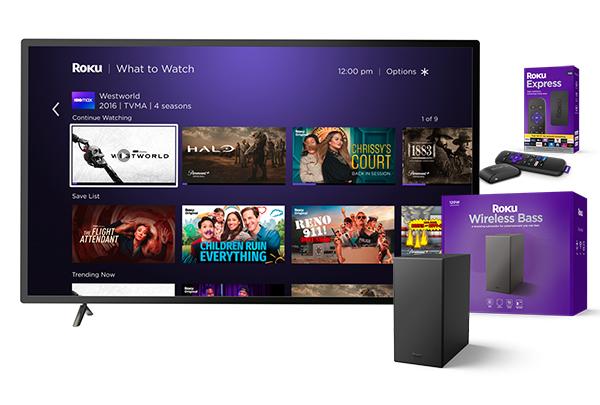 Roku just announced the Roku OS11.5 update to its operating system. This update includes improved discovery features for users to find and stream what they want to watch from the home screen. The fall virtual press conference also brought news of a lower-priced Roku Express player and wireless subwoofer.
Roku OS11.5
Roku OS11.5 will roll out to devices over the coming months. While it is not considered an entirely new operating system, several changes help users quickly find shows to watch and immediately stream them. The update includes additions to the What to Watch submenu, organization of the Live TV guide, and a new display for voice search results. The Buzz home screen tab offers users a peek into what's available from various streaming services with posts that show trailers and news about series and movies.
Continue Watching and Save List rows are included in the What to Watch tab. With Continue Watching, users can directly restart watching movies that have been paused or play the next episode in a series. This is an aggregate of shows across multiple services. The first partners in the Continue Watching Row are Netflix, HBO Max, Paramount+, and The Roku Channel, with more expected to be added in the future.
The Save List Row also includes movies and series across different services where users can directly play a title from the list. The updated movie or TV show details page has a new "save" option. The Save row will appear In What to Watch after the first title is saved. Users can also add titles to their list from the mobile app, so they don't forget a title when friends or co-workers make recommendations.
Along with the ability to save titles to the Save List from the details page, there are more updates. A title's detail page will display where the title is available to stream for free, on premium services to which the user is subscribed, and other options. Cast and crew images are also shown on the detail pages.
Updates to the home screen menu help users access recommendations and content they want. One new submenu is The Buzz, a new concept in discovering what to watch. Participating streaming partners will post short videos — trailers, interviews, etc. — about movies and TV shows they want to promote. From each post, users can either follow a channel to be updated on its news, immediately view the movie or TV show, or add it to their save list. At launch, partners include AMC+, Apple TV+, BET+, Crackle, Hallmark Movies Now, IGN, PLEX, Popcornflix, SHOWTIME, Starz, The CW, Tubi, Vevo, and Wondrium, with more services promised for the future.
Also on the home menu is the Roku Store tab, which includes free and paid channels organized into categories. Roku also announced plans to create an integrated shopping experience in the coming months.
Roku OS11.5 will also add features to improve browsing or searching for titles. With over 300 free linear Live TV streaming channels, including Roku TV, users have had to endlessly scroll to find what they want to watch on a live TV channel. The update has a category option for the Live TV guide, where channels can be separated into genres. In addition to News, Sports, Movies, Kids, Crime, Music, and En Espanol, new categories include Recents, Favorites, and Subscribe channels for premium subscribers.
Searching with Roku Voice has been a limited experience where users have had to use the remote to choose from the results. New visuals have been created for the results when using Roku Voice: a display will appear at the bottom of the screen, making it easy for users to select the channel they want.
The updated operating system also improves hardware integration. A Roku TV can automatically name an input when it recognizes that a Blu-ray player, set-top box, gaming console, or other device has been connected.
Private listening with Bluetooth headphones is available on more devices, including the Roku Ultra, Roku Streambar, Roku Streambar Pro, and Roku Smart Soundbar. Once paired, wireless headphones can be easily connected or disconnected in the Options menu or set to connect automatically.
New Value-Priced Products
This fall, Roku is releasing a new Roku Express. At $30, the HD player is the most affordable streaming player in the company's line. Dual-Ban Wi-Fi has been added along with a "powerful processor" (specs are not yet available). The Roku Express is available for pre-order and will ship in mid-October.
Roku also announced a new compact Wireless Bass subwoofer for use with the Streambar, Roku Wireless Speakers, or Roku TV Wireless Soundbar. It's slimmer and smaller than the existing Bass (now named the Wireless Bass Pro) so it will fit in tight spaces beside a sofa or under a coffee table and has a 5.25-inch woofer (the Pro has a 10-inch driver). The new subwoofer is priced at $129 compared with $179 for the Pro. The Wireless Bass is available for pre-order at roku.com and Amazon and will be available on November 7.