Review: V-MODA Crossfade M-80 On-Ear Headphones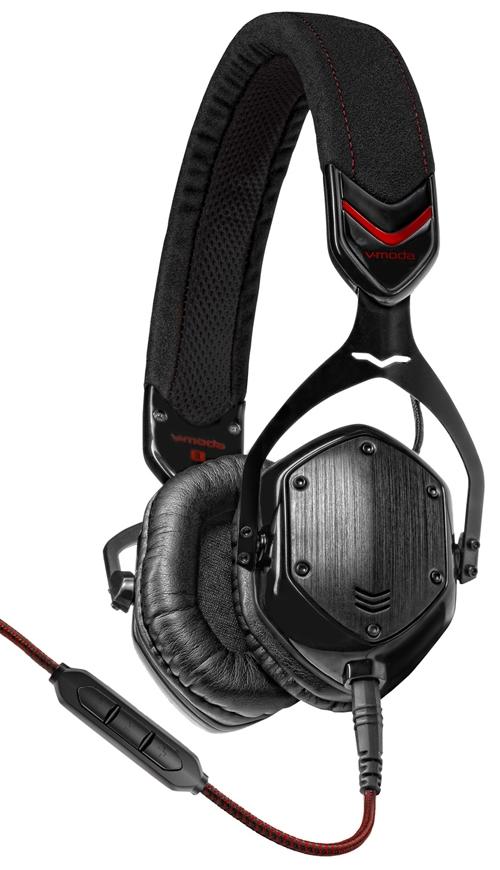 "Style your hair for best sound." Already done, V-MODA. Already done.
Located on a wraparound removable sticker on the left earcup, this statement is my first introduction to the new Crossfade M-80 headphones. I'll forgive them for being baldists.
The right earcup sticker: "Red for right side." You'd think a simple "R" would suffice, but such banal lettering would presumably foul the stylish design.
And what a design it is. All angles and metal, it's like a 1970's Giorgetto Giugiaro and Hattori Hanz? hooked up at a gothic wine mixer. They're a smaller than they look in pictures, definitely "on-ear" and not "over-ear." The build quality is pretty fantastic though, with steel throughout, a suede headband, and "ergosoft memory foam" earpads. The removable cable is Kevlar-reinforced, and is nearly impossible to tangle. Two come with the M-80s, a single-button version, and a 3-button version, both with built-in microphones. An "exoskeleton" case is included, having the appearance of an alien carapace. So far, impressive.
Oh, there's the "R." It's on the inside of the band. Ooo, and an "L" too. The "L" is on the other side, but you probably guessed that.
Interestingly, even with all the steel, the M-80s aren't particularly heavy. They're probably the most comfortable on-ear phones I've tried. Usually this category is my least favorite headphone design, given they rarely fit well on my head. Headphone comfort is about as personal as you can get in consumer electronics, so YMMV. On my head at least, there wasn't a lot of on-ear pressure needed to keep them in place.
Performance
I started with my iPod, figuring that would be what most people would use. Jayme Stone & Mansa Sissoko's 2008 album Africa to Appalachia is an intriguing mix of acoustic instruments from America and Africa. The first track, "Bibi" begins with Sissoko's kora (a West African harp) descending melodically. There is a little less openness and atmosphere on this track through the M-80s than I've heard before. The soundstage was decently wide, though, spreading to what seemed like the outer edges of the headphones. Once the rest of the band comes in, it's apparent that V-MODA likes their headphones to have a bit of bass. Ok, a lot.
The M-80s have a very bass-heavy sound, which I typically like, but it's not the most neutral sound. With some tracks, they bordered on boomy. "Like You Do" from Bill Janovitz's 2001 solo album Up Here is largely just him and an acoustic guitar. The guitar had an overly full sound, more so than I've heard with other bass-heavy headphones.
I switched over to the frustrating-to-use-but-great-sounding HiFiMan HM-801 in USB DAC mode. The same Bill Janovitz track was less boomy, exhibiting the better bass control off the HM-801. It was still very heavy, though.
The percussion and Brandi Carlile's guitar on "Turpentine" from her 2007 The Story didn't have the immediate hit some other headphones have on this track.
V-MODA has a free app for Apple and Android that streams remixed tracks. It also gives some insight into the style of music they expect played through their headphones. So far, I've clearly been off the mark. Challenge accepted. Switching back to the HM-801, and digging into my own library for some four-on-the-floor, I gladly clicked on "Around the World/Harder Better Faster Stronger" from Daft Punk's epic Alive 2007 album. Much better. Now the extra bass was an asset. The French duo's beats and synths sounded fantastic, as if the V-MODAs were made for them.
The same was true for "Going Out of My Head," Fatboy Slim's classic from his 1996 Better Living Through Chemistry. The pounding bass and drums didn't overwhelm The Who samples.
Bottom Line
A substantial portion of the cost of these headphones is for the design and build quality, the latter being among the best I've seen. They are fairly comfortable, and do a reasonable job with noise isolation.
But on the sound quality side, the M-80s are sort of mixed bag. They're clearly designed and marketed towards a pretty specific audience, and that audience I'd imagine would welcome the big, bass-heavy sound. For those looking for a more neutral sounding headphone, there are better options, often for less money. Admittedly, though, few other headphones have the substantial build quality of the Crossfade M-80s. Chances are, if you like the look of these, you'll like the music the designers clearly like, and they'll be just right for you.
LATEST VIDEO