Real World Receivers Page 3
The VSX-D850S also offers extras like preamp outputs for all channels and all-channels digital noise reduction that can actually improve the listening quality of a truly noisy source, such as a distant FM station or a hissy analog tape. If you're looking specifically for tasteful DSP modes to subtly enhance stereo and surround-encoded music, you'll probably have to spend a good deal more. Otherwise, this Pioneer receiver performs its primary functions quite well at a reasonable price.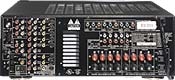 Denon AVR-2802 Over the years Denon has consistently taken a no-nonsense approach to receiver design, and the AVR-2802 is no exception, being light on the frosting and heavy on the cake. It has six solid amplifier channels and 5.1/6.1-channel decoding that even includes DTS-ES Discrete. The AVR-2802 also incorporates the intriguing DTS Neo:6 and Dolby Pro Logic II processing modes, both of which are designed to let you hear stereo recordings in a convincing simulation of 5.1-channel surround sound.
The receiver's front follows the basic layout of numerous recent Denon receivers, with a handful of buttons and just three knobs. You use the lower right knob to scroll through sets of parameters or options selected by the four adjacent pushbuttons - a clean and sensible user interface. The busy display is cramped and thus not as legible as it could be if viewed from any distance. Fortunately, Denon's onscreen menu system is comprehensive and intuitive, handily filling the gap.
The AVR-2802's rear panel is very well equipped, with ample analog inputs and outputs for both audio and video signals. Surprisingly, it's the only one of the three receivers to lack a front-panel input for a camcorder or game console. And, as with the Pioneer and Sony, the digital audio facilities could have been more generous - a single coaxial input and zero coax outputs seems stingy for $800.
Once installed, the AVR-2802 quickly impressed me with its well-balanced, flexible performance. Despite its relatively compact size, it has more than respectable power reserves. Playing a new DVD-Audio disc of Dvorak's Ninth Symphony (Teldec), the receiver had no difficulty delivering the final movement's many full-orchestra climaxes with fine dynamic "bite" and impact - along with the delicate, three-dimensional detail, stark dynamic contrasts, and lifelike hall "air" that are the signature of a good DVD-Audio recording.
I tested the receiver's Dolby Digital decoding with the DVDs of Pay It Forward and other movies and found it to be of an equally high order. While that particular soundtrack is no audio spectacular, having its subtle ambient sounds - like the softly trilling slot-machine bells and buzzers in the casino scenes - reproduced in a balanced, clear, and well-placed manner definitely enhanced the movie's presentation.
Perhaps the AVR-2802's most valuable bonus is Dolby Pro Logic II, which I still marvel at six months after first encountering it, and DTS Neo:6. Both are designed to create 5.1-channel playback from stereo or matrix-encoded surround sources. The receiver has five more ambience modes - including the usual Rock Arena and Jazz Club options - plus a Mono Movie setting and a simple matrix-surround mode. But I almost always returned to DPL II, which has distinct Music and Cinema (or Movie) flavors, and occasionally to DTS Neo:6 for studio pop or jazz.
Comparing "straight" playback of the 5.1-channel Dolby Digital soundtrack of Pay It Forward with quasi-5.1 playback using DPL II Cinema processing on the DVD player's downmixed analog stereo output revealed fewer audible differences than you might expect. For example, the change in the slot-machine ambient sounds when Kevin Spacey enters the casino, while audible, was far less dramatic than the shift from Dolby Digital to original-flavor Pro Logic would be. DPL II Music also sounded consistently outstanding.
---
LATEST VIDEO