Real World Receivers Page 2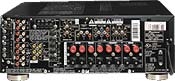 Pioneer VSX-D850S The Pioneer VSX-D850S is the most affordable of the three receivers, likely because little money was spent on fancy features or styling. The chassis is plain sheet metal, and there's a relatively unadorned remote control. Nonetheless, the remote is intelligently laid out, and the understated but attractive front panel has a fold-down door that conceals everything but two knobs and the power switch. The simple amber dot-matrix display is readable from across the room - a good thing since there's no onscreen menu system.
The receiver has two selectable inputs for component-video sources. The most intriguing back-panel feature, however, is probably the "7.1"-channel analog input. There's the usual 5.1-channel sextet plus two back surround inputs, which are mixed together and sent to the back surround output.
In terms of ergonomics rather than economics, the VSX-D850S deserves only modest praise, mainly because of its boat-shaped remote, designed to control up to eight additional devices. My beefs are not so much with what it does - all the basics you'd expect from a system remote - but with how it does it. For example, every time you press one of the eight component/input selection keys at the top, you have to press the RCV (receiver) button again before you can control any receiver functions beyond volume adjustment and muting. Conversely, if you simply want to select which component the handset will control without switching receiver inputs, you must perform a byzantine ritual to disable the Direct Function mode.
The remote's function labels are small, and between that and the color scheme, they're almost impossible to read in low light, but there's also no backlighting or even glow-in-the-dark keys. The layout is somewhat peculiar, with the master volume keys in the lower right where they're hard to operate one-handed. The good news is that a small, eight-character LCD readout helps you keep track of modes and operations, particularly during setup.
To select surround modes, you have to step sequentially through the options, but these are usefully subdivided into two groups accessed by the DSP or DD/DTS keys on both the remote and the front panel. The six DSP (digital signal processing) modes, applicable to two-channel and multichannel sources alike, are mostly of the excessively reverberant type. Dubbed Hall, Dance, and so on, they'll probably be quickly dismissed by anyone interested in serious surround music listening. The sole exception is Theater 2, which seems to be a sensible application of logic steering to enhance playback of two-channel stereo sources.
The VSX-D850S offers four Advanced Theater modes - Musical, Drama, Action, and 6-D Theater - that also apply DSP effects. Again, most of these have too much synthetic reverb for my tastes. The 6-D Theater mode made multichannel music sound a bit dizzying, but it did spread stereo music interestingly around six channels, especially near its lowest setting.
But I doubt many shoppers will consider the VSX-D850S for its DSP modes. Most will be looking for a flexible, 6.1-channel receiver with all the important facilities, plenty of solid power, and a great price - and the Pioneer certainly delivers those. The receiver's "straight" stereo or multichannel playback was excellent. Sound was clean and accurate, and it drove my home theater speaker system to satisfying volume levels despite its being about half as powerful as my reference amplifiers.
---
LATEST VIDEO