RBH Signature Series surround speaker system
RBH Sound has been around for 25 years, but don't think you're out of the loop if you haven't heard of the Layton, Utah company. My introduction came only a few years ago, and I've been in the loop a long time. RBH built speakers for other brands for many years, but began concentrating on establishing its own brand name about six years ago, when the home-theater boom began. Today their products are sold through 400 dealers and custom installers. After spending a few months with one of RBH's top-performing, most expensive systems, I can tell you that finding one of these dealers will be well worth your while.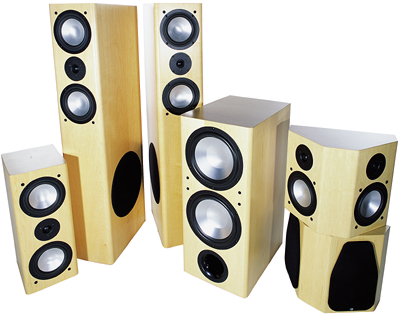 The RBH system I reviewed—two floorstanding RBH 1266-SEs, a 661-SE center-channel, two 66-SE bipole surrounds, and a 1010-SEP powered subwoofer—retails for around $8046, finished in your choice of more than 30 natural veneers. In black, it'll set you back $6426. If you have a chance to see, touch, and hear this assemblage, you'll wonder, as I do, how they manage to sell it for so little.
The Aluminum Connection
Save for the subwoofer, all speakers in the system under review use variously configured pairs of identical 61/2-inch aluminum midwoofers (built in-house) and 1-inch silk-dome tweeters from Vifa (each bipole/dipole surround uses two of these). Side-mounted 12-inch aluminum-cone woofers complete each 79-lb 1266-SE tower, while the powered 1010-SEP subwoofer sports two 10-inch, front-mounted aluminum cones.
Lightweight and stiff, an aluminum cone can respond quickly and operate pistonically up to or near its conveniently high resonant frequency, well above the speaker's passband. However, once the resonant frequency is reached, the driver can ring, if not like a bell, then at least like an aluminum funnel, creating problems in both the frequency and time domains, so the first breakup mode must be effectively suppressed or the material's advantages will be lost. RBH uses a steep crossover design and a combination of thin, lightweight epoxy damping applied to the cone's rear side, a special surround material, and an inverted dustcap to help ensure that the driver's breakup mode is well out of the audible range.
But the cone material is hardly the sole determinant of a driver's performance. RBH also uses voice-coil formers of high-temperature-tolerant, aerospace-derived Kapton, long coil assemblies for increased throw length, and rigid, die-cast speaker baskets.
No-Nonsense Styling, Superb Build Quality
You can order the Signatures in any one of 30 high-quality natural veneers. Their appearance isn't likely to wow you, but their fit'n'finish is superb. For me, there was no denying the raw power and feeling of precision and authority exuded by those aluminum drivers with their dished, shallow metal cones and protruding, gleaming-black surrounds.
While the two 1266-SEs dominated the system, the other speakers are hardly afterthoughts. RBH's 661-SE, used here as a center-channel, can also be used (positioned vertically) as a left/right speaker in a less expensive system. Its reflex port can be used open or closed; a plug is provided for the latter option. I used it closed.
The 1010-SEP, 350W powered subwoofer, with its front-mounted, double-driver stack and port, is almost a tower itself. And the angular 66-SEs are similar in design and function to most dipole surrounds, with their woofers wired in phase and tweeters out of phase. This provides a spacious overall presentation combined with good bass response. RBH refers to them as bipole/dipole designs because of the in-phase woofers, but they operate in one mode of operation only and do not offer an option of two different modes, as their bipole/dipole designation might suggest.
Solid, heavy, well-braced, precision cabinets of MDF, high-quality wood veneers, biwirable gold-plated terminals, stylish feet, and well-made grilles add to the appeal of the Signature package. RBH is clearly trying to give excellent value for money. $2899 for a pair of 4-foot-tall, 4-driver, 3-way, full-range, 79-lb speakers? In some parts of the specialty audio world, that's the tariff on tiny 2-way bookshelf designs.
Heavy Lifting, Easy Setup
While a pair of 1266-SEs—or any other full-range speaker—deserve careful placement for optimal sound, in the usual home-theater environment they must sit dutifully on either side of a big-screen monitor or behind a drop-down screen, and wherever those might have been placed usually has little to do with room acoustics. My home theater is no exception—it's not a "dedicated" anything except a living room. Fortunately, it works well with even full-range speakers, though they must be placed dangerously close to the rear wall—an invitation to uneven bass response. The subwoofer sat in its usual space, to the left of the left speaker, the center atop my Philips 55PP9701 55-inch, HD-ready monitor, carefully angled down toward the listening position. The surrounds were on stands to the left and right of my couch.
I ran the 1266-SEs with my A/V receivers/surround processors set for both Large and Small L/Rs to see how they performed both full-range and above 80Hz, and to hear the 1010-SEP sub's performance in both sat/sub and LFE-only modes. To perform the same test when listening to multichannel and 2-channel SACDs through Sony's XA-777ES SACD player, I used the Sony's own bass management and the analog pass-throughs of the two receivers I used for the review.
Dialing in the subwoofer to get a smooth blend proved very easy. In fact, optimizing the RBH system's overall performance proved surprisingly trouble-free, despite the low-frequency heft of the 1266-SEs.