ray, Blu-ray, Coming to the U.S.A.
As we predicted last month, Bond's going Blu. Blu-ray, that is. Just announced from MGM and Twentieth Century Fox Home Entertainment, the same six titles that were being released in France will be available in the States, just one day after their October 21st European release, not November. Scheduled for release in late October are: Dr. No, Die Another Day, Live and Let Die, For Your Eyes Only, From Russia With Love, and Thunderball. The timing couldn't be better.
With the debut of Quantum of Solace in November, the release dates can't be an accident. The Blu-ray release of these six titles will certainly up the hype for the theatrical debut of the 22nd 007 flick.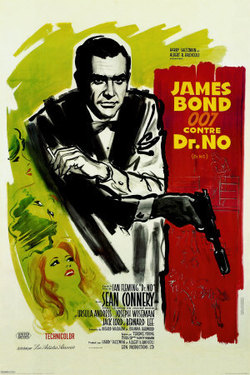 The first Bond movie to make it on Blu-ray was Casino Royale back in March, and it's still one of the best-selling Blu-rays to date.
The six classic movies will be treated to some tender loving care. Frame-by-frame restoration, remastering, and lots of special features will make these a must-have for any Bond aficionado. While the choice of titles for this initial release could be questionable (where's Goldfinger?) you have to admit these will all look and sound stunning on Blu-ray. Crack open the vermouth and shake up a martini; October can't come soon enough. -Leslie Shapiro
Photo by Ken30684
Dr. No poster for sale at Art.com

LATEST VIDEO