PSB SubSeries 450 Subwoofer Review Page 2
Reliving my youth, I played some bass-intensive rap from the Beastie Boys ("No Sleep Till Brooklyn"), Run-D.M.C. ("It's Tricky"), and N.W.A. ("Dope Man"), each at high level, to see if I could make this beauty break under intense pressure. I failed: The little guy played flawlessly no matter how loud I cranked the volume. All the while, the bass hit hard and clean, just like it should.
As much as I enjoy music, though, my true passion is movies. And after witnessing such a strong performance with music tracks, I was ready to see if this mini-beast could compete with my much larger subs.
Triple Feature
The Finest Hours, starring Chris Pine, is based on the true story of the greatest rescue by a small boat in Coast Guard history. While the script is a bit dull, the rescue sequence sounds amazing in DTS-HD Master Audio 7.1. As the Coast Guard vessel attempts to make its way out to sea, Mother Nature does her best to crush the 36-foot wooden boat by assaulting it with 60-foot waves. I expected a thunderous pounding to fill my room—and the 450 was more than up for the task, even causing some minor shaking in my subfloor. Not bad!
PSB says that equipping the 450 with a 12-inch woofer and two 10-inch passive radiators enables the sub to have usable response down to below 20 Hz. So, to test the company's marketing-speak, it was time to throw some truly low-frequency material its way.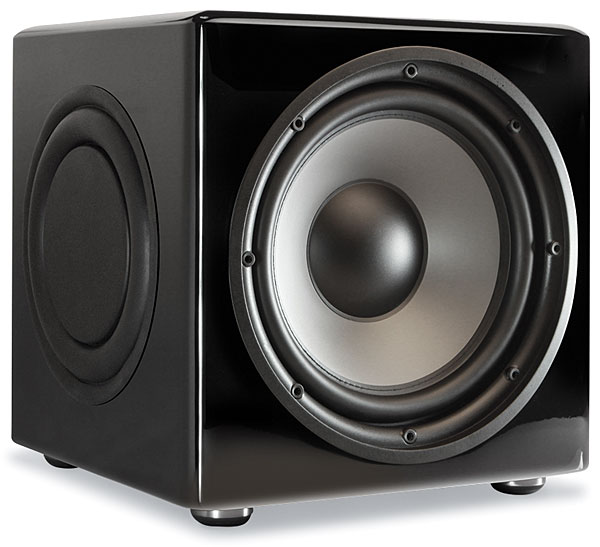 Toy Story 2 was my son's favorite movie when he was a toddler, and I've seen it more times than I can count, but its opening sequence remains a true torture test for subwoofers as the logo reveal plumbs the depths of audible frequencies. Additionally, when Buzz enters the atmosphere, there's a sustained sequence of deep bass that you can feel in your chest if your sub is up to the challenge, and there's a loud burst when Buzz kicks in the afterburners. Out of the gate, the 450 performed well with the fireworks that complement the Disney logo (before the countless trailers cue up). Once the movie started, however, the physics of the relatively small enclosure finally came into play.
That logo reveal should almost overpower a room with acoustical energy, but this just wasn't the case with the 450. While it did produce some output, it seemed to run out of gas in the very deep bass, at least compared with each of my reference subs (playing individually). There was sound, to be sure, but little punch for this kind of low-bass content, and some direct A/B comparisons really highlighted the 450's limitation in this regard. When the logo slammed on the screen, it did so with a whimper, not a bang. Furthermore, I couldn't feel the sonic impact of Buzz's afterburners.
I experienced the same phenomenon with the Darla scene in Finding Nemo. With the 450 in place, I didn't have to "find my happy place" because the bass response didn't give me that feeling of the world crashing down around me—the feeling I get from both, albeit much larger, Hsu and SVS subs. Rather, it was more like a hard knock on the door from an overzealous Kirby vacuum salesman—definitely not the audio experience that the bass zealot in me lusts for.
Conclusion
Still, let's put all this in perspective: I'm comparing a 12-inch compact subwoofer with either of my reference subs, one of them also a 12-incher and the other a 15incher, and each benefiting from an enclosure more than twice the size of this relatively compact PSB sub. And I'm comparing them in a large theater room of just under 5,000 cubic feet! It's hardly a fair fight.
Overall, I'd say the SubSeries 450 is a very good subwoofer that performs quite well given its size—which may be what PSB was after in the first place. The build quality is top-notch, and its performance with music is some of the best I've ever heard. That said, when you're faced with a retail price of $1,499, it's reasonable to want more bass output and impact on the low end.
I have little doubt it's possible to achieve that for less money elsewhere, though probably without the fit-and-finish and compact size of the 450, and perhaps at the sacrifice of some performance within its optimal range. So, there's probably a place in the world for this subwoofer. If you're not sensitive to the price—and you're looking for a smaller sub that will turn heads with its design and flawless paint job, impress you with its outstanding music performance, and deliver commendable (though not earth-moving) sound with movies—then this PSB may be just your ticket.