Proper Modulation - Insights & incisors: Q&A with Gary Dell'Abate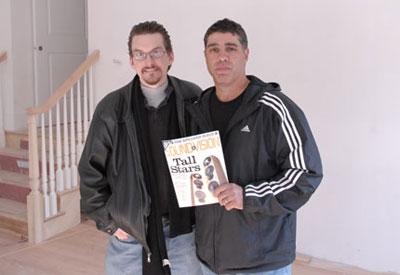 S&V Editor-in-Chief Mike Mettler (left) with Gary Dell'Abate
What's your take on the possibility of a Sirius-XM merger? I'm thrilled about it, and not just because I work there. The consumer will get more options in one radio. And we'll double our audience.
It's got to go through three levels: First the shareholders, which shouldn't be a problem. Then the FTC, the Federal Trade Commission, which has to rule whether it's a monopoly or not, and we're hoping there won't be any trouble there. And then there's the FCC, and that's the one where they say it's going to be tough. The thing I'm getting out if it all is, they're not going to make it easy, but it'll probably happen.
What are your favorite Sirius channels? The '80s Channel, of course. I also like First Wave a lot, too. I didn't think I'd like them, but I dig the classic-rock channels - The Vault, Classic Vinyl, and Classic Rewind. I also like Underground Garage, Hits 1, The Spectrum, Octane, Alt Nation, and Raw Dog. And I get a kick out of The Strobe. I'm not religious, but I can go for a good gospel tune once in a while on Praise.
Do you remember the first album you bought? I do. My older brother was sending away for one of those Columbia House things - you know, three or five records for a penny - so he let me pick one. I picked Gary Lewis & the Playboys' Greatest Hits. [both chuckle] Then I went to work in a record store, and I got completely out of control.