Price Cut on Wireless Video Glasses
The future is now. And dorky looking too. But it's on sale, so who cares?
YelloMosquito just lowered the price on their Qingbar GP300 wireless video glasses. The GP300 were the world's first wireless LCOS video glasses with a media player built in. Originally priced at $399, they're on sale right now for $299. Where's my credit card?

They simulate the experience of a 50-inch screen viewed from 6 feet away (field of view is 22 degrees) with a resolution of 432 x 240. There are built-in earphones with four preset EQ modes -- the frequency response is a respectable 20 Hz - 20,000Hz.
What formats does it support?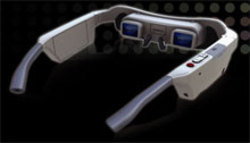 The glasses support MP4, MPG, AVI, ASF (MPEG1/2/4) and DivX and XviD. Audio files supported include MP3, WMA9, IMA, and surprisingly, AAC files -- your (unprotected) iTunes library is playable.
The GP300 has a built-in miniSD slot so you can view photos and music or files, and it also has a USB interface to transfer files into the glasses. It also supports .TXT files for reading e-book files.
It has a built-in rechargeable lithium battery.
You won't win any style points wearing these around the house, but you gotta admit - it's one step closer to a virtual reality you can believe in.-Leslie Shapiro
LATEST VIDEO
WHERE TECHNOLOGY BECOMES ENTERTAINMENT