Preview: 2010 Jaguar XJ B&W audio system
The folks at Jaguar are spreading their wings. In March 2008, the British automaker shed its ties with Ford, and once again became an independent company, with a vow to restore luster to the marque. On Wednesday, I attended a Jaguar event at the LA Auto Show, where the enthusiastic, entrepreneurial spirit of the new Jag team was on full display—as was the 1,200-watt Bowers & Wilkins audio system in the company's new flagship, the XJ.
The new system represents a collaboration among B&W engineers, Jaguar's automotive designers, and Jaguar chief audio engineer Matt Jones. As a result, the acoustic environment of the XJ is as thoroughly engineered as that of a world-class theater or concert hall.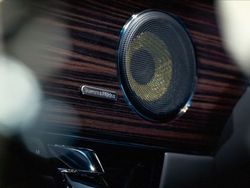 Featuring 20 speakers, 15 discrete channels, active crossovers, and 1,200 watts of Class D (digital) amplification, you might expect this B&W powerhouse to be a testosterone-laden assault on the ears. But quite to the contrary—this is an audio system for grownups, deploying substantial power to ensure sound reproduction free of distortion and dynamic limitations.
An equal part of this system's realism is the thorough integration of state-of-the-art digital signal processing. The XJ's system includes 7.1 surround via Dolby Pro Logic IIx and DTS Neo:6, as well as the world's first automotive application of Audyssey MultEQ XT, so every seat is in the sweet spot. I found that engaging the DSP applications made the audio experience the most realistic I've encountered in an automobile.
And yes, the system employs B&W's trademark yellow Kevlar midrange drivers, covered with protective grilles designed to let the color of the cones shine through.

The U.S. version comes standard with CD/DVD player, HD radio, and Sirius satellite radio (although satellite service subscription is extra). The optional rear-seat entertainment package includes two independently controlled 8-inch LCD screens with wireless digital headphones and a portable touchscreen controller.
Connectivity is central to any modern audio system, and the XJ does not disappoint. Jaguar's Media Hub provides Bluetooth audio streaming and four USB inputs, allowing easy connection of MP3 player, laptop, and mobile phone so drivers need not endure a Maria Shriver moment. A welcome addition is the internal hard-disc-drive system to upload music from CDs.
The XJ is slated for U.S. market introduction in April of 2010; expect a flurry of media attention, including a music video by new Jaguar spokesman Jay-Z.
—Terry Landry
LATEST VIDEO