Plasma Paradise
Photos by Tony Cordoza
To break an awkward silence at a business dinner a while back, somebody went around the table with the question, "What's the one thing you'd want if you were stranded on a desert island?" When my turn came, I replied, "A plasma TV." Everybody was incredulous, but I had my reasons. A plasma TV would give me hours of entertainment, be easy to carry or hang on the wall of my cave, and - most important - impress the natives. There's no doubt that everybody, whether they're from New Jersey or New Guinea, loves seeing such a big picture coming from such a thin TV.
But while plasma TVs all kind of look the same, that doesn't mean they're all created equal. So we decided to check out sets in three different screen sizes to find out just how different they are.
All three models - the 42-inch Zenith P42W34 ($3,800), Pioneer's 50-inch Elite PRO-1000HDi ($14,500), and the 61-inch Marantz PD6140D ($21,000) - measure between 3 1/4 and 5 inches deep. They also all have wide 16:9 screens, a minimal "all-picture" design, and digital video inputs, and they can display programs from a standard TV tuner, an HDTV tuner, or a computer. Two of them also share high price tags compared with similar-size rear-projection sets - but plasma doesn't come cheap, especially in the larger screen sizes.
PDF: Features Checklist
Zenith P42W34 At $3,800, the P42W34 is by far the least expensive set in this group, yet it has the most conveniences. It's the only one with a standard TV tuner built in, so it can accept a raw antenna or cable feed - although on most cable systems you'll still need a box to see premium channels like HBO. With its 852 x 480 resolution, known as enhanced-definition TV (EDTV), it can display an HDTV picture, but there aren't enough pixels to show every detail.
Surrounded by a simple, inch-thick silver frame, the 42-inch (diagonal) screen is the obvious star of the show. Zenith left the front clean, placing control buttons along the bottom of the frame. My review sample came with a distinctive arc-shaped stand ($299) that increased the designer feel of the panel and optional speakers (not shown, $399) that run off the built-in 10-watt-per-channel amplifier.
An add-on module that juts an extra 1 1/4 inches from the back incorporates RF and A/V inputs and an A/V output. The main integrated jack pack features a copy-protected DVI (Digital Visual Interface) input, a single component-video input for DVD and HDTV (you'll need an external digital tuner to get HDTV signals), and a VGA computer input.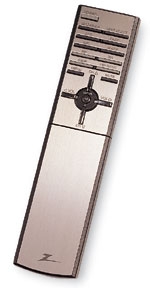 The outsized remote looks cool, with thin buttons, silver highlights, and a big swath of unused space that slides open to reveal more keys. It wasn't so cool to use, though. I had to cycle through the numerous inputs one by one, and the identical, unilluminated buttons were hard to tell apart in the dark. I was also mystified by button labels like APC, ARC, and DASP. Zenith should have stuck with actual words like "picture," "aspect," and "sound."
There are three APC picture presets, plus a User setting that remembers adjustments for contrast, brightness, and so on. But I could save only two total User preferences: one for 480p (progressive-scan) and HDTV sources, and one for 480i (interlaced) programs.
Pressing ARC cycled through four display options, including a 4:3 mode with gray bars on either side and a Horizon mode that stretched a standard picture along the sides to fill the screen. When I switched to HDTV, two choices were available: 4:3 and 16:9. A Zoom function let me enlarge or reduce the entire image or magnify sections.
Using the remote, it was easy to activate the P42W34's PIP (picture-in-picture) and split-screen display. The split-screen mode let me choose between two same-size images split down the middle or one larger and one smaller image side by side. I couldn't watch two computer or HDTV sources at once, but otherwise just about any two inputs could be displayed at the same time. It's a neat feature.
Zenith P42W34
DIMENSIONS (WxHxD) 40 3/4 inches wide, 24 1/2 inches high, 3 1/4 inches deep WEIGHT 75 pounds PRICE $3,800; optional stand, $299; optional speakers, $399 MANUFACTURER Zenith, Dept. S&V, 2000 Millbrook Dr., Lincolnshire, IL 60069; www.zenith.com; 877-993-6484
After a performing a rudimentary calibration (
PDF: In the Lab
), I sat back to enjoy
The Hulk
on DVD. The first thing I saw wasn't pretty - and I'm not talking about the Hulk's head. The black background in the opening credits was crossed by purplish-green horizontal bands. I tried another DVD player and got the same result. Fortunately, this only occurred with interlaced video piped through the component-video input. When I engaged my DVD player's progressive-scan output, or switched to composite- or S-video, the bands disappeared. A progressive-capable player is a must with this TV.
In the hectic scene when Bruce Banner (Eric Bana) first transforms from built-yet-nerdy lab technician into a mass of verdant rage, the closeups of multiplying green cells were crisp and well detailed - I could even count the pores on the face of the increasingly incensed Banner. But as Banner faces his father (Nick Nolte), I saw striated bands of color instead of smooth gradations from light to dark. The edges of shadows and even some well-lit sections crawled with video noise that looked like a cloud of mosquito-like motes.
This plasma was much happier displaying daylit scenes. I easily made out fine rills of dust on the Hulk's skin after a bomb knocks him to the ground, and the dust cloud was free of the video noise I'd seen earlier. The billowing was smooth and realistic, though there was some discoloration and contouring in the shady side of the sand dunes.
Scenes set in the Grand Canyon lost a little vibrancy when I turned down the color control to keep the rock walls from looking sunburned. But leaving it a bit below the halfway point made the sky deep blue and the greenery suitably lush as the Hulk leaped like a flea through central California.
For my HDTV test, I cued up the space-shuttle launch on the Digital Video Essentials D-VHS test tape. The TV looked its best with this excellent source. The closeups of machinery and the gantry were full of detail, although I didn't experience the hyper-real feeling I get from larger, higher-resolution plasma panels. Subtle details were softer, so I didn't see many ridges in the plates near the nose cone, for example.
Trying both the 1080i and 720p versions of the D-VHS tape, I noticed flicker during some of the 1080i scenes, mostly in menus, text, and other still graphics. To avoid this, I recommend configuring your HDTV tuner to feed only progressive-scan signals to the set.
As "budget" plasma TVs go, the P42W34 delivers an impressive slate of features, even if its picture can't compete with higher-buck models. But it is a viable option when cash is kind of tight and a big, bulky TV just won't do.
LATEST VIDEO