Planar Xscreen Front-Projection Screen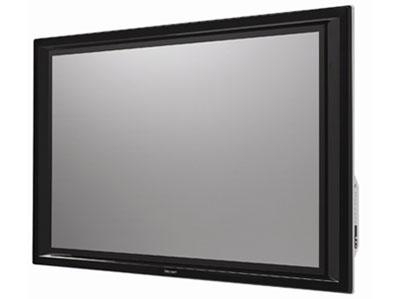 Front projectors have long been considered an exotic way to experience movies at home, but they're quickly becoming a more mainstream option. That's because prices for 1080p-resolution front projectors have sunk below three grand, while flat-panel sets with screen sizes 60 inches and up that offer similar resolution have yet to become affordable. You'd think that buying a front projector over a flat panel would be a no-brainer, but there's been a major barrier to the category gaining widespread acceptance: Front-projected images require a dark room to look good.
The reason for this has everything to do with the material used for standard projection screens, which is designed to both reflect light coming directly from a projector mounted across the room as well as diffuse it so the picture looks bright to viewers sitting in off-center seats. And while standard screens are engineered to maximize the reflection of a focused, on-axis light beam, they also beam back to the viewer the light from "ambient" sources of illumination - such as lamps, undraped windows, and cross-reflections from light-colored walls, ceilings, and furniture. That's why screen manufacturers recommend that you pursue a tomb-like decorating scheme for any room destined to host a front projector.
But a handful of new screens on the market, including Planar's Xscreen line, are helping to bring front projection out of the darkness. The Planar Xscreen front-projection screen incorporates what the company calls Daytime Screen Technology - basically, a thin-film coating bonded to a 4mm-thick glass layer. The Xscreen coating concentrates light hitting its surface in the vertical plane while simultaneously blocking out ambient light coming from the sides - an approach that allows the screen to be used in moderate-to-high-brightness environments.
With its glossy black beveled frame, the 60-inch Xscreen that Planar sent me looked just like a flat-panel TV. The model that I checked out was the basic version, but the company sells an even more TV-like one called Xscreen Plus with video switching (HDMI, component-video, RGB computer, and composite- and S-video), high-def video scaling for standard sources, speakers, and a universal remote control. Xscreens also come in a range of sizes, with 70-, 80-, and 100-inch versions filling out the line. A wall-mounting bracket with a safety lock comes as part of the package.
LATEST VIDEO