Pioneer's Plasmas with Media Receivers
Pioneer's four new 1080p plasma Kuro sets are tall, dark, and thin; who could ask for anything more? Two of them come with a really hot separate media receiver - a 4-port HDMI external switcher. The only problem is that they're only scheduled from release right now in Europe, with no mention of a US release. Darn. They're still worth a closer look.
The two Kuro TVs with separate media receivers are the 50-inch KRP-500A and the 60-inch KRP-600A. The KRP-500M and KRP-600M are the 50- and 60-inch models with internal tuners.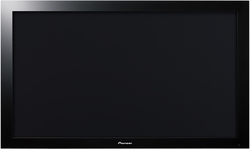 From the European press release:
The KURO can recognise light, can tell day from night and analyses on screen content in real time. Both plasma monitors and televisions with separate media receiver feature an AV Optimum Mode with optical light sensor for automated adjustment of picture settings according to the lighting conditions in the room and the actual image on the screen, resulting in the best viewing experience.
In addition, the audio is harmonised with the programme being watched. The plasmas come with an extra colour sensor that measures the colour characteristics of ambient light to provide the picture optimum to the viewer eye's sensation.
Clean integration
The KRP-500A and KRP-600A not only feature an integrated analogue tuner, but also a digital terrestrial (DVB-T) tuner and a digital satellite (DVB-S/DVB-S2) tuner. Both KURO models are compliant with the EICTA "HD TV 1080p" minimum requirements, support MPEG-4 high definition decoding and include two integrated common interface slots.
The KRP-500A and KRP-600A are Digital Living Network Alliance (DLNA) certified and as a result can simply be integrated into a home or local area network and play content from one or more connected media servers. This media content is directly available trough the plasma's Home Media Gallery function, which is nicely integrated in a new, modern-looking Graphical User Interface (GUI).
This intuitive and self-explaining interface incorporates a number of clear-cut options. The Favourites list combines the user's most-loved channels from any of the integrated TV tuners, and even allows adding external inputs. The Tools menu provides - for the source active at that moment - one-button access to frequently used functions.
All four models are 'HD-ready 1080p' and only 64mm thick. The KRP-600M will be available in August, with the rest following up in September and October. -Leslie Shapiro
The full press release can be read here.
LATEST VIDEO