Pioneer's new receivers play nice with iPod and iPhone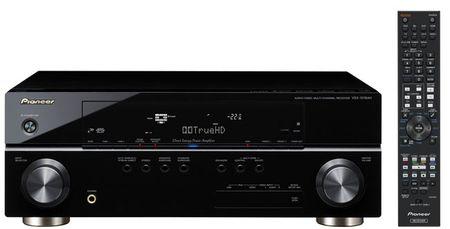 Pioneer just announced the VSX-819AH, VSX-919AH and VSX-1019AH A/V receivers designed to help users integrate their Apple portables into their home theaters. After plugging in a player, you navigate your media using a specially designed graphic user interface (GUI) and your normal remote. It supports album art, too so now is a good time to make sure it's all up to date.
To make up for the generally, well, kinda crappy sound that can come out of iPods, they built in their own Advanced Sound Receiver and Auto Level Control technologies. The former is designed to create a "more dynamic audio experience" from highly compressed digital files, much like Creative's Crystalizer. The ALC just regulates volume, which may or may not be a special enough feature to deserve its own acronym.
Prices range from $299 to $499 so these are obviously geared toward the more casual user, but Pioneer has been known to put out great products at lower price points so these will be interesting to check out.
LATEST VIDEO
WHERE TECHNOLOGY BECOMES ENTERTAINMENT