Pioneer Stays True to Its Name
What's this? Pioneer's Kuro line isn't the final word in the blackest TV blacks after all? Not according to Russ Johnston, the company's executive VP of marketing for Home Entertainment. Pioneer is actually working on a new concept - the Extreme Contrast Concept Model - that even makes the Kuro blacks look like a snowy hillside in Vermont, he revealed at a CES press conference today. And that's not all, the manufacturer will also show off a set that's a mere 9mm thick!

Johnston says the pioneering company has found a way to cut idle luminance to absolute zero. That would be the final word in blacks. He says the company has found the Holy Grail in TV contrast ratios.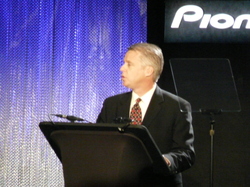 And if that's not enough to give you that familiar tingly feeling inside, the VP went on to introduce another plasma first: a flat panel that truly is. As in, only 9mm thick. This one they're calling the Concept Model for Advanced design. And while Pioneer has gotten kudos in the past for its sexy, thick black bezel, this future model will be bezel-free. The idea is that is should look like it floats on the wall. Well, that sure floats our boat.
Both of these innovations are coming sometime in the future.
And lastly, the company's introducing a new subsidiary: Technical Audio Devices Laboratories, or TAD. They'll bring you recording studio quality speakers for the home.
--Rob Medich
LATEST VIDEO
WHERE TECHNOLOGY BECOMES ENTERTAINMENT