Pioneer Opens Second Retail Store, This Time in Phoenix
Following the success of their first flagship store in the OC, California, Pioneer just opened their second foray into the retail marketplace.
Interesting, in this time of economic woes, and giant Circuit City struggling to stay alive, why would Pioneer do this now?
These high-end, luxurious Pioneer stores feature enhanced services, things sorely lacking in most retail operations. The store will feature brand new Pioneer technologies set up in six vignettes, so customers can visualize the Pioneer products in real world situations.
The store will also showcase Pioneer's Premier line of car electronics, including a custom-designed Scion xD demo car.
The store will also showcase . . .
exclusive products that are currently only available in Japan. That alone is worth a trip to check out.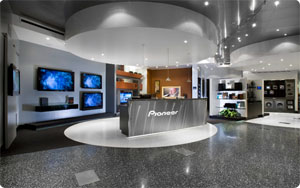 Consumers can use Pioneer's direct consulting services for both home and car with certified Pioneer technicians. The store in Phoenix will have two exclusive services: a partnership with a drywall entertainment construction company for custom installations, and a custom in-car installation team.
While it seems like odd timing, as consumers make the transition to a completely digital entertainment world, a store with knowledgeable and trained staff might actually stand a chance out there. —Leslie Shapiro
LATEST VIDEO