Pioneer Elite VSX-94TXH A/V Receiver
If a Pioneer A/V receiver is given the distinguished Elite status, you can bet it's going to provide top-level features and performance. So it is with the Pioneer Elite VSX-94TXH, a 7.1-channel, THX Select2-certified AVR that employs Pioneer's proprietary Advanced MCACC (Multi-Channel ACoustic Calibration) speaker and EQ configuration along with a Faroudja DCDi video scaler. It also features Pioneer's Home Media Gallery, which lets you access audio files from PCs and receive Internet radio stations.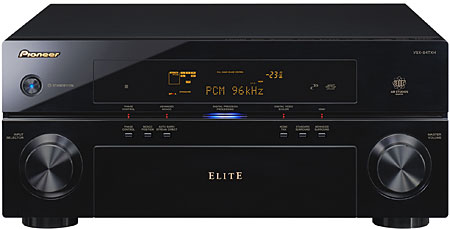 Features
The number of features found in the VSX-94TXH is almost overwhelming. Many features are immediately useful, and others you might try as time goes on. However, one thing is certain—no matter where you get your music and movies, the 94TXH is ready and waiting to be your own personal media Grand Central Station.
Starting with the basics, the 94TXH delivers 140 watts per channel for a 7.1-channel surround system in a moderate to large listening room. Listen soft or listen loud, there is plenty of power and sonic finesse to satisfy whatever your musical and movie preferences might be.
The 94TXH has four HDMI inputs, which is probably the minimum you should consider these days. I used three: one for a DirecTV HD receiver and one each for my Toshiba HD-A20 HD DVD player and Sony PS3, which is my primary Blu-ray player. At one point, I was glad to have the fourth input when I was checking out an HD camcorder with an HDMI out. If you still have a lot of older gear in your system, there are more than enough analog audio and video inputs for VCRs, game consoles, CD players, even a turntable.
Aside from the more traditional sources, the 94TXH offers a plethora of other possibilities, such as XM and Sirius satellite radio and an optional iPod dock. But perhaps the most important feature in this regard is Home Media Gallery, which uses an Ethernet connection to access audio files on PCs connected to a LAN as well as Internet radio stations.
To use Home Media Gallery, you connect the AVR's Ethernet port to your home router. Fortunately, I ran CAT5 cable throughout my current house, so I already had an Ethernet connection in my media room. I went wireless a few years ago, but I still use the wired connection to upgrade the firmware in my Toshiba HD DVD player; it's also handy with some of the new AVRs, like the Pioneer, which include networking capabilities.
Home Media Gallery can access music files on your PC or from a USB storage device connected to the USB port on the 94TXH's front panel. In addition, there is a virtually endless array of Internet radio stations that are cross-referenced in a variety of ways. Neural Surround, a new THX feature, offers Internet radio in surround. There were only four stations at this time, but the quality is excellent, offering an immersive and musically robust experience.
This Pioneer AVR is compatible with all current surround formats and includes decoders for Dolby TrueHD and DTS-HD Master Audio. My HD DVD and Blu-ray players both decode Dolby TrueHD internally and send linear PCM over HDMI, which provides uncompressed audio for superior soundtrack performances. At present, I don't know of a player that decodes DTS-HD Master Audio, though there are a few that can send it as a bitstream via HDMI.
Being a purist at heart, I left the 94TXH in the Stream Direct mode, which plays your sources in their original format. Stereo is stereo, Dolby Digital is Dolby Digital, etc. Standard mode is similar in that it will properly decode the incoming surround format, but you can select eight different virtual-surround modes for two-channel sources.
The 94TXH's Faroudja DCDi video scaler automatically upconverts analog video signals (component, S-Video, and composite) to the native resolution of your display. If for some reason you want to preserve the resolution of your original sources, the Pure mode simply converts the signal to digital for output via HDMI. This is advantageous if you are using an external scaler or want to defer to a built-in scaler on your TV or projector.
LATEST VIDEO