Pioneer DVR-320 and DVR-520H Video Recorders Page 2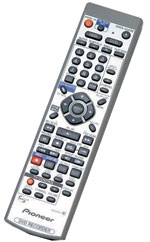 Given that the two Pioneer recorders are effectively identical aside from the hard drive in the DVR-520H, I used that model for most of my evaluation. Even the remote controls are almost identical, with only a few extra buttons on the 520H remote (shown). The DVR-320 looked, sounded, and behaved precisely the same as far as DVD recording and playback.
SETUP Wiring up the recorder was straightforward. I ran my cable feed to its antenna/cable input and used a set of A/V ins/outs for my Comcast digital cable box. The component-video and optical digital audio outputs went to my preamp/processor, from which they fed my amplifiers, speakers, and HDTV monitor.
DVD PLAYBACK The DVR-520H proved to be an excellent DVD player. The garish, color-boosted images of Kill Bill, Vol. 1 looked suitably cartoonish and "popping." In A/B comparisons using dual copies of other DVD movies, its picture occasionally looked a tiny bit softer than the one from my reference player (a much more expensive model), but that was the only difference. If you buy one of these decks to be your main DVD player as well as recorder, you won't be short-changing yourself.
Playback commands were executed briskly, onscreen displays were clear, and the compact remote, though a bit crowded with all those recording and editing keys, is simple and usable. I especially liked the Skip and Back keys. Skip jumps forward by 30 seconds or 1, 2, 5, or 10 minutes, and Back jumps by 5, 15, or 30 seconds or 1, 2, or 3 minutes, both depending on how many times you press the key. Very handy!
TV RECORDING/WATCHING It's simple to record TV shows from the onboard analog tuner to either DVD or the hard drive. A Home Menu key brings up a colorful and well-organized screen including every primary function: Timer Recording, Copy, Disc Setup (for DVD initializing, naming, finalizing, and so on), playback and recording options, and more.
I made test recordings of ABC's World News Tonight in each mode on subsequent nights - network anchor-desk cameras deliver about as clean a standard-def signal as you'll get - by simply keying in the VCR Plus+ codes from my local newspaper on the Timer Recording screen. I was prompted to select a recording mode and whether I wanted to record the show once, daily, or weekly. You can also schedule recordings by entering times and channels.
The Skip and Back buttons work the same with either the hard drive or a DVD-RW (in VR mode) for programs you've recorded or are currently recording. Unfortunately, the DVR-520H doesn't automatically buffer to the hard drive a chunk of whatever live programming you tune it to. That means you can't pause or skip/scan ahead or back with live TV - TiVo-like features Pioneer calls Chase Play - without specifically starting a recording. You have to press the record key, and then use Pioneer's nifty Disc Navigator screen to control playback.
The downside? The DVR-520H will go on recording until you stop it or it runs out of space on the hard drive or loaded DVD, which makes it more cumbersome to use than a TiVo, ReplayTV, cable, or satellite hard-disk video recorder.
LATEST VIDEO