Pioneer DV-563A Universal DVD/SACD Player Page 2

Otherwise, I found the DV-563A very easy to operate. The remote control is nothing fancy and has no backlighting, but its layout is spacious, and key buttons are sensibly placed. I also liked the player's onscreen Disc Navigator and Audio Settings menu, which makes it easy to adjust channel levels temporarily while listening to SACDs or DVD-Audio discs. There's also a Video Adjust menu that lets you fine-tune contrast, brightness, and color levels, and store your changes to two presets.
Despite its bargain price, I expected the Pioneer player to deliver excellent images, and I was not disappointed. Playing dual copies of the Avia test DVD (and the one movie I have a dupe of) through their S-video outputs, I found no meaningful differences in picture quality between the DV-563A and my reference player, a superb all-format design costing almost four times as much. When I routed the DV-563A's component-video output directly to my Princeton Graphics TV, a rotation of my usual reference DVDs - like The Fifth Element and Saving Private Ryan - yielded the superb detail and well-delineated tones of color and shades of brightness that I'm familiar with from topflight players.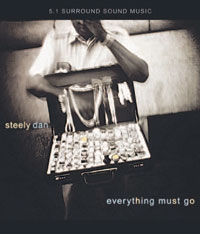 The Pioneer DV-563A brought out the terrific resolution of Steely Dan's Everything Must Go on DVD-Audio
Of course, a big part of the DV-563A story is its high-resolution audio capabilities, and these proved very fine as well. The SACD classical sampler
Super Artists on Super Audio
is about as rigorous a sound-quality test as you'll find, and the Pioneer player aced it. I heard the purity of tone that I expected on the dense piano chords opening the excerpt from the Franck
Cello Sonata
. Switching over to Steely Dan's
Everything Must Go
on DVD-Audio, I was impressed by the terrific, lifelike resolution of flourishes like the mini tubular bells in the opening of "Godwhacker." My only complaint is that the player's bass-management settings change when you switch between DVD-Audio, SACD, and even regular DVD and CD (
click to see "In the Lab" PDF for details
).
HIGH POINTS Excellent audio and video quality. Sets new value mark for an all-formats player. Slim, space-saving design.
LOW POINT Inconsistent bass management for SACD/DVD-Audio playback.
Bottom line: the Pioneer DVD-563A is one terrific value. I believe in the SACD/ DVD-Audio advantage - I think they do indeed sound incrementally better than Dolby Digital and DTS soundtracks. Any player that puts these intriguing new music formats in the hands of a wider range of listeners, and presents them so well - as this Pioneer player certainly does - wins my approval.
LATEST VIDEO