Pioneer Blu-ray Sneak Peek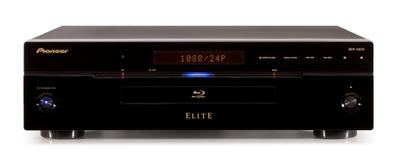 Don't let it be said that we don't know important people here at S&V - people who will risk their very lives to get us early, semi-exclusive info.
That's why we didn't find ourselves the least bit surprised when we got a call from someone we call, "Blu-Throat." B.T., a source close to Pioneer, gave us the inside scoop on that company's next generation Blu-ray player, the BDP-05FD. Look at the photo now. Everybody say, Oooh.
Actually, the BDP-05FD is one of two new Pioneer BD players coming soon. Their features will include:
-8-bit to 12-bit deep color conversion
-Internal decoding of all high-rez audio formats
-Picture control suite, which features nine new video adjustments, including four for video noise reduction
Note this is a 1.1 profile player, not a 2.0 (will the PlayStation 3 always be one step ahead?), so you'll at least get picture-in-picture, though no Ethernet. Us, we'll just be happy if the loading time is zippier.
We'll give you the dirt on price and shipping date as soon as we know it.-Rob Medich
LATEST VIDEO
WHERE TECHNOLOGY BECOMES ENTERTAINMENT