Pink Floyd & Porcupine Tree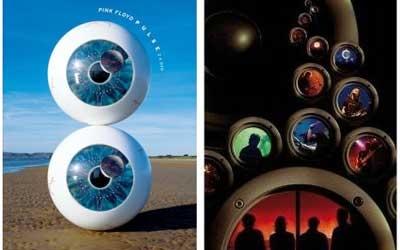 Can the titans of classic and modern progressive rock rule the live surround arena on DVD? Let's start with the former, Pink Floyd. Guitarist David Gilmour and coproducer James Guthrie have taken great pains to make a double DVD of Pulse (Columbia; Show ••••, DVD Picture/Sound ••••, Extras ••••, ), as there's a marked improvement both visually and sonically compared with the videocassette and laserdisc of this 1994 concert at Earls Court in London. Images are indeed crisper: You can see the hair on Gilmour's arms, and the crisscrossing lasers are lightsaber-sharp. But the picture retains some limitations of being shot on video. (Pastel attire tends to wash out onstage.)
Of course, the surround sound is what we're really after. Guthrie did the mix, and he echoes the intentions that Gilmour shared with me earlier this year: Lead vocals, guitar solos, and the rhythm section are focused up front while keyboards, backing vocals, and the patented Floydian effects (ka-chinging cash registers, madcap laughter) deftly traverse the surround channels. Warning: The fiery onstage plane crash during "On the Run" may have you ducking under your seat. You can select Dolby Digital 5.1 at 448 or 640 kilobits per second, and I'd suggest the latter if your DVD player can handle it, especially if you're a subwoofer lover; the low-end whomp on "One of These Days" will thump you into little pieces. As for the extras, Bootlegging the Bootleggers adeptly marries fan-shot footage with stereo soundboard mixes. But only the second half of the "Learning to Fly" videoclip is in surround. Wot's, uh, the deal?
You can't get much more progressive than Porcupine Tree, a fact reinforced by the two-disc Arriving Somewhere ... (Snapper; Show ••••½, DVD Picture/Sound ••••½, Extras ••••). Shot last year at Park West in Chicago, it randomly alternates color and black-and-white footage, and the added grain lends the program a proper filmic vibe.
In his own DTS 5.1 mix, PTree mastermind Steven Wilson continues to mine his dead-on instincts for adventurous surround sound. Multifaceted keyboards and driving percussion lord over the surround channels. (Try on "Halo" for a full-immersion clinic.) Wilson's not afraid to manipulate his lead guitar, as he first sends his climactic "Hatesong" solo clockwise through all five main channels, then lets it dart all about like a Slinky in Jell-O. Extras include the "Lazarus" videoclip in surround, the all-channels marvel of the rhythmically layered "Cymbal Song," and two stereo performances from the German TV series Rockpalast. They're all way cool, but they left me wanting more (in a good way).
So, which one's peak? Both Pulse and Arriving Somewhere show bands flying high indeed. But when it comes to surround sound, Porcupine Tree is in a league by itself.
more of this month's reviews Back to Homepage What's New on S&V
LATEST VIDEO