Pimp My Pod
Is it possible to improve the greatest invention since the wheel?
If I needed any additional proof of the iPod's ubiquitous nature, I found it the other day when my son pointed out a state trooper with an iPod stuffed into his uniform shirt pocket and telltale white earbuds popped in his ears. I'm sure the trooper was perfectly capable of doing his law-enforcing job whilst enjoying a tune or two, but the thought of state troopers packing iPods gave me pause. What's next? Carthusian monks contemplating God's gift of the click wheel while rocking out to some Gregorian chant?
Another clue to the iPod's popularity is the fact that every company in the known universe now has some sort of iPod accessory in their product lineup. They range from the sublime to the silly, along with some that are just plain stupid. Some have almost nothing to do with the iPod at all other than the fact that they have a lowercase "i" in the model number. Others make the iPod a little more, shall we say, personally entertaining. So, if you have an iPod or are thinking about acquiring one, here's our guide to some of the best ways to iMprove your iPod iXperience.
Get a New Set of Ears
If you're serious about sound, the first thing to do is get rid of the earbuds that came with your iPod. You can do better, much better.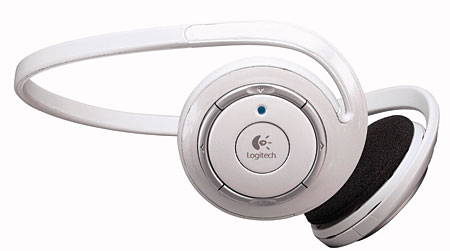 Logitech Wireless Headphones for iPod
• Go for broke with a set of Ultimate Ears UE-10 Pro in-ear headphones. They cost $900 and are molded to fit your ear for ideal audio reproduction and sound isolation. A bit more than half that price ($549) will get you a pair of Shure E5c Sound Isolating Earphones that incorporate a less sophisticated foam insert to fit your ear but include dual drivers with an in-line crossover. If you can't face spending more on the earphones than you did on the iPod itself, budget $80 for a pair of Sennheiser CX300-B earphones that come with three different-sized ear adapters.
• Traditional over-the-ear headphones provide performance commensurate with the price, but they'll limit mobility. Wireless headphones will get you back on the move. Both the Macally Bluewave ($90) and Logitech's Wireless Headphones for iPod ($110) use Bluetooth technology to send audio from an included Bluetooth adapter that connects directly to your iPod. But the Logitech model lets you control iPod functions directly from the headphones.
• If you want to goose up headphone performance a bit more, HeadRoom makes a battery-powered portable headphone amplifier called the Total AirHead ($149). As long as you're planning on packing a few extra pounds, consider putting it all in a $90 HeadRoom Complete HeadCase carry bag.
Griffin SmartShare Splitter
• One of the least expensive iPod upgrades is a headphone splitter cable that will let you share your iPod with someone less fortunate than you. Look for one with independent volume controls like BTI's headphone splitter ($15) or Griffin's SmartShare splitter ($15).
Dock It
Apple's iPod Universal Dock will set you back $39. As long as you're going to buy a dock, consider one of these do-more-than-just-dock docks.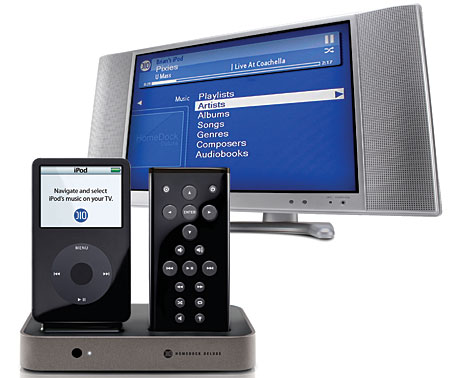 DLO HomeDock Deluxe iPod Dock
• DLO's HomeDock Deluxe ($150) connects to your home theater system, allowing you to see and navigate menu screens using the included 16-button remote control, and it lets you view digital pictures or videos stored in your iPod on your television (via composite or S-video). Griffin's TuneCenter offers similar functionality with a 14-button remote for $130 or for $150 with Wi-Fi.
• iPort's various docks, including an in-wall version, connect an iPod to individual and multizone wholehouse systems.
Watch It
While the DLO and Griffin docks let you watch iPod videos on your big screen, it's difficult to travel with a large TV. Instead of squinting at $2 episodes of Lost, give your iPod a (nonprescription and nonherbal) video enhancement.
• iLuv's i1055 model ($250) is a one-for-all traveling video machine with a 7-inch, 16:9 LCD screen, a built-in DVD player, and an integrated dock slot on the back. You can watch videos or listen to music from an iPod and recharge the iPod's battery when the iLuv's AC adapter is plugged in.
Myvu Personal Media Viewer
• Fool yourself into thinking you're watching a large screen—and make people think you're the biggest geek around—with a personal media viewer. Myvu's sleek-looking video headset (320 by 240) sells for $269. eMagin's Z800 3DVisor ($549), with its 800-by-600 OLEDs, offers better resolution and is compatible with true 3-D stereovision for computer games.
Shelve It
We'd need an issue the thickness of a phone book to cover every iPod-compatible shelf/desktop system, including iPod-based alarm clocks and under-cabinet iPod systems. Tone-deaf people will buy anything as long as you say it has something to do with an iPod. Most iPod systems are low-end, and many are ugly. Here are a few notable exceptions.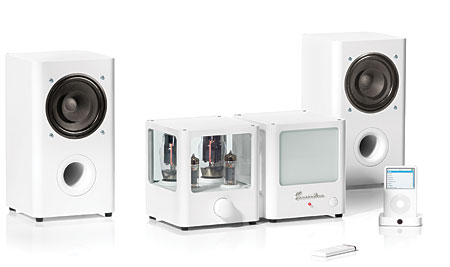 Goldster Audio Concertino iPod System
• You can't get more distant from low-end mediocrity than Goldster Audio's Concertino ($3,700). It's built around a triode-tube-based amplifier and is one of the few systems that makes the new iMacs look totally pedestrian.
• Monitor Audio's $249 i-deck has an iPod dock built into the center of the main unit. The included remote control sends commands by radio frequency rather than infrared.
• A standard minijack-to-RCA adapter will connect an iPod's audio output to an unused audio input on any A/V receiver. Some new home theater receivers from Yamaha, Onkyo, Marantz, and others are iPod ready and use an optional dock that lets you use the receiver's remote to control the iPod.
Wear It
If you really love your iPod, you'll want it by your side all the time.
• If you plan on working up a sweat, running on the beach, or even kayaking, OtterBox's rugged, waterproof, dustproof, and sandproof OtterBox for iPod models ($50 and below) include a belt clip and work with most armbands.
Nike + iPod Sport Kit and Nike + Shoe
• Serious runners may want to use the Nike + iPod Sport Kit ($29) that works with special Nike+ shoes ($100). Together, they monitor information on time, distance, calories burned, and pace and then send the data to your iPod nano.
SCOTTeVEST Tactical 4.0 Jacket
• SCOTTeVEST's collection of jackets, shirts, and pants have multiple hidden pockets for electronic gadgets and a personal area network that makes it easy and unobtrusive to run cables for headphones.
• The $22 Play iBoxer cotton-blend knit boxer shorts include a small pocket (for when it's cold) designed to hold your iPod or any other electronic device you just can't be without.
Lengthen Your Listening and Viewing Pleasure
Battery life is not one of the iPod's most endearing features—especially when playing back video. Solve your energy crisis one of these ways.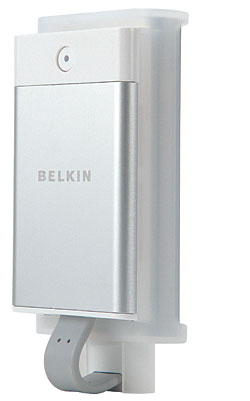 • Belkin, Macally, iLuv, and ZAP offer external, high-capacity, rechargeable, lithium-ion external batteries (ranging from $50 to $85) that will add significant run time but also more weight.
• Adventurous owners can crack their iPod's case and replace the original battery with a higher-capacity replacement from NewerTechnology for $30 or less.
• If you walk on the wild side away from civilized comforts such as AC outlets, you can recharge your iPod any time the sun is out with a $239 Voltaic Solar Bag backpack.
Drive It
Would you consider a BMW Z4 3.0si an iPod accessory? What about a new Chrysler, Jeep, or Dodge? A large number of new cars offer the ability to integrate an iPod into the vehicle's factory sound system using an optional interface kit. Some aftermarket head units can control an iPod using optional adapters that start around $50. There is hope if you don't have a direct way to plug an iPod into your car stereo system.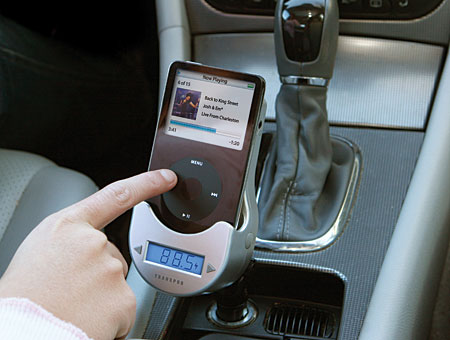 DLO TransPod Silver iPod Car Adapter
• Harman/Kardon's Drive + Play ($200) includes a large LCD and a five-button iPod controller that you can mount anywhere in your vehicle. It sends audio to your car's system either via an FM transmitter or a direct audio connection.
• The simplest and easiest way to get music from your iPod to your car stereo is via an FM transmitter like Monster's iCruze, which starts at $79.
• You can also use a cassette adapter. In addition to getting audio in to your head unit, Griffin's $30 SmartDeck uses the fast-forward, play, and rewind buttons to control similar functions on your iPod.
Expand It
The iPod is about more than music and movies. You can metamorphose your iPod into just about anything. (Yes, anything.)
• To make your iPod into a portable audio recorder, try XtremeMac's $60 MicroMemo with a detachable, omnidirectional microphone and a built-in speaker, or Belkin's TuneTalk Stereo ($70), with a pair of omnidirectional microphones.
• The JamPod ($49) from DVForge lets you mix the audio from your iPod (and adjust the level) with the output of your electric guitar so you can play and listen through headphones or an external amplifier.
• There are even one or two sound-activated vibrating attachments that, while not specifically made for the iPod, sure extend its possibilities. You'll have to look hard for one of these, because they're often in and out of stock.
The iPod is truly a wonderful thing. At the rate things are going, it won't be long before it becomes a cure for cancer, a harbinger of world peace, and the solution to global warming. Just keep your eye on the Pod.