The Physics of Unphysics: Walmart Takes to The Cloud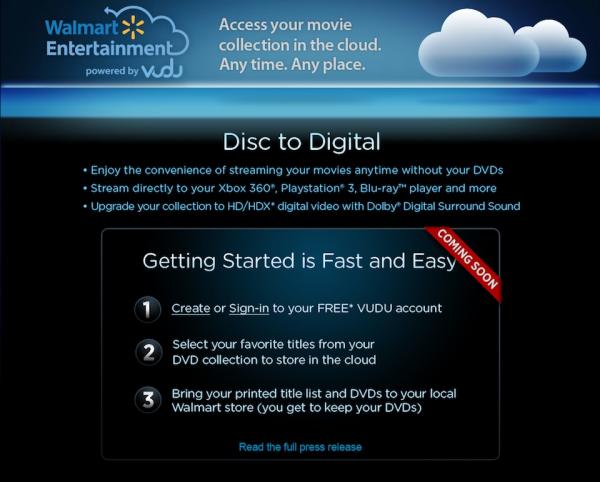 You've got to hand it to Walmart. First, they make a zillion dollars selling DVD and Blu-ray discs to everyone. Now, they're set to make another zillion dollars so you don't have to actually use the discs. Brilliant, simply brilliant.
Here's the deal: Everyone who imprudently bought a ton of discs is now regretting it. Discs are great if you're sitting around the house, but who does that anymore? We want to watch our movies while commuting on the train, stuck in traffic, waiting for your flight to take off, sitting in class, attending a funeral, etc. In other words, we need cloud movies, not disc movies.
Seizing on the opportunity, Walmart announced that it will launch a disc-obsoleting service on April 16. Here's the deal: Open a free Vudu account (Vudu is a Walmart subsidiary). Take your DVD or Blu-ray discs to a Walmart photo center. For $2 per disc, it will give you "digital access" at the same resolution as the disc (i.e., standard-def for DVDs, HD for Blu-rays), or for $5 a piece you can upgrade your DVDs to high-def access. Then, you can watch your movies on your TV, tablet, phone, gaming console or anywhere where you have streaming access (2 Mbps) to Vudu.com or a Vudu app.
The fine print: You can bring in discs purchased at any store, and you keep the disc. This Vudu system supports UltraViolet (a streaming cloud-library infrastructure devised by movie studios). You can watch your movies on a UV client such as Flixster, and also use Vudu to watch a previously purchased UV movie. These Vudu movies won't play on Android devices yet; Android will complete some security upgrades later this year, and then you'll be good to go.
The uninformed may think that they're bringing their discs to Walmart so those bits can be copied to a big server in the sky. Of course, uploading isn't necessary. The server already has a copy of your movie (so long as it's from a partnering studio: Paramount, Sony, Fox, Universal, and Warner Bros, among them — not Disney). Bringing the physical disc is merely a way to show that you already have the disc.
Bottom line: With this announcement, Walmart has acknowledged that physical discs are history. This is a clearly transitional step, letting people move their physical libraries to the cloud. And once they are set up in the cloud, they probably won't buy discs ever again. It's also a smart move by Walmart because it drives massive business toward Vudu. All of that is obvious. The question is whether this move by the nation's biggest retailer will spur other companies to accelerate growth of their own cloud-streaming services.