Philips Pronto: Touch Remote
Philips has just released their latest Pronto remote - the TSU9800. Figure the "TS" in the model number stands for "Touch Screen" - maybe?
The TSU9600 features a very large 6.4" VGA display. The large size makes the display easy to read, or easy to pack full of menu items on a single screen. Afraid of losing it? The remote and its docking station can be permanently mounted on a wall or table top. (Will we need a remote control for our remote control?)
The docking station has an Ethernet connection to keep the TSU9600 up to date and connected to your system.
Keep reading to see why installers will flock to this product.

The TSU9800, with its Ethernet jack, is ideal for home control in either multi-room wireless or wired installations. There are two extenders, the RFX9400 wireless and the RFX9600 serial extender.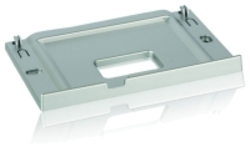 Remotes are getting more and more control features. You should thinking about that fixed mounting. You don't want to lose a remote like this in the sofa cushions. -Leslie Shapiro
LATEST VIDEO
WHERE TECHNOLOGY BECOMES ENTERTAINMENT