Philips Lights Up Times Square for New Years Eve
Philips has been slowly pulling out of the entertainment side of consumer electronics, but they're still a major player in the lighting industry. This year's Times Square Ball is going to be bigger, brighter, and surprisingly greener than ever before, thanks to Philips' LUXEON LEDs.
This is the 101st dropping of the Ball in Times Square.   The size of the Ball has doubled since last year -- 12 feet in diameter and three times as many LEDs as last year - 32,256 to be exact. But, the exciting part is that it is 20% more energy-efficient than just last year. The Ball will use about the same energy per hour as your double-oven at home.
The chairman of Philips Lighting North America had this to say: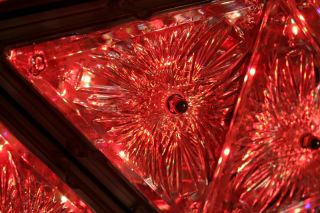 "The Times Square Ball allows Philips to showcase the power, beauty and energy-efficiency of LUXEON LEDs as well as the range of benefits LED technology can deliver not only to iconic installations like this but to a broad range of consumer and professional applications," said Kaj den Daas, Chairman of Philips Lighting North America.  "While New Year's Eve occurs only once a year, the LED technology on display in the Times Square Ball will soon evolve into a very real energy-efficient lighting alternative for consumers around the world, and will help drive a more bright and sustainable future for generations to come."
The Ball is going to remain a permanent fixture in Times Square. The numbers, "2009" are using traditional Philips bulbs this year, but maybe next year, those will also be LEDs.
Too bad you can't go and buy a new Philips TV to watch the Philips LUXEON LEDs this New Years Eve. —Leslie Shapiro

Philips
Images from LEDs Magazine
LATEST VIDEO