Phil Jones Pure Sound Vi-410 Speaker System
Price
: $3,300
At A Glance
: Unusually shaped sub with graphic equalizer • Satellite grilles present unique face to listener • Good bass, solid overall performance
Little Speakers, Big Sound
As I've said so many times that I've lost count, I'm an advocate for well-designed satellite/subwoofer sets. They usually save space, and they often bring surround into places where it previously wasn't welcome. But to make the sat/sub concept work, you need a great sub, one that not only produces low bass, but produces high bass in the place where the sub crosses over to the sats. That's where most affordable sat/sub sets are deficient—the sats perform well, but integration with the sub falls down on the job. I'm always on the lookout for a sat/sub set with exemplary bass performance and integration.
I got what I was looking for with the Vi-410 satellite, Vi-420c center, and PSW-1 sub from American Acoustic Development, recently renamed Phil Jones Pure Sound for its celebrity designer. Visualize this: The sub is 44 inches wide—no, that's not a typo—with a height of 6 inches and a depth of 14. I've never seen anything like it. It also includes bass equalization, which can be invaluable in a sub.
A Beautiful Mind
It takes an unorthodox mind to come up with this sort of thing. In this case, the mind belongs to Phil Jones. Jones spent the best-known part of his early career with Acoustic Energy, which makes the highly regarded AE1. He went on to Boston Acoustics before he founded Platinum Audio. Here, history repeated itself, as he designed another critically acclaimed monitor, this time with bass-player-approved bass response—Jones plays the instrument, as do some of his most noteworthy fans. His latest consumer-level speaker company is Phil Jones Pure Sound.
The company's product lines stretch beyond the consumer sphere. It offers products for studios, live applications, and even houses of worship. In the consumer department, there are two high-end lines, the Silver Reference and the 7001i. The latter is a hybrid consumer/studio product with a ribbon tweeter. For on-wall use, there's the P Series, which features an unusual curved enclosure. There are two subs, the unusual one reviewed here and a more conventional box sub. The company also has two home theater lines, including the already-mentioned high-end Silver Reference, the entry-level M Series (reviewed August 2007), and this month's subject, the middle-kid Vi Series, which also includes two larger models not reviewed here.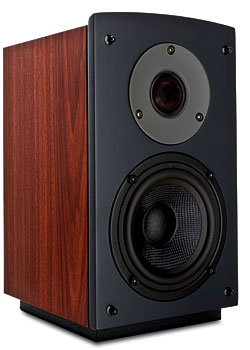 Keystone-shaped grilles are the first things that present themselves when you look at the Vi-410 satellite and Vi-420c center. The grilles' curved top and side edges are more than an inch wider and higher than the enclosure. Even when you've peeled them off, the baffle still protrudes on the top by about a quarter of an inch. These were mainly cosmetic decisions, but they were good ones. The grille shape gives the speaker a distinctive look. It's intended to mimic a wall sconce, although I think the keystone form and curved top also have Art Deco overtones. As an added benefit, the overlapping grille de-emphasizes the enclosure's vinyl wrap.
The sat and center have identical fabric-domed tweeters and Kevlar-coned woofers—4-inchers in the sat, and dual 5.25-inchers in the center. However, the center's is a front-ported design, while the sats have sealed enclosures. Their rated sensitivity also varies considerably, with the center at a rated average 88 decibels and the sats at a much lower 84 dB, which suggests a thirst for power.
Now for the moment you've all been waiting for. With a footprint of 44 by 14 inches, the PSW-1 subwoofer requires some real estate—if you use it freestanding. It was designed to be stuck into a cabinet or under a bed, and you can use it in daisy-chained multiples. The sub's single 160-watt amp powers six aluminum alloy coned drivers, which fire downward into a pedestal that is open at the front and sides. On the front is a metal volume knob and power LED. I can't commend this control placement highly enough—all subs should have front volume adjustments. The back hosts the power switch, stereo line-level RCA ins and outs, a continuously adjustable phase control, and a crossover knob that's variable from 50 to 150 hertz.
Of more interest is the very unusual array of graphic equalizer controls, five sliders that operate at 25, 40, 60, 80, and 100 Hz. A center click stop makes it easy to feel around behind the sub, find the center position, and adjust upward or downward as needed. As I began to use the sub, I found that it had a little less audible output than average. Normally I expect to use one-third of the volume control's potential in my midsized room, and here I was tipping over two-thirds. There was also a midbass bloat, which was a fault of my room and not the sub. Hey, that's what sub EQ is for. I pushed the 80- and 60-Hz sliders down a bit and ended up with pretty good results. If it wasn't as precise as the notch I'd dial in with a good parametric sub EQ, it was better than no EQ at all.