Personal Satellite TV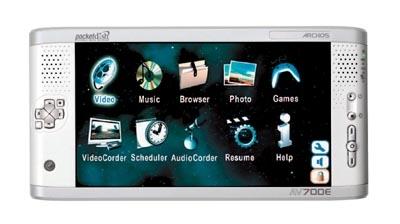 The Short Form
$599 / 8.25 x 4.25 x 0.75 IN / 1.25 LBS / pocketdish.com / 800-333-3474
Plus
•High-speed transfer from satellite receiver. •Intuitive interface through Dish DVR 942. •Excellent picture quality on built-in screen.
Minus
•Cryptic button labels on player and remote.B •Won't play shows recorded on Windows Media Center PCs. •Narrow vertical viewing angle.
Key Features
•7-inch widescreen, 512 x 384-pixel LCD •40-GB hard disk for storing up to 40 hours of TV •Plays MP3, WMA, and WAV audio files, JPEG photo files •Docking pod for recording from composite/S-video input; composite-video output to TV •Timer for unattended recordings
With digital cable's video-on-demand advantage, satellite TV has been seeking an edge. EchoStar's Dish Network may have found one with its PocketDish AV700E portable video player. The sleek handheld console, with a 7-inch widescreen LCD and stereo speakers, contains a 40-gigabyte (GB) hard drive that stores 40 hours of Dish programs. But what makes the PocketDish different from other portable players is that you don't need a computer or even an analog connection to a source component to load or record programs. Instead, it captures both TV shows and Sirius satellite radio via a high-speed digital connection to Dish Network's DVR 942 satellite receiver, a dual-tuner model with a 250-GB digital video recorder that replaced the
DVR 921 we reviewed in April 2004
. The biggest difference is the addition of a USB 2.0 port, now used for downloads to the PocketDish.
Made for EchoStar by Archos, a company it partly owns, the PocketDish player is also available in two smaller models. The AV500E comes with a 4-inch widescreen display and 30 GB of storage ($499), and its little brother, the AV402E ($329), offers a 21/4-inch conventional 4:3 screen and a 20-GB hard disk.
SETUP PocketDish comes with a pair of USB cables for connection to your DVR 942 and, if you wish, a PC or Mac as an additional source of programs, music, and photos. There's also a docking "pod" with an adapter cable for recording directly from the composite- or S-video output of, say, a cable box or camcorder. Another supplied adapter cable connects the PocketDish to a TV so you can watch stored programs on the big screen (composite video only).
The PocketDish opening screen shows icons for video, music, and photos; an internal browser that lets you see every file on the hard drive from one directory; some supplied games; a resume function that picks up playing whatever was onscreen when you put the player into standby mode; a scheduler for automatically recording from an external video source other than the DVR 942; and an audio recording function (microphone not supplied).
Loading up the PocketDish with programs from the DVR 942 was surprisingly simple and fast. As soon as you attach PocketDish to the front of the DVR 942 with its USB cable, your TV screen offers a list of shows already on the player and tells you how much recording time is still available. You use the navigation buttons on the 942's remote to select shows you've previously recorded on the DVR, then click to copy them to the PocketDish.
LATEST VIDEO