Panic at the Disco: Pretty. Odd.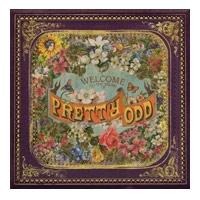 Decaydance/Fueled by Ramen
---
Music ••• Sound •••½
If nothing else, you certainly have to commend Panic at the Disco for deliberately choosing not to make their second CD simply more of the same Fall Out Boy-ish glamjams that made their 2005 debut, A Fever You Can't Sweat Out, a platinum-seller. Shedding both their exclamation point and their eyeliner, singer Brendon Urie, guitarist Ryan Ross, and crew have instead opted to pull a back-to-the-future in a (sonically, at least) conceptual set filled with (literally) bells and whistles that recall the day-glo days of psychedelia.
Nothing wrong with that, of course - and on such hummably trippy tracks as "Nine in the Afternoon," "Do You Know What I'm Seeing?," and "When the Day Met the Night," the group's Beatles/Zombies pastiches are about as effectively sunny and bright as anything currently on the pop scene. I only wish that, amidst all the clever cut 'n' pastes, some rays of real emotion or drama would shine through. Musical as these guys may be, they don't seem to have much to say - except maybe that they like music. (I'm not kidding. At one point, Urie wonders "if the sun would come out and sing with me." At another, he asks: "If the clouds were singing a song, I'd sing along, wouldn't you, too?")
All well and good, especially if it's just the surface of the '60s that they really want to scratch. Then again, they are from Vegas, aren't they?
LATEST VIDEO