Panasonic TC P58V10 58-inch Plasma HDTV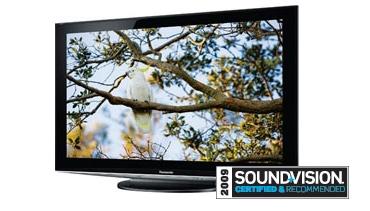 Key Features
$2,700 panasonic.com
• 58-inch, 1080p-resolution screen • THX-certified display mode • Digital Cinema Color mode • Viera Cast Internet TV feature • Network video camera compatibility (Panasonic cameras only) • SD card photo/movie viewer • Inputs: (4) HDMI, (2) component-video, (2) composite-/S-video, PC RGB, RF antenna/cable; LAN, SD card slot, RS-232C serial port • Outputs: analog stereo audio, optical digital audio • Dimensions + Weight 563?4 x 363?4 x 151?4 in (with stand); 115 lb (with stand)
As I write this in the waning days of 2009, it's somehow fitting that I both began and will end the year with a giant Panasonic plasma HDTV on my stand. Back in the spring, we ran my report on the 65-inch Premiere TH-65VX100U, a massive $10,000 blackmetal tank from Panasonic's professional line that screamed quality from every pixel. It was the high point of my year. Until now.
Outwardly, Panasonic's 58-inch TC-P58V10 looks like any other black-rimmed flat-panel TV, with perhaps a manlier look than today's dainty LCDs, thanks to its size and chunkier gloss-black bezel and stand. There's a slight bow at the bottom with some brushed metal trim that gives visual interest and houses an indiscreet power button and red indicator. Channel, volume, menu, and input controls are set back behind the TV's right edge.
Connection points are plentiful. They include three HDMI jacks and a pair of component-video inputs on the back, along with a fourth HDMI on the left-side convenience jack-pack. That's joined by a composite-video input, an RGB PC hookup (properly placed here for access when the TV is wall-mounted), and an SD card slot for loading up photos to the built-in viewer.
A LAN port on the rear supports Viera Cast, Panasonic's Internet-connected TV service. Hitting the button presented an easily navigated graphical user interface screen that put the currently watched program in a central picture-in-picture window surrounded by graphic icons for Amazon On Demand video streaming, weather, Bloomberg stock quotes and news, YouTube video, and Google's Picasa Web photo service. Another feature allows you to hook up compatible Panasonic security cameras to your home network, then access their images and pan-tilt zoom controls from a separate menu - a great idea for keeping an eye on the baby's room or getting a look at the front door when the bell rings while you're watching TV.
I wasn't much impressed with Panasonic's remote control, which has backlighting for only the large volume and channel rockers. The buttons for some oft-used functions are too small, and the important Input key is placed out of thumb's reach. But, to its credit, it isn't overcrowded with a lot of useless buttons. The Format key is used to cycle through the aspect ratio modes; for HD signals, these include Full, Horizontal Fill, Just (for stretching 4:3 images), and Zoom. There's also an option in the video menu to make the Full mode default to a zero-overscan, pixel-bypixel display, as opposed to the more typical 3 to 4% overscan.
SETUP
The TC-P58V10's video presets include two modes called Studio Ref and THX. These looked very similar, with the THX-certified setting providing a slightly brighter image with a little less black depth but better shadow detail. Both used the relatively accurate Warm2 color temperature setting and looked quite good out of the box, with no tweaking.
Adjustments made to any presets except the Custom mode are applied universally to all inputs, so I opted for Custom to allow fully independent tuning of each of my video sources. With the Warm2 setting, the grayscale ran a little red but displayed refreshingly linear tracking from bright to dark compared with most LCDs I've tested lately. I had this plasma tuned up to the industry-standard 6,500 K in no time at all using the White Balance controls in the Advanced Video menu.
The Panasonic has a Digital Cinema setting that offers a wider color space than regular HDTV, but my measurements and observations suggested that it mostly just added a touch of extra saturation that made reds and skin tones look unnatural, so I preferred to leave this off in favor of the regular HD color space. I also turned or left off several automatic color and contrast modes that messed with the color balance or added the impression of deeper blacks by crushing near-black detail. Once I verified the effectiveness of the 2:3 film mode with some test-disc material, I left it turned on. Panasonic's noise-reduction modes (there are three, for random video) noise, block noise, and mosquito noise) were largely ineffective and subtly softened the image in their high settings, so I left them off. Standard- definition programming generally looked stable and mostly noise-free on the TV anyway without the extra help.
LATEST VIDEO