Panasonic SC-BT300 HTiB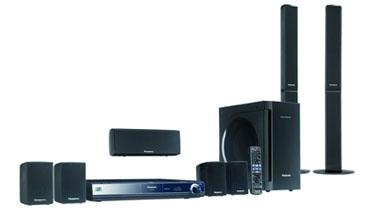 A Sound+Vision home-theater-in-a-box (HTiB) review! Now, before you start thinking we've gone all Wal-Mart on you, let me quickly make the case for integrated home theater systems like Panasonic's SC-BT300.
Anyone who has set up a traditional home theater rig using separate components knows how frustrating it can be. What with assigning the various inputs, tweaking crossover settings, and configuring each component to deliver its best possible performance, the learning curve can be pretty steep. Developments like HDMI connections, which combine A/V signals on a single wire; automated speaker calibration; and graphical onscreen setup menus have certainly helped to make things easier, but sorting it all out can still be a daunting exercise even for experienced A/V geeks.
Such headaches are responsible for the popularity of HTiB systems like the Panasonic SC-BT300. Because an HTiB's speakers and electronics are designed to work together as a package, you get something that approaches plug-and-play simplicity. Basic setup of the SC-BT300 consists of positioning its speakers, running wires between them and the main unit, and connecting the video output to your TV. Job done.
There are additional advantages to the integrated approach. Because the system's designer knows the exact sonic capabilities of each speaker, it can tailor the amplifier's output, tweaking linearity to correct frequency response errors and using dynamic compression to achieve maximum possible output while avoiding distortion.
As HTiB systems go, the SC-BT300 is one of the most comprehensive I've seen. In addition to a Profile 2.0 BD-Live Blu-ray Disc player, it has an iPod dock, an AM/FM tuner, and Panasonic's Viera Cast media streaming feature. Equally impressive is the way Panasonic managed to stuff all of this, including an 8-channel digital amplifier, into a component that's scarcely larger than one of the company's standalone Blu-ray players. One remote operates everything, and if your TV also happens to be a Panasonic model with HDMI jacks, the Viera Link feature means you can control that as well.
The Viera Cast feature is currently limited to Weather Channel forecasts, Bloomberg Financial News, YouTube videos, and Google's Picasa photo-sharing service. While the quality of YouTube videos on my big screen was better than expected, the search interface made finding videos tedious. Amazon Video on Demand is scheduled to be added to Viera Cast soon, but I'd prefer the ability to stream movies from Netflix.
Anyone who thinks they can get a sense of a speaker's performance by poring over its spec sheet may find the SC-BT300's speakers to be some kind of cruel joke. Most of the system's 7 speakers, including the front left and right towers, use only a single 2[1/2]-inch driver, although the center channel uses a pair. Interestingly, the drivers in the three front speakers use cones made from bamboo pulp, which Panasonic claims offers better performance and greater durability than a normal paper cone. The passive subwoofer is what Panasonic calls a Kelton design, a kind of hybrid between a bandpass enclosure and a passive radiator. Basically, it has a 6[1/2]-inch woofer that also drives a 10-inch side-mounted passive radiator mounted in a separate chamber.
Even if you can get past the puny drivers, Panasonic's speakers do little to inspire confidence, with their cheaply molded plastic cabinets and permanently fixed grilles. Each speaker weighs only a pound or two, while the 10-pound sub's cabinet appears to be made from chipboard. Instead of trying to impress buyers with lots of useless drivers and fancy trim, Panasonic clearly decided to put the money where it would actually result in better performance. That's a bold choice in today's typical look-without-listening retail environment.
SETUP Each speaker comes with its own color-coded speaker wire with a proprietary connector for the amp, and pre-stripped wire for the speaker end. Working on the assumption that you'll be positioning the main unit front and center near the TV, Panasonic's supplied lengths range from about 10 feet for the center channel to 40 feet for the surrounds.
The SC-BT300 comes with a microphone and automated setup program, but to be honest, it's of limited use. All it does is set the levels of the individual speakers, which are already pretty well matched out of the box. There's also a full manual setup, including speaker-delay adjustment, for the tweaky, but to dial this in you'll need to apply the old-school method of calculating delay in milliseconds.
The SC-BT300does not provide video inputs, so additional sources like a cable box need to be connected directly to your TV. Audio inputs are limited to one analog stereo and two optical digital jacks. Video outputs include composite, component, and HDMI, and while most sources, including DVD and Viera Cast, are upscaled for output via HDMI, video from a connected iPod is only available on the composite-video output.
I positioned the speakers for optimum 7.1 playback, with the front three speakers near the wall just underneath my projection screen, and the side surrounds positioned 180 degrees and the rear surrounds 90 degrees, respective to the listening position. The sub went against the wall between the front left and center speakers. I set the system's four-position equalizer to flat, and the sub to the lowest of its four level settings.
LATEST VIDEO