Panasonic PT-AE500U LCD HDTV Projector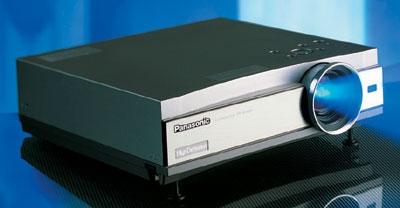 While everyone's talking about flat-panel LCD and plasma televisions, a less-ballyhooed trend is making hay with savvy technophiles, bargain hunters, and do-it-yourself handymen. This quiet revolution is called affordable front-projection home theater. With a small projector, a screen, and some window shades, you can achieve breathtaking picture size and quality for movies, sports, and even regular TV.
FAST FACTS
DIMENSIONS 11 x 3 3/8 x 10 1/2 inches WEIGHT 6 3/8 pounds PRICE $2,500 MANUFACTURER Panasonic Consumer Electronics, www.panasonic.com, 800-211-7262
KEY FEATURES
• 1,280 x 720-pixel native resolution • Copy-protected DVI input • Gamma and color-temperature controls • 3 custom picture memories • Additional rear inputs: VGA, wideband component-video, and composite/S-video
Unfortunately, the majority of projectors that qualify as "affordable" have relatively low resolution. They can display the full detail of DVD, but when it comes time to watch that big high-definition game or HBO movie, they fall a few hundred thousand pixels short. Panasonic's PT-AE500U changes all that, delivering HDTV resolution for a revolutionary $2,500.
The PT-AE500U uses LCD technology, which puts it in direct competition with DLP (Digital Light Processing) projectors. But no current DLP projector equals the 500U's resolution at anywhere near its price. With three 1,280 x 720-pixel LCD chips inside, the Panasonic can display every detail of 720p (progressive-scan) HDTV. Other formats, including high-def 1080i (interlaced) and standard 480i, are scaled to fit the 500U's native resolution.
The AE500U qualifies as a medium-size projector, and its smart silver styling will please the eye even if you put it on a coffee table - though most folks will want to mount it on the ceiling. A minimal array of keys on the main body allows menu access and control over power, input selection, and keystone effect.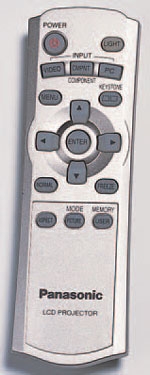 Despite its small size and low button count, Panasonic's remote was clearly designed with home theater in mind. Every button has red backlighting, and only important, frequently accessed functions, such as aspect ratio, picture mode, and user memory, have their own keys. Three buttons enable direct access to different groups of jacks: Video for composite- and S-video inputs, PC for DVI (Digital Visual Interface) and VGA inputs, and Cmpnt for the component-video input.
The array of inputs will accommodate just about any home theater setup. A trigger jack enables the AE500U to lower a motor-controlled screen when the projector is powered up. The DVI connector has HDCP copy protection for compatibility with DVI-equipped HDTV tuners and some DVD players. If you have gear with HDMI (High Definition Multimedia Interface) outputs, you'll need to get Panasonic's optional $69 adapter.
With five display modes, the 500U offers more aspect ratio choices than many projectors. It has a 4:3 mode, which places black bars to either side of a wide screen, a 16:9 mode for HDTV and widescreen DVDs, a Zoom mode to properly display DVDs that aren't anamorphic ("enhanced for widescreen"), and a Just mode that stretches the sides more than the center. All of these modes can be used with standard or progressive-scan (480p) sources, but they don't function with high-def material.
LATEST VIDEO