Panasonic previews its 3D technology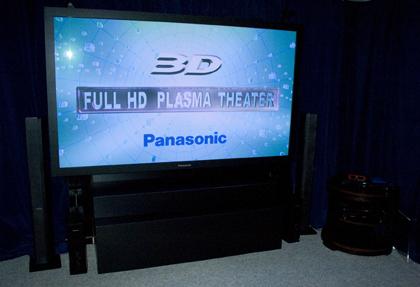 I just got back from Panasonic's corporate headquarters in Secaucus, New Jersey, where the company was giving previews of its upcoming 3D technology. Yes, I know 3D video has been around for decades, and over the last few years it's seen a resurgence in movies, but Panasonic's demo distinguished itself by presenting a preview of an upcoming standard in 3D HD video. If it catches on, 3D video might see its own legitimate and consistent technology, standardized across many different consumer electronics and motion picture companies.
Panasonic is calling the system Full 3D HD, and it set up a home theater dedicated to showing it off, equipped with the company's 103-inch, 1080p plasma HDTV and a prototype 3D-capable Blu-ray Disc player. The system uses active shutter glasses, 3D glasses with electronics that make the lenses shutter at extremely high speeds, to separate 120 frames of alternating video into 60 frames for each eye to produce the 3D effect. Each frame is full 1080p resolution, essentially pushing twice as much video through the screen as regular, 2D 1080p video.
I was shown a variety of 3D video, including the trailer for Pixar's Up, footage from the 2008 Beijing Olympics, footage of Vancouver's scenery in anticipation for the 2010 Vancouver Olympics, and a trailer for James Cameron's Avatar. While the 2D trailer has been showing on IMAX screens recently, the 3D trailer has only been shown in a few places so far.
A few months ago, I watched Up in 3D, using passive glasses provided by RealD at the AMC Empire 25 in New York. It was an entertaining experience, but the plasma screen and active shutter glasses in the demo produced slightly more pronounced 3D effects, and the video was much smoother. The Beijing footage was crisp, but its 3D effects weren't quite as notable, probably because of the lack of significant foreground images. On the other hand, the Vancouver footage looked remarkable, with trees and snow banks in the foreground contrasting sharply with the mountains in the distance. The Avatar trailer looked impressive and ambitious, and the 3D effects varied beyond pop-out-in-the-foreground visuals.
This was all just demo video, on a demo system with demo parts. The final, consumer-ready products might look different, and when a standard is finally complete it will hopefully mean an entire line, or series of lines, of products ready to take advantage of the technology. Panasonic plans to have consumer 3D video products ready in 2010, after the standards are set.
While the technical specifics could change, Panasonic's Technology Liason & Alliance Group Manager Anthony Jaslonowski noted that the new 3D standard will take advantage of HDMI 1.4. The new HDMI standard will let compatible HDTVs and Blu-ray Disc players automatically configure 3D settings, with a minimum of input from the user. Fortunately, for users with HDMI 1.3 devices, such as an A/V receiver with HDMI 1.3, the 3D will still be backwards-compatible and manually configurable.
Later in the year, Panasonic will be holding a truck tour across the country, showing off its 3D technology and the upcoming standard to consumers for its 2010 product releases. Keep an eye out.
— Will Greenwald
LATEST VIDEO