Onkyo TX-SR804 A/V Receiver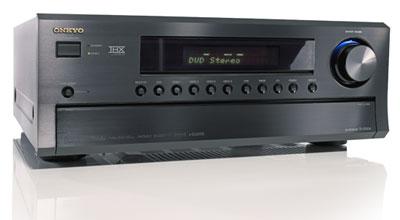 In a world of earbuds, plastic pods, and itty-bitty phones, there's something reassuring about an A/V receiver. In appearance, at least, receivers are throwbacks to the olden days of stout components and heavy lifting. But receivers are dinosaurs in weight only. Case in point: The new Onkyo TX-SR804 A/V receiver, which, looks aside, is thoroughly modern.
At about $1,000 on the street, the TX-SR804 occupies that middle ground Onkyo has so successfully staked out in the past. It's a receiver that's high-powered (but not the highest powered) with an adequate (but not gonzo) feature set that seems to represent solid value. Among its boasts are THX Select2 certification, 7 x 105 watts of power, and, of course, HDMI switching (2 in, 1 out).
Critically, the HDMI interfaces can pass video in all the key HDTV formats, including 720p, 1080i, and 1080p, so you can plug in a Blu-ray Disc player, for example, and convey its 1080p signal to a 1080p display. The SR804 will also reproduce multichannel PCM soundtracks from Blu-ray and HD DVD via its HDMI connector - another key, forward-looking feature. Composite-video is converted to S-video, S-video to component-video, and component-video to HDMI, so no matter how a video source is connected, its signal is available at the HDMI output.
On the downside, the receiver cannot scale video signals to 720p or 1080i. (It can deinterlace 480i to 480p for composite-, S-, or component-video inputs.) And there is no USB port to feed music digitally to the receiver from a PC or flash drive. But it does sport an RS-232 port for hookup to a home control system, and 7.1-channel multichannel ins and pre-outs as well. And it's XM-ready.
LATEST VIDEO