Onkyo Mid-Priced THX Receivers Due Out in May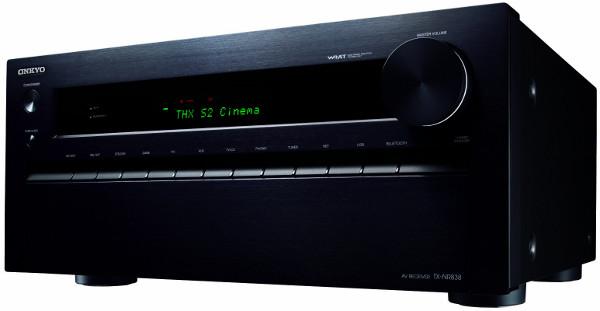 THX certification, 4K support and wireless connectivity are key features of the TX-NR737 and TX-NR838 AV receivers Onkyo is introducing in May with suggested retail prices of $899 and $1,199, respectively.
Both models passed rigorous audio testing to achieve THX Select2 Plus certification, which guarantees high-volume, low-distortion sound that remains true to the director's intentions. The cornerstone of what Onkyo is calling "Emotion Delivered" sound is a high-current amplifier design optimized to handle impedance fluctuations and the sudden dynamic changes common to movie soundtracks. Both models are also based on the company's Wide Range Amplifier Technology (WRAT), which is built around a custom high-output transformer, extra-large customized capacitors, and low-impedance copper bus-plates.
Other technical highlights include 192 kHz/24-bit Burr-Brown digital-to-analog converters, Advanced Music Optimizer DSP to enhance the quality of compressed audio streamed via Bluetooth, and proprietary AccuEQ room calibration, which bypasses the front L/R channels to preserve the main speakers' audio characteristics while optimizing the remaining channels for surround sound.
Both receivers are equipped with seven HDMI inputs and two HDMI outputs. The inputs include an MHL-capable front connection that also supports 4K/Ultra HD video at 60 frames per second and an HDCP 2.2-compliant input that enables the receiver to play copy-protected 4K/Ultra HD media and other premium content.
The TX-NR838 goes a step further in its pursuit of audio purity with a Pure Direct Analog Path mode that turns off all digital circuitry to eliminate electrical interference. Other features include 7.2 multichannel pre-outs, five digital audio inputs, and a 12 V trigger-out for Zone 2 audio.
Built-in Wi-Fi and DLNA compatibility facilitates streaming high-resolution music libraries from a PC or media server, with search, track selection, and playback controls enabled via Onkyo's remote app. A variety of file formats are supported, including 5.6 MHz DSD, Dolby TrueHD, and gapless 192 kHz/24-bit FLAC and WAV. The receivers also support Bluetooth streaming and provide access to Spotify, Pandora, SiriusXM Internet Radio, Slacker, AUPEO!, and TuneIn Radio.
On the video side, a Qdeo video processor converts lower definition video to 1080p or 4K, depending on the resolution of the connected video display. The TX-NR838 can also transmit high-definition video to the second zone in addition to powering audio.
LATEST VIDEO