NuVision 52LEDLP 52-inch 1080p DLP HDTV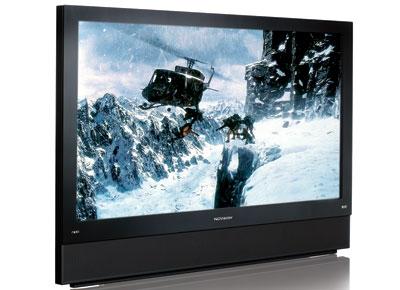 As the prices of flat-panels keep dropping, the key to survival for rear-projection HDTVs has been their value at screen sizes bigger than 50 inches. So I found it a little strange, not long ago, to be reviewing this 52-inch DLP set at $4,399 - easily $2,000 more than other like-sized 1080p models. Could the NuVision 52LEDLP 52-inch 1080p DLP HDTV possibly be worth it?
Based in Scottsdale, Arizona, NuVision first entered the LCD market before releasing this LED-driven DLP late last year. LED light engines offer several theoretical advantages over traditional lamp-based designs. For single-chip DLP projectors, the use of separate red, green, and blue LEDs eliminates the need for a color wheel (a potential source of rainbow artifacts) and can yield a wider array of more accurate colors - in this case, a claimed 40% wider than the NTSC standard. These projectors also eliminate expensive lamp replacements.
The 52LEDLP's price tag reflects the higher cost of its LED technology as well as NuVision's focus on providing over-engineered, high-performance products for the custom-installation market. That can also be seen in some installer-friendly aspects of the TV's design, including an RS-232 connection to facilitate advanced home-control systems, and a built-in infrared repeater that allows control of other components through the TV's front-panel IR receiver.
Visually, the 52LEDLP strikes a modern pose with its wholly unclutterd black façade. Around back are two HDMI inputs (version 1.2) that accept 1080p signals at 24, 30, or 60 frames per second and two each of component-video, composite-/S-video, and RF inputs. There's no VGA input, but the HDMIs recognize RGB signals up to 1,920 x 1,080 pixels from a computer with a DVI output. A perfunctory composite-video convenience input is set so far back on the lower-right of the TV's body, it's oddly inconvenient. Also odd is the lack of any power-on indicator. Hitting the button generates a soft relay click, but you may not know the TV is on until the screen lights up 15 seconds later. At least that's a rather speedy power-up cycle - another nice benefit of the LED light engine.
LATEST VIDEO