Niles IntelliControl ICS Multiroom Audio System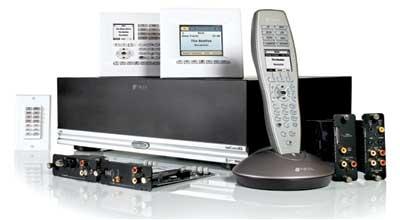 Audio distribution is the custom-installation industry's bread and butter. Sure, home theaters are sexier, but with only five or seven speakers, they can't compete with the ten, 20, 30, or more that need installing for a housewide music system.
Although many equipment manufacturers are now rushing to cash in on this exploding market, Niles isn't one of the latecomers: The company has been steadily designing well-respected audio components for 28 years. Its new IntelliControl Integrated Control Solutions (ICS) system isn't its first foray into multizone systems, but it's definitely the most ambitious. Among Niles' goals: create a system that could provide full metadata (track information such as artist, song title, or album) on a variety of controllers around the house; give users the ability to switch easily among a wide range of sources; and do it all at an affordable price. So . . . how'd they do?
SETUP Wisely, Niles designed the IntelliControl ICS multiroom audio system around the industry- standard wiring used for most new homes - usually Cat-5 cable for control signals and four-conductor cabling for speakers. All wired controllers (typically keypads) and speakers connect to the GXR2 main chassis ($2,800), the brains of the system that also supplies the brawn via its 12-channel/6-zone onboard amplifier. This means the ICS can easily be retrofitted in homes that already have standard speaker wiring for other multiroom systems. My house has four existing audio zones (bedroom, bath, dining, pool) with all the speaker and Cat-5 control cabling running back to my electronics rack, so connecting them to the GXR2 was simple.
One of the things that makes the GXR2 so flexible and cool is its modular, card-based architecture, which allows you to play music from a variety of sources. Want to load up on iPods and tap all of their music simultaneously? Need three streams of Sirius to play different stations in different rooms? How about five CD players? ICS has you covered. The chassis can be configured with any combination of up to six IM (Integration Module) or TM (Tuner Module) cards. Currently available are the IM-iPod ($200) docking station; the IM-AUDIO ($150), used to connect ordinary line-level analog audio sources such as CD players; and the TM-XM ($500), TM-SIRIUS ($600), and TM-AM/FM ($250) tuner modules for satellite and traditional radio.
I loaded my GXR2 with the maximum six cards, using each of the cards Niles offers and doubling up on IM-AUDIO cards to handle my Escient and digital cable box. The system is expandable to a total of 30 separate music zones by connecting additional GXR2s. Each adds another six zones that can be independently controlled, though you're limited to the original six sources; these "slave" GXR2s are outfitted with IM-AUDIO cards to "cascade" sources from one unit to the next. If 30 separate audio zones were actually needed in a home, six sources would likely be a limitation, but this probably won't be a concern for most users.
LATEST VIDEO