New Music for October 2, 2012: Peter Gabriel, Instant Live, Remastered Beach Boys, and Grand Ukulele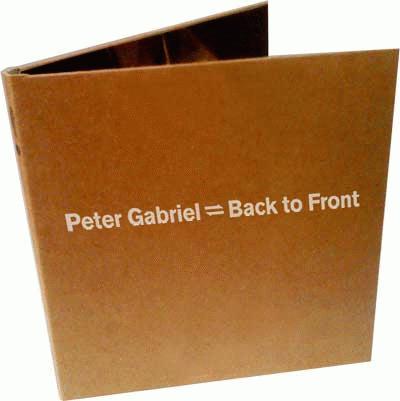 Peter Comes Alive Again
Peter Gabriel has offered live concert CDs in the past and his current tour again features them in conjunction with TheMusic.com.
Each show of the Peter Gabriel Back to Front Tour will be recorded LIVE OFF THE SOUNDBOARD, mixed by Peter's 'Front of House' Engineer, Ben Findlay. Shows can be purchased separately, or for the ultimate fan, can be purchased as a complete set (all 16 shows) in either our Collectors Edition Box Set or Deluxe Limited Edition Numbered Road Case. For those unable to attend one of the concerts on this tour, the Encore Series offers a chance for you to experience Peter's Front to Back tour from home, and for those of you that do see a show, an opportunity to relive the experience again and again. . . finished discs and USB flash drives ship approximately 3-4 weeks after concert.
Still, 3-4 weeks isn't long to wait for a professionally mixed memory of the concert you saw. When I (hopefully) see Gabriel on this tour I'll probably order one. It's a no brainer.
Beach Boys Remasters on the Way
The Beach Boys - who, business squabbles aside, have been enjoying a bit of a renaissance on their 50th Anniversary with a successful tour and hit album on the charts - are giving a long overdue remastering treatment to a 12 of its classic albums. These are largely early albums before and after Pet Sounds, breaking out the typically better Mono mixes and some new, first time TRUE STEREO mixes of seminal collections including: "Today," "Summer Days (And Summer Nights)," and even "Smiley Smile" More details on these reissues as it becomes available. The remasters should be out now so we will be checking them out to hear how they stack up to prior re-releases and original pressings.
Trot, Don't Walk
Head on over to DayTrotter.com and explore a vast archive of exclusive live-in-the-studio appearances by the (generally) newer guard of artists coming up through the ranks. Currently, Mumford and Sons have a new set posted, but you'll also find brief shows by Trampled By Turtles, The Avett Brothers, Helio Sequence, Grizzly Bear and others. It's not just younger acts, however - you'll find great sets by Los Lobos, Dinosaur Jr., Cowboy Junkies, Nada Surf, Neil Young, and even Social Distortion!
Mono Beatles Vinyl in 2013!
You have probably heard by now that the entire Beatles catalog is being issued soon on vinyl - sourced from the stereo masters, including a pricey uber-deluxe boxed set. That is cool. But what a lot of you probably missed is a little detail tucked away on the Fab Four's website: "In 2013, the remastered albums will make their mono vinyl debuts."
Well, if you haven't heard The Beatles In Mono CD box you owe it to yourself to own this terrific set, which has fantastic mini-reproductions of the British album covers (including period appropriate inner sleeves and LP labels on the various incarnations of the early Parlophone imprint). Beyond being packaged better than the stereo mixes, they SOUND markedly better than the stereo mixes - The Beatles put all their time into the Mono mixes and - save for The White Album - they all sound much much tighter than the stereo mixes. They rock more.
The music blends better in mono, with drums, bass and rhythm guitars locking in to provide a solid base for the other overdubbed parts and vocals. In stereo, oftentimes you find the mix has been weakened by putting the "bed" of basic tracks in one speaker and other bits popping up in the other speaker. So, this writer is going to wait for the Monos in 2013 and will pick up some to hear how they compare to original US and UK pressings. By then, hopefully the stereo pressings will come down in price a bit so it will be easier to justify buying yet another copy of The White Album, Abbey Road and Let It Be.
Rare, Unreleased Springsteen and Stevie Wonder Sets at Wolfgang's Vault
Periodically we check in on the a-m-a-z-i-n-g archive of live concerts - audio and video - legally offered by the good folks at Wolfgang's Vault (the personal archive of the late great concert promoter and impresario, Bill Graham). Among the many great shows are a newly posted soundboard recording of Stevie Wonder from 1986 and Bruce Springsteen's legendary 1973 performance at Max's Kansas City, some of which was broadcast on the radio via The King Biscuit Flower Hour back in the day. The Bruce set contains some great songs that remained unreleased and/or off the set lists for many many many years including Bishop Danced, Thundercrack, Saga of the Architect Angel and Song To The Orphans. The latter two tracks have not appeared on any official release to date, making this set an essential listen.
Ukulele Fever!
Alan Parson's latest - and most unexpected - project is. . . well, it's ukulele phenom Jake Shimabukuro's latest album, Grand Ukulele. Parsons sets the young virtuoso against strings here in a middle-of-the-road jazz/pop context, and as you might expect the result is a beautifully balanced recording that shows off the little four-string at its very best; factor in Shimabukuro's perfect technique and you'd be hard pressed, note choice aside to distinguish this from a solid nylon-string guitar performance at first listen. Now, it's not clear that the world needed another reading of Adele's "Rolling in the Deep," or Sting's "Fields of Gold," but the tracks that really show Shimabukuro at his best - like the unadorned "Island Fever Blues", which recalls Pat Metheny's acoustic playing and features some downright dazzling solo chops - are worth serious listening, and make you realize that there's more than just hype and a unique instrument here.
LATEST VIDEO