New Music for November 20, 2012: Give Thanks for Record Store Day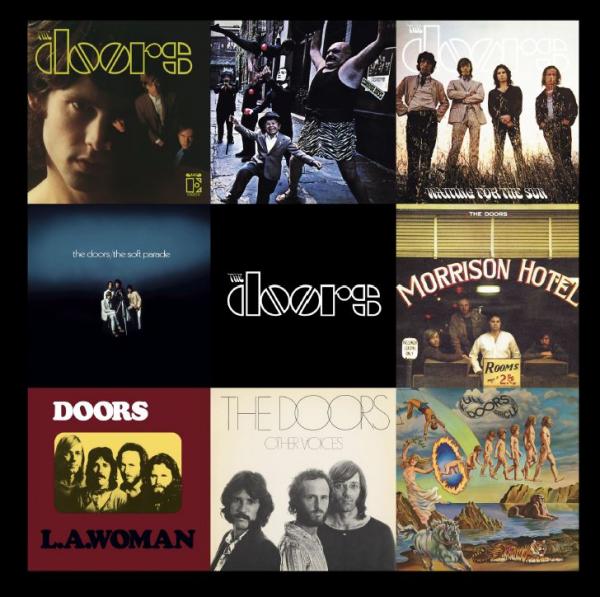 Black Friday is Record Store Day!
Yikes! Record Store Day is THIS Friday! Are you ready? Get out there and support your favorite local record shop - and that shop, along with many others across the country and around the world (not to mention a bunch of labels) are helping you out by posting their lists of limited edition runs coming out the day after Thanksgiving. Here are some of the items on our want list:
Captain Beefheart 7-inch 45s: "Abba Zabba" b/w "Yellow Brick Road" and "Plastic Factory"
Leonard Cohen/Jeff Buckley 7-inch 2-sided split disc w/ both versions of "Hallelujah"
Velvet Underground and Nico Sceptre Studios Acetate (note: recently released on the 6 CD box set, I had hoped they would make an LP reproduction of this gem!) (5000 copies made).
Frank Zappa 7-inch single, "Why Doncha Do Me Right?" (4,000 copies made)
Rockabye Baby Flaming Lips (Various Artists) -- This could be very fun - or very scary! (2,000 copies made)
Bettye Lavette More Thankful More Thoughtful CD, unreleased tracks from acclaimed Thankful 'n Thoughful sessions. (3,000 copies made)
Love Forever Changes 180-gram reissue with bonus 7-inch
Jellyfish Stack-A-Tracks 2 CD set of backing tracks (2500 copies made)
Grateful Dead Live at Winterland 5/30/71 LP (7500 copies made)
Joe Strummer & The Mescaleros Live LP (1800 copies made)
Beck Sea Change on pink vinyl, Mobile Fidelity (1000 copies made)
Big Brother/Janis Joplin Cheap Thrills MONO 180-gram!
High-Rez Downloadable Doors
HDtrackshas a neat bargain going on: the complete collection of albums by The Doors in 96/24 resolution for about $99 including the two post-Morrison Doors albums (which are actually quite good!) Its a great deal if all you want is two channel stereo and don't want to mess with LPs 'n stuff. In general all of the HDtracks versions sound fine, and unless you already have original LPs or the Perception box set (with DVD-Audio Disc versions of the album) you will be well served by this set.
That said, I suspect that completist fans will prefer the Perception box set since you get high resolution stereo and surround sound mixes plus bonus tracks with scores of outtakes, alternate mixes and some very cool rare TV appearances. You can find it used for under $90 on Amazon.
My only perceived technical issue (if you can call it that) regarding the HDtracks download is that if you buy the complete package rather than the individual albums, all the tracks come through as a single continuous playlist rather than being broken down by album. So, the track numbers will be kinda useless to most people unless you get to work editing some metadata (ie. track one of LA Woman is labeled "53. The Changeling" since it's the 53rd track in the package instead of being track #1 of the album, or "1. The Changeling").
Of course if you don't care about that sort of thing, then it won't matter now will it. ;-) And it isn't that hard to do some editing.
Its a big set and we don't have space to review every track and album, but following are some glimpses into the set as well as comparisons where applicable to the Perception box discs (CD+DVD-A) and LPs (for the last two post Morrison albums):
The Doors
The HDtracks files sound real nice. The DVD-A in the Perception box sounds real nice too. Are they the same or different? Hard to tell for sure since at least a couple of the tracks on this album ARE different edits. For example, the HDtracks version of "Light My Fire" seems to use the original sped-up album version, clocking in at 6:52, not the speed-corrected slower version found on the Perception box CD (7:08, 7:00 on the DVD A disc!). "The End" clocks in about 10 seconds shorter (11:34) than the CD (11:45) or the DVD-A (11:41).
Am I splitting hairs here?
Hardcore fans will say: "no."
Casual fans will say: "whatever."
The Soft Parade
The CD version is loud, clear and sounds pretty good. Yet it pales in comparison to the HDtracks takes, which soften the harder edge on horns and cymbals on tracks like "Touch Me." Its really pretty noticeable when you play the disc half way loud - all the hard edges turn into harshness, trebly while the HDtracks version maintains its warmth. Bass is much more prominent on the HDtracks versions as well.
Curiously when I played the Dolby Digital 2.0 stereo version on the DVD-A discs via a standard DVD video player, the mix lost a lot of definition. The bass became less distinct and the horns seemed to be pushed back a bunch, sounding pretty washed out overall. "Shaman's Blues" rocks pretty righteously on the high-rez download, with really crisp, natural sounding ride cymbals and lovely interplay between Ray's organ and Robbie's lead guitar riffing.
However, if you own a player that can handle DVD-A's uncompressed MLP tracks, then you are set, as those layers of the disc sound pretty fantastic.
When you dive into the DVD-A discs of the Perception box, it gets the BIG thumb up for numerous reasons but notably: there is almost one extra minute of music - "a tenderly sung Morrison poem" as the Wiki puts it - at the start of the title track, on both the 2-channel and 5.1 mixes on the DVD-A disc (but NOT on the accompanying CD!). This alone (in my mind) makes the DVD-A disc essential if you are a Doors fan. The surround mix is pretty fab too (this is my favorite Doors album, btw).
L.A. Woman
Curiously, the CD of LA Woman sounds pretty good, though there is certainly more presence in the HDtracks version. Bluesy tracks like "Been Down So Long" are pretty basic so what you'll be looking for in sonic difference is a sense of presence, mid range and bass loss on the CD (or gain on the HDTracks). On the CD version of "Cars Hiss By My Window," Morrison's voice is a tad sharper and you lose some of the amp tone on Kreiger's bluesy guitar soloing; the Perception box version sound warmer and add an extra verse to boot.
Oddly the stereo mix on the original DVD Audio version of LA Woman sounds very much like the HDtracks version although it could be argued that the DVD-A sounds a bit more alive. There is more room sound on this mix, with more ambiance around Jim's voice and band than on the HDtracks, which are quite flat.
Which all begs the question: perhaps these are the original mixes and not the 40th Anniversary remixes from the Perception box? Let us know what you think.
Other Voices and Full Circle
A big surprise was finding high res HDtracks downloads of the two highly underrated post-Morrison Doors albums included in this package!
As a little kid, my older brothers had brought home Other Voices, so I grew up with this album alongside the other Doors albums - I like it! Actually, it really is a pretty remarkable record because you can hear just how much influence the core band had on the overall sound of The Doors. Contrary to popular mythology, The Doors were not just Jim Morrison's band. Robbie Krieger wrote a whole bunch of their big hits and Ray Manzarek - who always sang harmony with Jim - steps up to the mic as lead vocalist rather righteously on these albums.
Tracks like "In The Eye Of The Sun," "Ships With Sails," "Tightrope RIde," and "I'm Horny I'm Stoned" would all have been massive hits had Morrison lived to sing on them. Manzarek seems to be channelling Morrison at times - its chilling and enthralling. And it rocks. The original LP sounds a tad warmer than the HDtracks versions (not surprisingly) but the high-rez downloads of these will certainly suffice gloriously with lots of crisp highs and nice detailing of (now legendary) guest bassist Jerry Scheff's playing. Full Circle is not quite as complete a statement, and perhaps the band was fully feeling the strain of Morrison's passing (not to mention the pressure from the label to deliver hits). Still there are some intriguing tracks to explore. Again, the HDtracks downloads sound pretty groovy. The only downside here is that you don't get the full album art (and the back cover half of the painting used for the cover is every bit as wild as the front). Nonetheless, its nice to be able to get high resolution downloads of albums that have been out of print for close to 40 years and sounding as good as they do!
The Doors Live At The Hollywood Bowl 1968 (Blu-ray)
This release is pretty magnificent: one of the only known complete Doors shows filmed and recorded in high fidelity. Parts of this were released in the 1980s on VHS but it took modern digital technology to bring together the full show for your viewing and listening enjoyment. You see, on several of the tracks, Jim Morrison's microphone endured some major problems, resulting in a few songs that were unusable. In an act of love, devotion and passion, led by original engineer Bruce Botnick, vocal tracks were painstakingly reassembled, word by word, from other performances of the period. The result is a remarkable brand new edit as the film appears to be fully in sync on all tracks.
You get is a full Doors show in lovely 5.1 high resolution audio! The disc is chockfull of great bonus interviews with all the surviving Doors members and engineer Botnick. You also get some cool bonus TV performances - albeit blurrier due to source limitations - from the period on The Smothers Brothers Show and The Jonathan Winters Show.
The only negative that I noticed is that it is possible they did a bit too much digital clean up on the film, removing most of the 16 mm film grain and some of the visual detailing. This is particularly noticeable on Morrison's face which looks almost airbrushed as compared to the 1987 version which - while admittedly grainier and grubbier - did reveal more of a natural look to Morrison's face (5-O'Clock stubble, etc.). But its really a pretty minor nit. This is a very admirable restoration and clearly a labor of love. For under $20, its a great buy on Blu-ray. Get it!
LATEST VIDEO