New Music for December 25, 2012: Merry Christmas!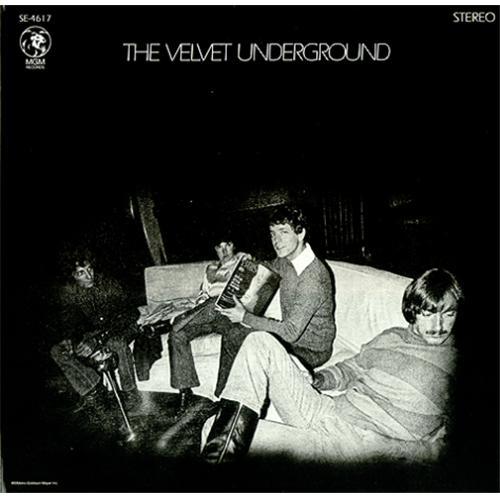 Merry Happy Joy Joy!
So its finally here. Christmas morning. Did you not get what you want? Did you get some cool cash that is burning a hole in your pocket? Either way there are cool things you can get this week, or even RIGHT NOW if you go for the download or head out to your favorite music store. Here are some albums you may have missed during the holiday mad rush.
Ultimate High Resolution Velvet Underground
HD Tracks has a Christmas gift for you if you consider a spectacular version of Lou Reed singing "Jesus" to be the ultimate in holiday fare. I do.
The eponymously named third album by The Velvet Underground is arguably the band's finest hour. This is almost a folk album at times that sits in overall stark contrast to the confrontational nature of the first two VU albums -- this one wraps its arms around you with hushed tones, dreams, love and introspection.
The hushed nature of the mix is obviously essential to the band, especially given they favor Lou Reed's original "Closet Mix," which appeared on original pressings of the LP before being replaced by engineer Val Valentin's somewhat brighter mix (the former is available on the Peel Slowly and See 5 CD box set as well as on the UK 3 CD set What Goes On.)
The hushed closet mix is great but it loses impact on the CD.
Especially when compared to the rather lovely heavy blue vinyl LP pressing that I picked up recently at Amoeba Records for about $12 -- it sounds fantastic compared to the CD, with big round bass, crisp cymbals and such. It uses the Val Valentin mix but it sounds really great. You can feel the skronky electric guitar tone through Lou's amp against the big strummy acoustic in the other channel
Cymbals decay really beautifully on "The Murder Mystery" -- the tom toms there are much more thunderous on the LP than either of the CD mixes. Even the bass on the simple album closer "Afterhours," sung by drummer Moe Tucker, sounds markedly better on the LP than CD.
The blue LP is also cool because it puts a completely old school MGM label from the late 50s/early 60s on this album (which as far as I know only originally came on the teal/gold swirl MGM label back in the day) so it is a genuinely unique release on its own. The vinyl is again quite thick and very quiet for the most part. I also have the yellow first VU album as well as the white vinyl 2nd LP "White Light/White Heat" and both sound great on the vinyl versions -- so much so, they may well become my go-to versions for regular LP play -- they are FUN to play (fans of colored vinyl will understand my enthusiasm here).
All this may be moot however if you are looking for the best possible version of an album and don't have a preference for the delivery medium. The HD Tracks versions of The Velvet Underground's third album is sonically the best I've heard to date -- giving me even more confidence in my audioengineD1 DAC that it CAN deliver a great high resolution audio experience given the proper source material.
This HD Tracks versions of The Velvet Underground's 3rd LP sound downright amazing.
Big, big sounding guitars. Thunderous bass. Tape hiss (hey, its analogue so if you take out too much tape hiss you lose high end). There is none of that harsh digital-flavored sound on the CDs. You can even hear very quiet cymbal parts in the mix, all but buried in other versions of this I have heard. The tambourine on "Pale Blue Eyes" is just amazing. . . you can hear the room sound it was recorded in and the tambourine settles out in very natural decay. Close your eyes and it feels like you are standing in front of Lou Reed singing to you without any echo, reverb, or special effects on his voice.
Moe Tucker's snare hits on "Beginning to See The Light" are magnificent on the HD Tracks version, locked in tightly with Doug Yule's thumping bass and Lou Reed and Sterling Morrison's jangle driven acoustic 6-string and electric 12-string guitars. You can hear a chair creak at the start of "Afterhours" as Moe Tucker counts off the tune.
Oddly, or perhaps, coincidentally, the difference between the 192 and 96 kHz versions are pretty imperceptible. I downloaded them both and was able to click on the tracks side by side in my VLC player, so it was as fast an A/B comparison I've ever been privy to and the differences are subtle and negligible.
Do I hear a millisecond more tambourine decay there on the intro to "Pale Blue Eyes"? Is there a hair more tone on the acoustic guitar on "Jesus" 192 vs. 96 kHz when it comes to the solo at 2:11 mark? Is the sound on "Beginning to See the LIght" just a hair bigger? Perhaps. If you have to choose between the two, you can't lose getting the 192 version. If your DAC only handles up to the 96 kHz, don't fret -- its still going to sound pretty fantastic. "I'm Set Free" may sound a hair warmer than the 96 kHz version. Am I able to count a cymbal decay on "The Murder Mystery" that is one second more audible in the 192 version than the 96 version? See what I mean about splitting hairs?
This one is an essential download. Didn't think I'd ever find myself writing those words, but there you have it. Essential.
Alternate Velvet RSD LP Still Available
The limited edition Record Store Day LP version of the "Sceptre Studios Sessions" version of the first Velvet Underground is still available and worth getting if you are a hardcore fan. These are mostly early versions that were re-recorded or remixed for the first album taken from a one-of-a-kind acetate which surfaced at at flea market in New York City a few years back. Its a nice thing to have but ultimately non essential unless you are a completist (like me) The packaging is pretty basic looking kinda like a bootleg (actually, the UK pirate version that was around for a while has a cooler cover with a green banana! but not sure if it will sound as good as this version).
Welcome, Again, Mono Big Brother
When the Box of Pearls CD collection came out in 1999, I opted to get rid of some of my Janis Joplin recordings which were either not in perfect condition or simply were so common on standard 1970s vinyl editions that I didn't think it would matter much to part with them. Of course, I didn't have my Music Hall 7.1 turntable then either so I had some regrets getting rid of Pearl and especially Cheap Thrills, with its glorious and groundbreaking comic book cover art by the great R. Crumb.
On Record Store Day this Fall, I decided to pick up the reissue of the uber-rare MONO edition of Cheap Thrills -- I never even knew it was available in Mono!
Before listening to it Mono I went back to the CD for a refresher on what the stereo mix sounded like. It has a great sound capturing the essence of the band in the studio and live, with drums toward the left of the stage, bass center and an electric guitar in each speaker. It's a very 60s flavored mix, probably recorded on 4-track given the were still a very new band and 8-track was still in its infancy. The drums, while rocking, are kind of lightweight in terms of their impact.
The thing to remember about Mono recordings, especially for rock and roll music made during this transitionary period of recording history, is that they tend to rock a whole lot more than their stereo counterparts. There are numerous reasons why, but mostly because the stereo technology was still in its relative infancy in terms of mixing for pop music recordings and most engineers were simply more skilled at mixing for Mono.
Additionally, most radio was still broadcast in Mono at this time so Mono was the main focus for most artists. Stereo FM radio was still a couple years away from gaining any sort of mainstream attention and popularity. The other factor making Mono mixes desirable over their Stereo counterparts is that the rhythm section locks together dead center on the sound stage, resulting in a punchier recording.
Indeed, the Mono mix of Cheap Thrills is punchier than the Stereo mix -- which always sounded pretty groovy in its own right, I must say. But the Mono mix rocks harder, so much so that you can feel drummer David Getz' kick drum and the toms much more clearly on the Mono mix. Peter Albin's fluid bass lines drive the music along with a remarkable pulse. On the stereo, the mix is all about the two guitars in each speaker almost dominating Janis' vocals at times. I like the guitar blend in the Mono version as it really showcases how intertwined Sam Andrews and James Gurley's parts were -- they are much more impactful on this mix. And frankly, this is probably what most people heard on the radio back in the day so if you want to be true to the moment, Mono is the way to go.
The vinyl is dead quiet on this 180-gram reissue and I'm pleased that my copy is perfectly centered -- really important on slow bluesy tracks like "Turtle Blues" which features just Janis and acoustic guitar and piano, which could have been ruined by an off-center press. I'm really happy to have this on LP again because its SO great to see the cover art in its full LP sized splendor -- so much was lost in shrinking it to less than 1/4 the size of a vinyl record jacked to that of a CD, its really almost criminal.
You can still find these Record Store Day editions of Cheap Thrills at many music stores and online at places like Music Direct for about $25-30
A New Quasi-ELO/Wilburys Album From Jeff Lynne
This Fall, ELO co-founder and main driver Jeff Lynne put out his first album of new recordings since the 2001 ELO release Zoom. It took me a while to find a copy of Long Wave on vinyl and I'm glad I waited as it sounds real good. I must qualify this - it sounds real good in a Jeff Lynne sort of way. If you are looking for a record with loads of sparkle 'n sizzle, this ain't yer record. In fact, it sounds a bit muted at first listen. But today on the third listen I discovered the clue to this album - it needs to be played LOUD, belying the often sweet, heartfelt pop cover tunes within.
Long Wave, if you haven't heard, is Lynne's tribute to music he grew up with as a kid. Now don't get worried (as I did initially) reading about this being some sort of "Great American Songbook" type release. These are not schmaltzy lame-o covers knocked out to capitalize on a public snapping up the saccharine offerings of desperate rock stars who have passed their prime. In fact, this album has a great feel very much like a lost ELO-meets-Traveling Wiburys album.
The tunes range from Broadway classics like "If I Loved You" to the amazing pop standard "Bewitched, Bothered and Bewildered" (from the 1940s musical Pal Joey, written by Rogers and Hart) to old rock and roll like "Mercy Mercy" (covered by The Rolling Stones, WIlson Picket, The Remains and many others) and even "Let it Rock." Probably my favorite track is the quite stunning version of the 1940s Harry Warren song "At Last" which became the signature song for none other than Etta James.
Coincidentally I recently picked up an obscure LP collection called Brum Beat, featuring "Birmingham's Fourteen Greatest Groups" (put out on February 1, 1964 on the Dial label there). Among the many fun beat and mod tunes are indeed covers of pop tunes of the day done in an early rock mode. Frankie Williams and The Highchords cover "The Lady Is A Tramp" and The Snakes do "Silvery Moon." The version of "Sleepwalk" by The Sinners sounds almost like Lynne's "At Last" without words. Its not that much of stretch of the imagination to see how Jeff Lynne conceived Long Wave. You can read more about Brum Beat at this ELO fan site.
Oh right. In case you didn't know, Jeff Lynne comes from Birmingham, England.
If I have one nit with Long Wave is that it is a bit short, clocking in at just over 30 minutes, just like an album in the early 1960s might have. Perhaps the idea was to, as they say in show biz, 'always leave 'em wanting more.'
We want more Jeff. Keep 'em comin'!!
LATEST VIDEO