New Music for August 14, 2012: Kronikling the Kinks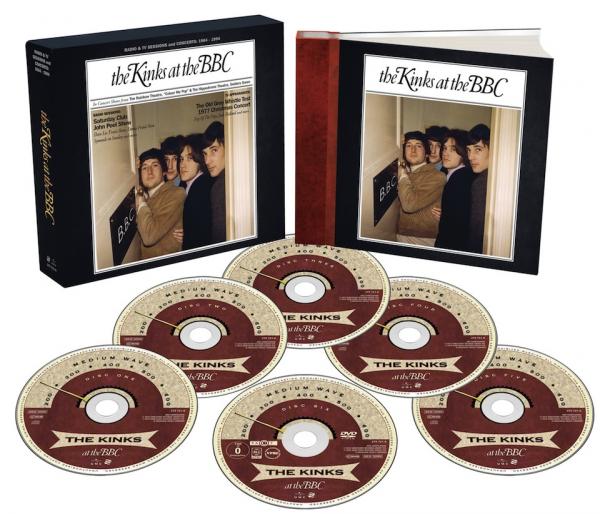 Kinks at the Beeb
Its been a great few years for us Kink Kroniklers. Ray Davies, of course, just played "Waterloo Sunset" to the packed house at the 2012 Olympics' closing ceremony. In 2011 Sanctuary Records began a series of deluxe 2 CD reissues of the classic 1960s-era Kinks albums and in 2010 Ray had a #12 UK hit album with his album of collaborations and duets - with the likes of Bruce Springsteen, Alex Chilton and Metallica -- called See My Friends. And he's been on tour this year with his great backup band, The 88.
And now we get another big treat: a five (count 'em 5!) CD +DVD set comprising the most complete collection of Kinks BBC appearances to date. Now available in pre-order (it is reportedly a "Limited Edition" release) the album sounds amazing.
From The Kinks' official website we learn:
"This release is collated from all of the BBC owned Kinks recordings that still exist in the archive and charts the inexorable rise of the band: from the first steps on the Pye label, to the glory days as one of the greatest acts of all time. Included also is a DVD of the bands sought after appearances on Top of the Popsand the Old Grey Whistle Testa well as concerts from throughout the band's career. This is a first for the band as these recordings have never been available in one place before."
This writer, for one, is unkontrollably excited at the prospekt of getting official releases of the widely bootlegged TV broadcasts of The Kinks at The Rainbow Theater 1972, the Live In Concert 1973 show and appearances on Top of the Pops!. It would have been nice to also get the 1977 Christmas show, but perhaps that will come in a separate release with other shows from the 1977-78 period. Keeping fingers krossed! Visit The Kinks' website to see the complete tracklist, and put in your pre-order for what promises to be an amazing an enlightening package.
Jerry's Back!
Celebrating his 70th birthday, the Garcia estate has begun to open the "vaults" again and continue its great series of archival releases from Jerry's solo career outside The Grateful Dead. In 1980, this writer was in college and had the good fortune to see one of the shows on this quite unique incarnation of The Jerry Garcia Band (JGB) performing at The Landmark Theater in Syracuse NY (I was an usher at the show actually!). It was an amazing show and - as a Deadhead of long standing - has been a favorite show to revisit courtesy of audience recordings circulating among tape trading fans. In recent years I have begun collecting other shows from the tour and discovered that Jerry's playing was uniformly on fire, and in 20/20 hindsight was - compared to earlier and later incarnations of the JGB - arguably at a peak of his musicality. Others obviously agree as a show from just 9 nights later was put out in 2004 via Rhino Records. The JGB of the 1980 tour included John Kahn on bass, Ozzie Ahlers on Keys (who this writer got to meet last year at a trade conference!) and Johnny de Foncesca on drums. On March 1st of the tour the JGB played at the Capitol Theatre in Passaic and the early show was broadcast on WNEW-FM and bits of the later show leaked out in good quality soundboard form including a stunning version of The Beatles' Dear Prudence. SO. . . the prospect of being able to finally hear the show properly mixed (by John Cutler and mastered by Joe Gastwirt) from the original 24-channel multi-track master tapes is tremendously exciting for us Jerry heads. Heck, even if you aren't a huge Deadhead, shows from this tour are on that list of "if you only have one Jerry Garcia Band show, get this one." The show, Garcia Live Vol 1, comes in two formats: $24.99 for a 3 CD set and $14.99 for a download, and will available on November 9, 2012. You can also get it bundled with T-shirts and CD+Download configurations. The digital download is offered in MP3, FLAC, and 24-bit FLAC formats.
Steve Vai: The Story of Light
New Release (Favored Nations)
Fans of the guitar wizard first discovered by Frank Zappa are clearly ravenous as the special edition package of his new album The Story of LIght has sold out already via his website. However, you can order the deluxe CD and DVD package for $24.99 (which includes a digital download version of the album). Vai's virtuosity is in clear evidence, and his willingness to go where no other guitar hero can (most apparent on the truly insane, Beverly McClennan-voiced take on the Blind Willie Johnson's "John the Revelator") is reason enough to pick this up in whatever form you choose.
Dead Can Dance: Anastasis
New Release ([PIAS] America)
The duo of Brendan Perry and Lisa Gerrard return with Anastasis, their first album in 16 years. Interestingly the 4AD legends have posted a bunch of free downloads and you can stream the whole new album. Heck, you can even preview the 2012 tour book they'll be selling at shows.
While the uber-deluxe box set is sold out, there is a sweet looking 2 LP CLEAR VINYL set available that his scribe may well order.
What's that you say? You don't know who Dead Can Dance is? Well get thee to Spotify or YouTube or where ever you listen to your new music to check out their haunting, Middle Eastern-tinged, beautifully moody sound.
Various Artists: Just Tell Me That You Want Me(Fleetwood Mac tribute)
New Release (Concord)
It's funny. I am not a big fan but I would be interested in hearing this new Fleetwood Mac tribute album (from the folks who brought you last year's great Rave On Buddy Holly package) just because it features contributions from the likes of Lee Ranaldo (with J Mascis), Antony, Billy Gibbons & Co., Best Coast, New Pornographers, Marianne Faithfull, Matt Sweeney and Bonnie Prince Billy, Tame Impala, The Kills and MGMT. Seventeen tracks strong, this should be an interesting listen if you are interested in hearing your Fleetwood Mac favorites reinvented for a new generation of listeners and fans.
LATEST VIDEO