New Movies for September 11, 2012: Who's the Fairest of Them All?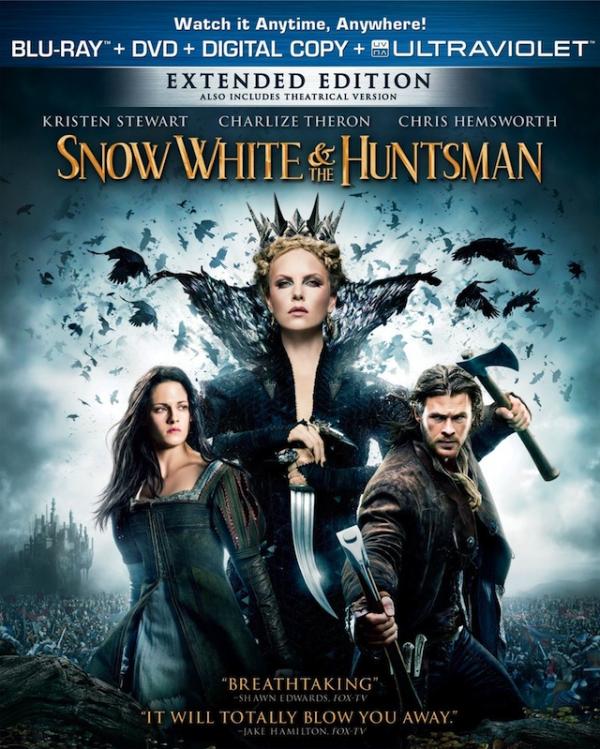 Snow White and the Huntsman
"Mirror, mirror on the wall, who is the fairest of them all?" Snow White - at least in terms of this Blu-ray disc. The film itself is sometimes exciting and engaging, sometimes draggy, but where sound and vision is concerned, it's reference quality.
The Snow White fairytale is retold as a Lord of the Rings-style epic tale of warriors, battles, creatures, and intrigues. There's even a quest, with trekking across all kinds of landscapes (including mountaintops). The Matrix is also referenced with martial arts and Christian mythology -"She's the one." This savior, poisoned by the apple, dies and then is resurrected with a kiss (à la Matrix) and goes on to rescue her world from the evil that's poisoning it.
Snow White and the Huntsman's visually striking 2.35:1 widescreen images are exceedingly clear and bright. Contrast is perfect with a huge range of tones and textures to castle walls and natural-looking skin, the paleness of Snow White (Kristen Stewart) being offset by her raven hair. Some shots are almost b&w, such as one of the milky-pallored, blond Evil Queen (Charlize Theron), her costume's bright whites stark against its deep blacks; tunics and cloaks are equally inky. In the first half, most tones are medievally restrained - pastels against a pale range of browns and grays - whether in castle or forest, but all is extremely distinct and defined. Later, in scenes featuring the lake people, outfits are more colorful, and in the Disneyesque "Sanctuary" (the land of the faeries), the screen lights up with brightness all around and the rich greens of Mother Nature. There's great detail in armor, grass, embroidered patterns, even in darkened rooms and dungeons, going back into the vast in-depth compositions. And there's dimensionality to figures and faces, sets and locations.
The sound is very clear and full, with a wide dynamic range. In the 7.1-channel mix the surrounds and rears are used fairly sparingly but exceptionally well for orchestral music and atmospherics. In battle scenes - there are two good ones, nowhere near up to Peter Jackson or even Ridley Scott's, but nonetheless impressive and involving - you're immersed in the heat of it. The soundtrack plunges you into the center of thunderously galloping horsemen and into the thick of the fighting with weapons and armor clashing all about, or with flights of arrows shooting overhead. When Snow White staggers through the gloomy-doomy Dark Forest under the influence of mushroom spores, it's a very trippy audio experience, on par with that from the narcotic bee stings in the woods of The Hunger Games. The creepiness woozes in and out behind your head - seemingly almost in it. Instruments are well separated with very distinct choir and organ music in the surrounds while strings stream from the front. There are plentiful low frequency moments as when wonderful, hugely bassy waves thunderously crash onto the rocks beneath the castle or kettle drums start pounding around or flaming rocks are hurled down from the castle to thump onto the beach below. Dialogue is icy clear, the Sean Connery-style voice of The Huntsman (Chris Hemsworth) being sonorous and solid. Even the quietest rain is audible and convincing.
Apart from Snow White looking and sounding state-of-the-art fantastic, it has another great treat - the seven dwarfs. Their faces are heavily disguised with prostheses and they're all little people, so it's truly astounding as one by one you recognize that, oh my God, that's . . .. Ian McShane! But he's got the body of a dwarf! And that's Bob Hoskins and there's Toby Jones, Johnny Harris, Eddie Marsan, Ray Winstone, and Brian Gleeson! What the . . .?
Video: 2.35:1. Audio: DTS-HD Master Audio 7.1. Extras: 127-minute theatrical cut and 131-minute extended edition, commentary by director Rupert Sanders, visual effects supervisor Cedric Nicolas-Troyan, and co-editor Neil Smith, PIP with behind-the-scenes footage, Second Screen Experience interactive viewing available via tablet or PC after downloading the pocket BLU app and syncing with playback of the film, "Around the Kingdom: 360º Set Tour," "A New Legend is Born," "Reinventing the Fairy Tale," "Citizens of the Kingdom," and "The Magic of Snow White and the Huntsman" featurettes; DVD and UltraViolet digital copy for streaming/downloading. Studio: Universal.
Spartacus: Vengeance Season 2
In this envelope-pushing, sex-filled, full-frontal nudilicious, violent spectacle from writer/creator/executive producer Steven S. DeKnight, Spartacus, a powerful Thracian warrior who was captured by Romans, enslaved and trained to be a gladiator, has rebelled and helped free his fellow gladiators and slaves. Season 2 begins with Spartacus (now played by Liam McIntyre taking over from the late Andy Whitfield) becoming their leader and, with his band of fighters, terrorizing Capua, thus beginning the fulfillment of his vow to "make Rome tremble." Meanwhile, Seppius (Tom Hobbs), in order to seem like a hero and thus advance his political ambitions, sends mercenaries to crush Spartacus and his ever-expanding band of freed slaves, but to no avail since Spartacus consistently crushes them. The government of the Roman Republic, intent on putting the uprising down at all costs, allows Albinius (Kevin J. Wilson) to send his son-in-law Praetor Claudius Glaber (Craig Parker) and his legions to get the job done. Now Spartacus must struggle to build his followers into an army and hold them together despite divisions within the group. The three-disc set contains all 10 Season 2 episodes of this home theater friendly series.
Video: 1.78:1. Audio: Dolby TrueHD 5.1. Extras: eight commentaries by teams which include DeKnight, executive producer Rob Tapert, director Mark Beesley, VFX Art director Peter Baustaedter, director Jesse Warn, and actors Viva Bianca, Lucy Lawless, Liam McIntyre, Peter Mensah, Craig Parker, Nick Tarabay, and Dustin Clare, extended preview for the third season, "The Making of Spartacus: Vengeance," "On Set with Liam McIntyre," "Burning Down the House: The VFX of Episode 205," "The Legend of Spartacus," "Famous Last Words," featurettes, bloopers, "Spartacus: War of the Damned" teaser. Studio: Starz/Anchor Bay.
The Vampire Diaries: Season 3
In Season 3 of this highly popular, soapy-dopy series takes us back in the day- say five hundred years ago - when Klaus (Joseph Morgan) was an original vampire but his mother cheated on his dad, having an affair with a werewolf (don't you hate when mom does that?) so he becomes a hybrid. But to release his werewolf powers he needs to sacrifice Katherine (Nina Dobrev) who turns herself into a vampire to avoid that fate, seriously pissing off Klaus. Flash forward to the present. Damon (Ian Somerhalder), one of the two vampire siblings central to the melodrama, tries to figure out what the politically powerful Lockwood family is hiding - could they possibly be . . . werewolves!?And then there's Elena (Nina Dobrev, too), a girl who, unsurprisingly, looks nearly identical to Katherine whom Damon and his brother Stefan (Paul Wesley) both loved back in the 1860s when she turned them into vampires. And if that's not enough, Katherine, who still loves Stefan, turns Elena's friend Caroline into a vampire out of spite and she also plans to seek vengeance on all the pretty people of the small town of Mystic Falls, in which these goings on go on. And now Klaus is back and blackmailing Stefan into helping him hunt down werewolves to create more hybrids but discovers he needs Elena's blood to do so. Meanwhile a hundred other different developments occur involving these and many other old and newly-invented-for -the -occasion characters to keep the series moving along.
All 22 episodes appear on this four-Blu-ray disc, five-DVD set.
Video: 1.78:1. Audio: DTS-HD Master Audio 5.1. Extras: commentary on episode seven by executive producers Kevin Williamson and Julie Plec, 18minutes of deleted scenes, "Pages of the Wolf," "The Perfect Love Triangle: Vampires, Werewolves, Witches," and "Her Own Worst Enemy: Elena, Katherine and Nina!" featurettes, "Second Bite" gag reel; DVD and UltraViolet digital copy for streaming/downloading. Studio: Warner.
JCVD
Fading Jean-Claude Van Damme-like action film-star JCVD (Van Damme), is broke and depressed, having lost the battle for custody of his child and a role that would help turn his career around, like Steven Seagal's. And on top of that he's accused of holding up a post office in his native Brussels and thus creating a media frenzy. In this bizarre, extraordinary film by director Mabrouk El Mechri, the only path that's left to the Van Damme doppelganger is to step out of the heist movie drama and enter the Alice in Wonderland world of his crazed mind by going into a demented, heartbreaking, rambling internal dialogue with himself that goes on and on, much to viewers' amazement. The film co-stars Francois Damiens, John Flanders, Mourade Zeguendi, and Zinedine Soualem, but it's really all about Van Damme the actor and suffering human. Imagine what must have been going through Nick Nolte's mind while running naked down the middle of the street during that long day's journey into the night of the soul and you're close.
Video: 2.35:1. Audio: French/English Dolby Digital 5.1, English Dolby Digital 5.1. Extras: deleted scenes. Studio: Phase 4 Films.
The Sound and the Fury
Director Martin Ritt created a host of great films over five decades including Edge of the City (1957), Hud (1963), The Spy Who Came in from the Cold (1965), andThe Front (1976). In 1959 he made this adaptation of William Faulkner's The Sound and the Fury which centers on the Compson family, a once-proud Southern dynasty who're now bowed - impoverished, emotionally and spiritually bankrupt, and desperate. Jason (Yul Brynner), once just the adopted son, is now the ruthless and cruel head of the family ruling over Howard the drunk (John Beal), Bengy, the Lennie-like half-wit (Jack Warden), and Caddy the tramp (Margaret Leighton), a woman who'd been kept by a series of men before she just gave up and returned home. Only Jason and his sister, Quentin (Joanne Woodward), abandoned at birth by her mother, Caddy, have the passion and the fury to assist Jason in rebuilding and restoring the fortunes, pride, and quality of the family. Fury's score by Alex North appears in the film in lossless DTS-HD Master Audio Mono but also comes as an isolated score in DTS-HD Master Audio 2.0.
Video: 2.35:1. Audio: DTS-HD Master Audio Mono. Extras: isolated Alex North score. Studio: Twilight Time.
The Dark Mirror
One of a pair of identical twin sisters has possibly committed a murder, but who can tell which one dunnit? Initially it seems as if it might be Terry (Olivia de Havilland), the victim's girlfriend, who was seen at the location, but maybe it was actually Ruth (also de Havilland) who was the guy's girl? But whoever was dating the dead guy, are they capable of stabbing a person to death? Enter psychiatrist (Lew Ayres) to analytically assist the detective (Thomas Mitchell) by using a series of psychological tests to help in discovering who did the dirty deed. But he'd better hurry up and work out which one's the good twin and which one the bad because, in the course of their treatments, he's gone and fallen for one (or is it two?) of them. In this1946 noirish melodrama, adapted by screenwriter Nunnally Johnson (The Grapes of Wrath, How to Marry a Millionaire) from Vladimir Pozner's original story and directed by Robert Siodmak (The Spiral Staircase, The Killers), de Havilland gives a convincing split performance aided by some very impressive and effective matte-work special effects that allowed the pair to come together and interact. The Dark Mirror's score is by composer Dimitri Tiomkin.
Video: 1.33:1. Audio: DTS-HD Master Audio Mono. Extras: none. Studio: Olive Films.
LATEST VIDEO