New Gear: The Ultimate Insider's Guide to High Performance Home Theater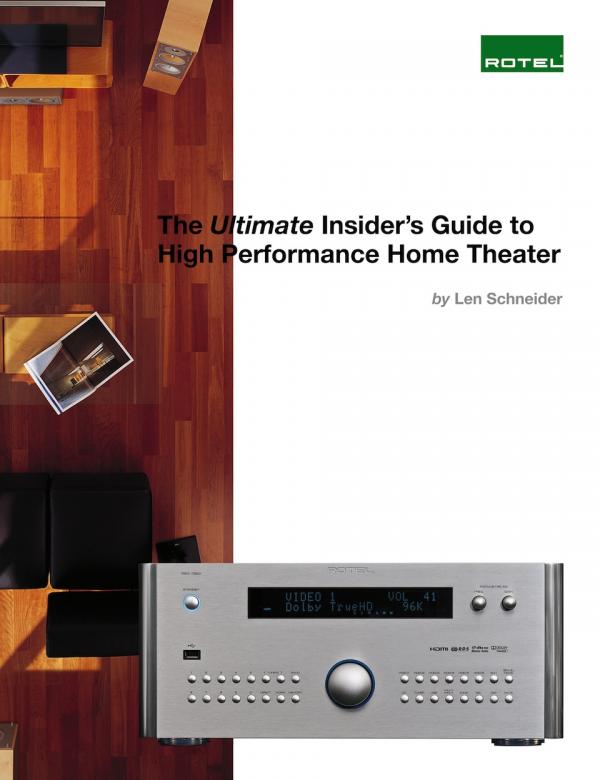 Home theater equipment choice and setup. It's confusing, we know (and we do our best to help). But sometimes it's helpful to have a field guide at your fingertips, and luckily for all of us Rotel's just brought out the third edition of its Ultimate Insider's Guide to High Performance Home Theater, available directly from the company as a downloadable PDF for $19.95.
Written by Len Schneider, a veteran of all facets of the A/V industry who's held positions at Onkyo, Marantz, and Sony, as well as founding A/V consultancy TechniCom, the book takes you through everything from the theoretical (fundamentals of acoustics and digital audio, understanding amplifier and speaker specifications, detangling the capabilities of the various surround formats) through the down-to-earth practicalities of selecting and purchasing gear or planning a custom installation job. (Though the book includes a history of Rotel and an introduction to its product philosophy (and the text is illustrated with Rotel components), it's brand-agnostic in its approach.)
If you're looking to make some upgrades, plan a new system, need a very up-to-date reference, or you're just interested in knowing more about the ins and outs of the current state of audio and video technology, you'll find tons of detailed info on pretty much everything you might need to know to get a better understanding of how it all fits together. Definitely worth a look for the curious.
LATEST VIDEO