New Gear: Definitive Technology SoloCinema XTR Soundbar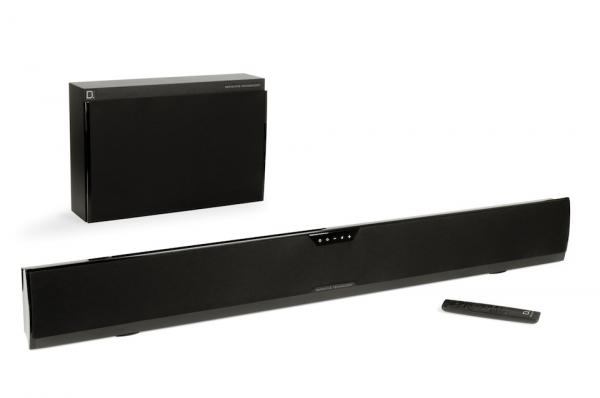 We first heard tell of the new SoloCinema XTR soundbar from Definitive Technology back in January, at the 2012 CES, and the unit impressed us there with the sheer feature set and wattage the Baltimore firm had packed into a 43-inch wide, 2 and 3/8-inch deep profile. The SoloCinema marks Def Tech's move into the active soundbar market (the company produces several passive units in the super-slim Mythos line), and this August you'll finally be able to buy one.
The five-channel, 200-watt soundbar (which ships with a matching wireless 250-watt subwoofer, making it a 5.1 system) is designed to complement today's ever-slimmer TVs - and, of course, to provide superior sonics with minimal fuss. To that end, the SoloCinema XTR provides a trio of HDMI inputs, and decodes a wide variety of surround formats, including Dolby Surround, Dolby True HD, Dolby PLII, DTS, DTS-HD, and, SRS TruSurround. Def Tech's own Spatial Array virtual surround technology does the heavy lifting of producing a 5-channel image from a single speaker.
Surround mode presets for movie watching and movie listening are onboard, as well as a lip-sync error correction feature. These modes are accessible via the included remote (which feature a pattern of concave and convex buttons for easy operation in low-light situations without the distraction of a backlight.
The wireless sub is only 5 3/4 inches deep and just shy of 20 inches tall, making it easy to place (or hide away) most anywhere. And speaking of placement, hardware for wall, stand, or shelf mounting is included.
At $1,999 it's not as inexpensive as some big-manufacturer soundbars and HTiBs, but considering that in a minimal, TV-centered install this should replace an AVR and 5.1 speaker setup (and that it's got Definitive Technology's legacy of high-quality sound behind it), the pricing begins to makes sense.
LATEST VIDEO