New Blu-rays for September 25, 2012: The Name is Bond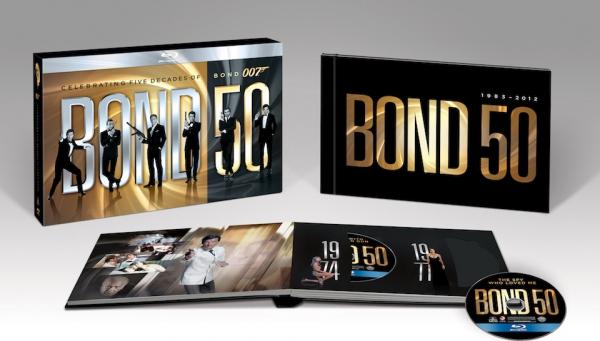 Bond 50
On this, the golden anniversary of the very first film appearance of the suavest, most unforgettable, most cinematically thrilling character ever, all 22 James Bond movies (not including the 1967 comedy version of Casino Royale), from Dr. No (1962) to Quantum of Solace (2008), are finally available on Blu-ray, collected together on this 23-disc set, including nine never-before-on-Blu-ray titles - You Only Live Twice, On Her Majesty's Secret Service, Diamonds Are Forever, The Spy Who Loved Me, Octopussy, A View To A Kill, The Living Daylights, Goldeneye, and Tomorrow Never Dies. Sean Connery, George Lazenby, Roger Moore, Timothy Dalton, Pierce Brosnan, and Daniel Craig - all six actors who have portrayed our 007, all uttering the magical incantation of self-introduction and dispatching arch archvillains and even archer bon mots with aplomb, stand back-to-back, gun in hand so that we can decide who's got the bigger weapon.
Twenty-two stylish adventures in high-def with uncompressed 5.1-channel sound - plus 130 hours of extras. These include worth-watching-over-and-over-again documentary portraits of novelist Ian Fleming, directors Terence Young (Dr. No, Thunderball, From Russia with Love) and Guy Hamilton (Goldfinger, Diamonds Are Forever, Live and Let Die, The Man with the Golden Gun), producers Albert R. Broccoli and Harry Saltzman, composer John Barry, production designer Ken Adam and many others who made these films so special, plus vintage and recent featurettes on weapons, special effects, Bond girls, and every other aspect of the productions, music videos, memorabilia, and more.
On top of all that there's new and exclusive content on a 23rd disc. It includes "The World of Bond" - a montage taking us through the five decades of delightful and delectable Bondian moments that fans have savored, cherished, and re-experienced over the years, optionally accompanied by a pop-up trivia challenge. "Being Bond" samples the talents of the actors who've played the part and studies their interpretations of the role with each thespian reflecting on the impact on life and career of taking on such an iconic, beloved figure. "Skyfall Videoblogs" offers a behind-the-scenes peek, with cast and crew, of the making of the latest license-to-kill film, Skyfall (which will, of course, upon its release, will make this new set incomplete - but that will be the case for the rest of our lives and those of many generations to come).
Those who already have the 13 Bond Blu-ray titles already released and who don't want the entire set can, for a limited time, starting next week on October 2nd, pick up the previously unreleased Diamonds are Forever, Goldeneye, and Octopussy at Wal-Mart, On Her Majesty's Secret Service, You Only Live Twice, and The Spy Who Loved Me at Best Buy, and A View to a Kill, The Living Daylights, and Tomorrow Never Dies at Target - but then you'd, unthinkably, be missing out on that additional disc of extras.
Video: various. Audio: DTS-HD Master Audio 5.1. Extras: 130 hours of commentaries (usually two per film), documentaries, featurettes, deleted scenes, press conferences, Bond song music videos, photo galleries. Studio: The Criterion Collection.
The Avengers 3D
Getting the whole old Marvel-comic character gang together for one big superhero superteam action adventure event written and directed by Joss Whedon (Buffy the Vampire Slayer, The Cabin in the Woods) provided summer blockbuster joy and boffo bonanza box-office, bringing in $1.5 billion worldwide, making The Avengers the third highest earning movie of all time.
When fallen Asgardian god Loki (Tom Hiddleston) and The Other (Alexis Denisof), leader of an extraterrestrial race known as the Chitauri, threaten to subjugate Earth, only Nick Fury (Samuel L. Jackson) of the S.H.I.E.L.D. agencies and his reactivating of the Avengers Initiative, super-summoning Iron Man (Robert Downey Jr.), Captain America (Chris Evans), The Hulk (Mark Ruffalo replacing Edward Norton from The Incredible Hulk, who in turn replaced Eric Bana from Hulk), Thor (Chris Hemsworth), Black Widow (Scarlett Johansson), and Hawkeye (Jeremy Renner) can save the planet.
These talents are joined by Stellan Skarsgård as Selvig, Gwyneth Paltrow as Pepper Potts, and Paul Bettany as the voice of Jarvis.
The Avengers was converted to 3D in post-production. A 2-D is available in a Blu-ray/DVD combo pack, also with a 1.78:1 aspect ratio.
Fans gasping for The Avengers 2 will have to wait until 2015, but in the meantime there'll be a S.H.I.E.L.D. TV movie in 2013; both films will be co-written and directed by Whedon.
Video: 1.78:1. Audio: DTS-HD Master Audio 7.1. Extras: Disney's Second Screen feature, commentary by Whedon, "Assembling the Ultimate Team" and "A Visual Journey" behind-the-scenes featurettes, Marvel One Shot: Item 47 short film, deleted/extended scenes including alternate opening and ending, gag reel, Soundgarden's "Live to Rise" music video in Dolby Digital 2.0; Blu-ray, DVD, and digital copy. Studio: Disney/Marvel.
The Game
Director David Fincher's 1997 thriller The Game was a brilliant follow-up to his sensational debut with Se7en in 1995. Along with Se7en and his third film, Fight Club (1999), The Game helped build Fincher's reputation as a visionary auteur - one he's rarely come so close to living up to since, fine as Zodiac (2007), The Curious Case of Benjamin Button (2008), The Social Network (2010), and The Girl with the Dragon Tattoo (2011) are as superior and intelligent examples of Hollywood filmmaking.
The Game explores, through a mentally topsy-turvying noirish mystery, the psyche and psychology of one man being taken down the rabbit hole of his own life, keeping its audience as off-balance as its lead character. An incredibly wealthy investment banker, Nicholas Van Orton (Michael Douglas), who has been emotionally reserved and coldly self-controlling since childhood (following the suicide of his father at age 48), receives a strange gift (from his screw-up younger brother, played by Sean Penn) for his own 48th birthday - a "life game" organized by a mysterious multi-national company. Van Orton agrees to play, and soon reality begins deconstructing and merging with fiction as he searches to discover the rules of the game and to understand just what the outcome and consequences might be.
The set includes a new, digitally restored Criterion transfer, supervised by Fincher and director of photography Harris Savides, with the original theatrical DTS-HD Master Audio 5.1 and an alternate 5.1-channel soundtrack optimized for home theater viewing that was supervised by sound designer Ren Klyce and Fincher.
Video: 2.40:1. Audio: original theatrical DTS-HD Master Audio 5.1, alternate 5.1-channel soundtrack optimized for home theater viewing. Extras: commentary by Fincher, Douglas, screenwriters John Brancato and Michael Ferris, Savides, production designer Jeffrey Beecroft, and visual effects supervisor Kevin Haug, four film-to-storyboards comparisons, two-minute psychological test film some of which appears in the movie (without sound), alternate ending, gallery of behind-the-scenes footage with optional commentary by Fincher, Douglas, Savides, Beecroft, and Haug, an illustrated booklet featuring an essay by film critic David Sterritt, trailerwith optional commentary by Fincher, teaser with optional commentary by digital animation supervisor Richard "Dr." Baily. Studio: The Criterion Collection.
American Horror Story: The Complete First Season
Just when you thought it was safe to move back into the gothic mansion plagued by unnatural forces. The Harmon family - therapist Ben (Dylan McDermott), his wife Vivien Harmon (Connie Britton), and their teenage daughter, Violet (Taissa Farmiga) - haunted by their traumatic past (Viven's miscarriage and Ben's affair), appropriately move themselves into a Los Angeles haunted house. Initially things seem fine, but then. . . things. . . gradually. . . start. . . slithering down into terrifying madness, a bit. Only by working on the puzzle of the house's past and its former occupants may they alleviate its evil ways. Meanwhile, murder, sex with a ghost, and Vivien being committed to a mental hospital by her own husband all complicate matters, a bit.
This Golden Globe-winning supernatural thriller, created by Ryan Murphy (creator of Nip/Tuck and co-creator of Glee) and Brad Falchuk (co-creator of Glee and writer/executive producer of Nip/Tuck) co-stars Jessica Lange as Constance, the next-door neighbor, Denis O'Hare as Larry Harvey, a mysterious, disfigured burn victim, and Evan Peters as Tate Langdon, a loner teenage patient of Ben's who Violet finds comfort with.
All 12 Season 1 episodes appear in a three-disc set. The second season will feature all new characters and takes place in an insane asylum, a bit.
Video: 1.78:1. Audio: DTS-HD Master Audio 5.1. Extras: commentary on the pilot episode by Murphy, "The Murder House" presented by Eternal Darkness Tours of Hollywood, "Behind the Fright: The Making of American Horror Story," "On the Set of American Horror Story Season One," "Overture to Horror: Creating the Title Sequence," and "Out of the Shadows: Meet the House Ghost" behind-the-scenes featurettes. Studio: 20th Century Fox.
Eating Raoul
Director Paul Bartel's cult sleeper-hit from 1982 is a smart, darkly hilarious, unrestrainedly amoral, slapstick satire of that age of self-indulgence and conspicuous consumption. Bartel and Warhol superstar Mary Woronov play Paul and Mary Bland, a prudish married couple who deplore the Me Generation degenerates who live all around them, swinging and swapping. When one of their neighbors from down the hall gets into their apartment and tries to rape Mary, Paul kills him with a frying pan and takes the considerable amount of money the would-be rapist was carrying.
This, of course, leads to the couple coming up with a plan to attract well-off perverts in order to kill them and take their money to help fulfill the Blands' dreams of opening their own restaurant. And an ad they place in a local magazine soon gets a huge response of leeringly willing "clients" for their new business. On a break from their toil, Paul and Mary meet handsome Raoul (Robert Beltran), who, finding out about their scheme, blackmails them into making him a partner and expands their profit margin by selling the dead bodies to a friend. This mockery of Americas moral relativism and obsession with money comes in a new, digitally-restored Criterion transfer that was supervised by director of photography Gary Thieltges.
Video: 1.78:1. Audio: LPCM Mono. Extras: commentary by screenwriter Richard Blackburn, production designer Robert Schulenberg, and editor Alan Toomayan, archival interview with Bartel and Woronov, gag reel "Cooking Up Raoul," featurette, Naughty Nurse short black-and-white film directed by Bartel in 1969, TheSecret Cinema Bartel's first short film from 1966 plus a nine-minute audio interview with Schulenberg, illustrated booklet featuring an essay by film critic David Ehrenstein. Studio: The Criterion Collection.
Portlandia: Season Two
Portlandia is a sketch comedy series mocking the über-liberal residents of Portland, Oregon, where '90s culture lives on unabated: political correctness remains the arbiter of all behavior, and characters include a feminist book store owner, a militant bike messenger, and a punk-rock couple. Portlandia started as a slew of pieces for the Internet in 2005 called Thunderant, written and performed by Saturday Night Live cast member Fred Armisen and Carrie Brownstein, vocalist/guitarist for the riot grrrl band Sleater-Kinney and supergroup Wild Flag. It developed into a TV series filmed and set in Portland, with stars Armisen and Brownstein - along with head writer and executive producer, Allison Silverman (The Colbert Report), and director Jonathan Krisel - writing the sketches in the first six episodes of Season 1, with Lorne Michaels (Saturday Night Live) executive producing. Portlandia also features Kyle MacLachlan as Mayor, (with real Portland Mayor Sam Adams as Mayor's assistant), and Mikey Kampmann as the Seeker. Guest stars have included Steve Buscemi, Tim Robbins, Gus Van Sant, Aimee Mann, Heather Graham, Sarah McLachlan, Selma Blair, Aubrey Plaza, and a rock band made up of Corin Tucker of Sleater-Kinney, James Mercer of The Shins, Colin Meloy of The Decemberists, and Isaac Brock of Modest Mouse.
All ten episodes of season two appear on this two-disc set.
Video: 1.78:1. Audio: Dolby Digital 2.0. Extras: behind-the-scenes Portlandia Live tour footage, creator commentaries, deleted scene, Brunch Village: The Director's Cut, an excerpt from the new book Portlandia: A Guide for Visitors, "Inside Portlandia" documentary special. Studio: MVD/VSC.
LATEST VIDEO