New Blu-rays for September 18, 2012: Treasure Hunters, Creatures of the Demimonde and the Underworld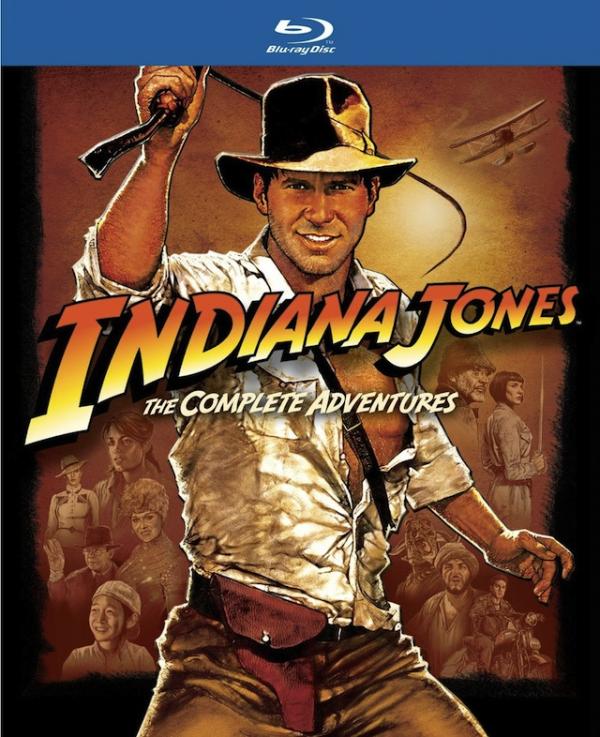 Indiana Jones: The Complete Adventures
In Indiana Jones and the Raiders of the Lost Ark (1981), renowned archeologist, Dr. Indiana Jones (Harrison Ford), is hired by the U.S. Government to find the Ark of the Covenant before Hitler uses its powers to enslave nations. It was director Steven Spielberg, though, who used the entertainment powers of the Ark, beloved by fans and critics alike, to conquer the world. It earned $384 million on its $18 million cost and the age-old formula helped create successful sequels - Temple of Doom (1984), Last Crusade (1989), and Kingdom of the Crystal Skull (2008) - which brought the series' worldwide box office take to $2 billion. All of the Indiana Jones movies appear (along with a disc of extras) on this five-disc set.
For the first three films, cinematographer Douglas Slocombe created artfully-composed 2.35:1 images with wonderful layering. Despite Raiders receiving a complete restoration using 4K scanning of the original negative, the original film is not as technically good-looking as the sequels. Initially at least, content's somewhat indistinct, a bit soft and fuzzy. Colors seem subdued and the range of tones narrow. As the film progresses to the desert dig, well-lit scenes improve everything significantly, particularly saturation.
Last Crusade has a significantly better picture, with more differentiated elements, while Doom and Crystal Skull are just plain dazzling. Contrast in them is excellent, with brighter whites and more saturated colors, particularly in Indian robes and the British officer's scarlet uniform, all without bleeding. Images are crisper and there's great detail, with Indy's stubble, the wrinkled skin of the elephant, and design elements in ornaments all very distinct. Even thread holes on buttons are visible. Figures and faces are extremely solid and rounded and there's a decent sense of space, particularly in Crystal Skull (shot by cinematographer Janusz Kaminski),which has incredible depth so that objects and figures seem to exist in real dimensional rooms. In all films blacks are deep, Jones' civilian double-breasted suits, Gestapo officers' caps and leather coats, and swastikas (set against rich crimsons and bright whites) inky.
All four titles have uniformly open, full, and crisp DTS-HD Master Audio 5.1 soundtracks. John Williams' iconic music flows from the front into the surrounds, sweeping you along until the big Indy theme bursts through and lifts you on high. Very well-separated instrumentation is put into each of the channels, different parts played out in each, the center very different to the left and right. There are convincing effects pans throughout the series, including a jet propelled vehicle blasting from the front to back of the soundstage, Messerschmitt flyovers, and lorries driving across, while well-placed bullets ricochet all around. Atmospherics are convincing, too, so that in a cabin fire in Raiders you're encircled by roaring flames, and in the waterfall sequence in Crystal Skull you're immersed in rapids and thundering white water. Voices are clear, as are quieter background sounds such as trickling water. There's a satisfying snap to Indy's whip - solid and sharp - and a decent crunch to punches. Other low-frequency effects abound, including deep rumblings of closing stone doors and giant rolling boulders, pounding waves, and booming tank gunfire.
All, Video: 2.35:1. Audio: DTS-HD Master Audio 5.1. Extras: "From Jungle to Desert," "From Adventure to Legend," "Indy's Women: The American Film Institute Tribute," "Indy's Friends and Enemies," "Iconic Props in Indiana Jones and the Kingdom of the Crystal Skull," "The Effects of Indiana Jones and the Kingdom of the Crystal Skull." "Adventures in Post Production forIndiana Jones and the Kingdom of the Crystal Skull," "The Stunts of Indiana Jones," "The Sound of Indiana Jones," "The Music of Indiana Jones," "The Light and Magic of Indiana Jones," "Raiders: The Melting Face!" "Indiana Jones and the Creepy Crawlies," and "Travel with Indiana Jones: Locations," featurettes. Studio: Lucasfilm/Paramount.
Les Enfants du Paradis (Children of Paradise)
Les Visiteurs du Soir (The Devil's Envoys)
The sublimely romantic 1945 black-and-white classic of Poetic Realism, Les Enfants du Paradis (Children of Paradise), shot whilst the Germans occupied France during WWII, is considered by some to be the quintessential - and greatest - French film of all time, voted Best Film Ever in a poll of 600 French critics and professionals in 1995. It was directed by Marcel Carné from a screenplay by the brilliant poet Jacques Prévert, who also collaborated with Carné on Drole de Drame, Le Quai Des Brumes, Le Jour se Lève, and Les Visiteurs du Soir.
The first half of its 190 minutes is a depiction of nineteenth-century Paris' theatrical demimonde on the bustling Boulevard du Crime, where dramatic artists perform on the street to to bring in the punters to theatrical productions, fairground sideshows, and mime shows that go on inside the theaters, while teeming con-men, courtesans, pimps, and thieves practice their talents on Parisian locals and tourists. The story centers on the magnificent woman, Garance (Arletty), who four men each come to love, each in a different way. Frederick Lemaitre (the inimitable Pierre Brasseur), a young, ambitious, pretentious actor, loves her sexually, Pierre-François Lacenaire (Marcel Herrand), an intellectual disillusioned with the hypocrisies of society who's become a ruthless thief and murderer, loves her spirit and mind, Count Eduard Montray (Louis Salou), a wealthy aristocrat with powerful friends offering patronage and protection, loves her possessively, and Baptiste, (Jean-Louis Barrault), an artistic mime, loves her romantically. Meanwhile, Nathalie, an actress (María Casares), is in love with Baptiste. In the second part, a few years later, each of the characters has fulfilled their potential and become successful, their overlapping competing for Garance's love and favors leading to conflict between them.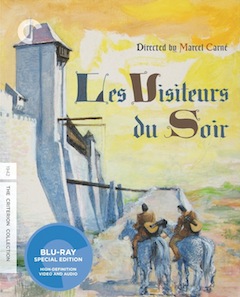 In Les Visiteurs du Soir (The Devil's Envoys) from 1942, a black-and-whaite fantasy set in the late 15th century, Carné and Prévert (along with co-writer Pierre Laroche) tell the story of two minstrels who arrive at a castle where one (Arletty) bewitches both Baron Hugues (Fernand Ledox) and the Baron Renaud (Marcel Herrand), fiancé of Hughes' daughter Anne (Marie Déa), who the other minstrel (Alain Cuny) seduces. Why? Because they are actually emissaries of the Devil (Jules Berry), who have been dispatched to spread heartache. Only true love can thwart their mission and save the day. The Blu-ray transfer of Paradis is based on Pathé's 2011 major restoration while Soir's is a Criterion digital restoration.
Both, Video: 1.37:1. Audio: French LPCM Mono. Paradis, Extras: commentaries by film scholars Brian Stonehill and Charles Affron, video introduction by director Terry Gilliam, "Once Upon a Time: Children of Paradise" new documentary on the making of the film, new visual essay on the design of Paradise by film writer Paul Ryan, "The Birth of Children of Paradise" 1967 German documentary, restoration demonstration, booklet featuring an essay by film scholar Dudley Andrew and excerpts from a 1990 interview with director Marcel Carné. Visiteurs, Extras: "L'aventure des "Visiteurs du Soir," documentary on the making of the film, booklet featuring an essay by film critic Michael Atkinson. Studio: The Criterion Collection.
The Devil's Advocate
The Devil is in the details - and practicing law is all about being able to bend the details of a case to one's will to achieve a desired outcome, rather than to serve the true spirit of justice. In the business-booming 1990s, the future looks bright forfor an ambitious young criminal defense lawyer, Kevin Lomax (Keanu Reeves), who's arrived, wife Mary Ann (Charlize Theron) in tow, from Gainesville, Florida to the big Apple to work at a fancy law firm. He impresses the Svengali-like head of the firm, John Milton (Al Pacino at his most "Whoa!"), who promotes him and offers him the world - since his business spans it. And then there's Christabella Andreoli (Connie Nielsen), the beauty at work whom Lomax finds himself incredibly tempted by. In hiis last case he'd successfully defended a grade school teacher accused of molesting a student - though he'd gradually discovered his client was guilty. But his first big case for the firm - a brutal triple homicide that the firm's Trump-like real estate client (Craig T. Nelson) has been arrested for - soon leads Lomax towards the dark side, employing ethically questionable means in his defense. In this delightfully titled supernatural thriller from 1997, director Taylor Hackford entertainingly questions the morality, values, and sense of entitlement of the rich and famous players of the era. This is the 144-minute unrated director's cut.
Video: 2.39:1. Audio: DTS-HD Master Audio 5.1. Extras: director's commentary, 47 minutes of deleted scenes with optional commentary. Studio: Warner.
Supernatural: Season 7
When his father, John, disappears, Sam Winchester (Jared Padalecki) must give up a future in law to join his previously estranged brother, Dean (Jensen Ackles), to search for dad - in the process going back to fighting the evil angels, beasts, demons, and bad things from urban legends throughout the land that John had been hunting.
At the end of Season 6, Archangel Raphael and the newly anointed King of Hell, Crowley (Mark A. Sheppard), had joined forces to open a gateway to Purgatory, a plot that was thwarted by the angel Castiel (Misha Collins). But Castiel opens the gateway himself, in the process absorbing all the souls, and then declares himself the new God who shall punish all the wrongdoers in the world.
In Season 7, Sam and Dean must take on the formidable shape-shifting Leviathans who have escaped from Purgatory, where God had locked them away for eternity. They have the power to inhabit the bodies of different people in the world and, led by wealthy entrepreneur Dick Roman (James Patrick Stuart), they are building a facility to cure cancer - but only in order to preserve mankind as a food source. The brothers, with the help of Castiel, must find a way to destroy the Leviathans and save the human race.
This supernatural horror series was created by Eric Kripke (Revolution) and all 23-episodes of Season 7 appear on this four-disc set.
Video: 1.78:1. Audio: DTS-HD Master Audio 5.1. Extras: "Supernatural Creature Fest Drive-In" 61 minutes of featurettes, "Washboards & Tommy Guns: Scoring 'Time After Time After Time'" discussion of music, deleted scene for eight episodes, Jensen Sings outtake, gag reel; UltraViolet digital copy for streaming/downloading. Studio: Warner.
The Cabin in the Woods
Hey guys. Let's go to a scarily remote cabin in the woods. . . It'll be fun! Produced and co-written by Joss Whedon and Drew Goddard - who also directed and collaborated with Whedon on Buffy the Vampire Slayer - the genre-bending The Cabin in the Woods is a brilliant flummoxer that turns the slasher horror genre conventions against themselves. True, the characters - Dana Polk (Kristen Connolly), Jules Louden (Anna Hutchison) and her boyfriend Curt Vaughan (Chris Hemsworth), Holden McCrea (Jesse Williams), and Marty Mikalski (Fran Kranz) - go down into the cellar, discover a diary containing an incantation that raises a family of zombies who begin killing them off one at a time, but . . . there's also a laboratory where two technicians, Sitterson (Richard Jenkins) and Hadley (Bradley Whitford) control everything and manipulate the cabin's inhabitants with mood-altering drugs that make them dumb and horny. Only stoner Marty, who's immune to their effects, can save them. Supposedly Whedon and Goddard wrote the screenplay in three days - presumably in a cabin in the woods with the help of plentiful mind-altering drugs - and they throw in invisible forcefields, an underground installation, a temple with large stone tablets, and creatures who live beneath who threaten to destroy the world, along with plenty of dry, dopey Whedon humor. And it has a 7.1-channel sound!
Video: 2.40:1. Audio: DTS-HD Master Audio 7.1. Extras: "It's Not What You Think" PIP bonus view mode, commentary with Goddard and Whedon, "We are Not Who We Are: Making The Cabin in the Woods," "The Secret Secret Stash," "An Army of Nightmares: Makeup and Animatronic Effects," and "Primal Terror: Visual Effects" featurettes, "Wonder-Con Q&A"; digital copy for downloading. Studio: Lionsgate.
Macbeth
Every man is a king in his castle, especially with an ambitious wife behind him. Nobleman Macbeth (Orson Welles), egged on by his scarily ruthless wife (Jeanette Nolan), commits foul deeds to ascend to the throne, encouraged - and also plagued - by a devilish prophecy which bodes tragic consequences. The canny actor-director, aided by cinematographer John L. Russell, built his small-budget 1948 take on the Scottish play on visually stunning compositions filled with fog, shadows, distorted rock outgrowths, and strikingly ancient outfits, all combined in extreme camera angles to bring out the strangeness of Shakespeare's primitive, pagan 11th-century setting and to echo Macbeth's deteriorating mental state. The approach, of course, also helped hide the tackiness of the cheap sets. Witheringly derided at the time for its condensation of Shakespeare and Welles' intense, almost trippy theatrical performance and staging, it was reedited, redubbed, and rescored during its several staggered releases but still maintains, like so many of his put-upon productions, the inimitable brilliance of Welles' genius. The cast includes Dan O'Herlihy as Macduff, Roddy McDowall as Malcolm, Edgar Barrier as Banquo, Erskine Sanford as Duncan, and Alan Napier as Holy Father.
Video: 1.37:1. Audio: DTS-HD Master Audio Mono. Extras: none. Studio: Olive Films.
LATEST VIDEO