New Blu-rays for October 9, 2012: Aliens Here and Elsewhere, Murderous People and Plants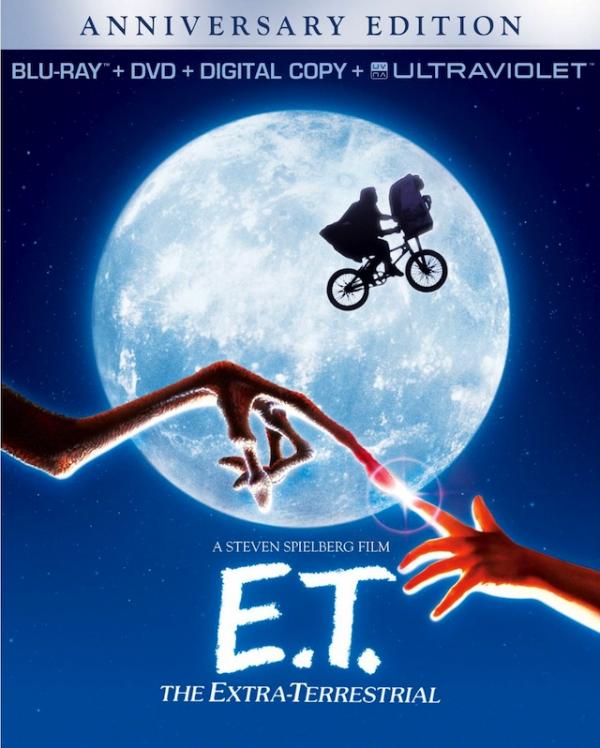 E.T.: The Extra-Terrestrial
Only Steven Spielberg could take a simple story based on an imaginary friend he'd created after his parents' divorce and turn it into the highest box office earner ever (a title it held for the next decade), pulling in $793 million worldwide in 1982 dollars. In it, a lonely, imaginative boy, Elliott (Henry Thomas) befriends an alien accidentally left behind on Earth and, with the help of his older brother, Michael (Robert MacNaughton), and younger sister, Gertie (Drew Barrymore), sets out to help the visitor return home. Spielberg's highly personal little film went on to be nominated for nine Oscars, winning four for visual effects, sound effects editing, sound, and music. And all those areas of excellence come together on this reference-quality 30th Anniversary Edition Blu-ray.
Its original-theatrical-cut 1.85:1 picture is very bright and clear, even in the many night scenes. There's great depth to the film-like images with very distinct trees going all the way back into the woods and figures solid and rounded, the plentiful detail making visible the hairs in a bunny's fur, peach-fuzz on faces, and texture to tarmac and floor planks. Colors are solid and rich, in a very light and airy suburban-naturalism.
The DTS-HD Master Audio 7.1 soundtrack makes full use of the extra channels to immerse you in John William's sweeping and involving score with well-separated instrumentation. And when the iconic E.T. theme surges up on all sides, you're carried away on it like a flying kid. It's a very big, open, and full sound with a wide dynamic range, both the threatening bassy roar of cars arriving and the snap of the crushed undergrowth being crisp. It's a real cinema theater sound.
And the set includes a large collection of substantial, in-depth extras.
Video: 1.85:1. Audio: DTS-HD Master Audio 7.1. Extras: "Steven Spielberg and E.T.," "A Look Back," "The 20th Anniversary Premiere," and "The Music of E.T." featurettes, "The Evolution and Creation of E.T. 50 minute documentary, E.T. reunion, "The E.T. Journals" 54 minutes of original behind-the-scenes footage, deleted scenes, six image galleries; DVD and UltraViolet digital copy for streaming/downloading. Studio: Universal.
Prometheus 3D
Prometheus, the action science-fiction horror thriller from producer-director Ridley Scott, was originally conceived by Scott and fellow producer-director James Cameron as a prequel to Scott's 1979 action science-fiction horror thriller, Alien. But then, many years later, Scott decided to take the story in a different, more original direction. An archeologist couple in the late 21st century, Elizabeth Shaw (Noomi Rapace) and Charlie Holloway (Logan Marshall-Green), discover a star map and, since similar drawings have also been found amongst the remains of several other ancient Earth cultures, they conclude that it's obviously a clue to the origins of mankind and an invitation from our alien ancestors to come visit - and bring a bottle. So gazillionaire Peter Weyland (Guy Pearce), head of Weyland Corporation, builds the space vessel Prometheus (named after the Titan who was supposed to have created Man out of clay) and finances an expedition to follow the scientific treasure map. The mission is headed up by Meredith Vickers (Charlize Theron) and overseen by Weyland's android eyes and ears, David (Michael Fassbender). Arriving on a distant world they discover a highly advanced civilization and gradually realize that in seeking the origins of the human race, they have created a threat that could cause the extinction of it.
Prometheus was shot using 3D cameras throughout!
The film was written by Damon Lindelof (Lost, Star Trek Into Darkness) and Jon Spaihts (The Darkest Hour) and co-stars Patrick Wilson, Idris Elba, Rafe Spall, and Sean Harris.
This four-disc set has a 7.1-channel mix and a considerable quantity of extras; a two-disc 2D set is also available, with DVD and digital download copies too, but with limited extras.
Video: 2.40:1. Audio: DTS-HD Master Audio 7.1. Extras: commentary by Scott, commentary by Spaihts and Lindelof, "The Peter Weyland Files" and "The Furious Gods: Making Prometheus" featurettes, deleted scenes including an alternate opening and ending, "Prometheus: Weyland Corp Archive Second Screen App," "Enhancement Pods," archive, pre-visualisations, screen tests; 2D Blu-ray, DVD, and digital copy for downloading. Studio: 20th Century Fox.
Little Shop of Horrors (1986)
Little Shop of Horrors is director Frank Oz's 1986 screen adaptation of the dark-humored hit 1982 off-Broadway rock horror musical comedy by composer Alan Menken and writer Howard Ashman. It tells of a nerdy skid-row florist's clerk, Seymour (Rick Moranis), who holds a torch for his co-worker, Audrey (Ellen Greene), but doesn't have the courage to explain to her how he feels. Nonetheless, through following the advise of a talking, man-eating plant which he names Audrey II (voiced by baritone lead singer for the Four Tops, Levi Stubbs), he gradually gains the confidence to approach her. Only problem is that in the mean time the plant craves human flesh and blood in order to survive and soon vocalizes (through song) its demands, which threaten Seymour's humanity and could eventually threaten the human race itself.
The film co-stars Steve Martin, Vincent Gardenia, Billy Murray, James Belushi, John Candy, and Christopher Guest. The mix of early-1960s-style doo-wop, Motown, and rock and roll songs - the musical was based upon Roger Corman's micro-budget, 1960 cult film - includes "Little Shop of Horrors," "Skid Row (Downtown)," "Somewhere That's Green," and "Suddenly, Seymour." A number not in the original off-Broadway show, "Mean Green Mother from Outer Space," was nominated for an Oscar for Best Original Song.
This set includes both the theatrical and the director's cut, which features a twenty-minute alternate ending in which the plant eats Audrey and Seymour and then, having grown enormous, goes on a destructive rampage through New York City. Unsurprisingly, response to the downer ending proved unpopular with test audiences and so it was replaced with a more upbeat one for the theatrical release.
Video: 1.85:1. Audio: DTS-HD Master Audio 2.0. Extras: both the theatrical and director's cuts of the film, "Frank Oz and Little Shop of Horrors: The Director's Cut" introduction, director's commentary, "A Story of Little Shop of Horrors" behind-the-scenes featurette, deleted scenes and alternate ending. Studio: Warner.
Dial M for Murder 3D
Strangers on a Train
In these two Alfred Hitchcock classics, the master of suspense returns to one of his favorite themes that also appears inI Confess, North by Northwest, The 39 Steps and many of his other films: the transference of guilt.
In Dial M for Murder (1954), director Alfred Hitchcock's screen adaptation of Frederick Knott's popular stage drama, ex-tennis pro Tony Wendice (Ray Milland) plots to murder his wife, Margot (Grace Kelly), to revenge himself on her for having had an affair with another man (Robert Cummings) and in order to hold onto her inheritance. And he intends to get away with it by getting an unscrupulous, near-stranger (Anthony Dawson) to do the job while Wendice creates an alibi for himself elsewhere.
This 3D transfer is not a conversion from 2D because the film was actually shot in 3D. Warner's Motion Picture Imaging division restored it using 4K scanning of the original camera negative and convergence fixes to ensure perfect alignment. Warner has 15 classic 3D titles and now that the technology has been perfected, they're planning to release them all, starting with Murder followed by House of Wax 3D. The two-disc set also includes a 2D version.
Adapted from the Patricia Highsmith novel by Raymond Chandler and Czenzi Ormonde, Hitchcock's thriller, Strangers on a Train (1951), tells of two complete strangers whom fate brings together. Guy Haines (Farley Granger), a professional tennis player, finds himself sitting in a carriage across from Bruno Anthony (Robert Walker), a psychotic spoiled socialite with a mother fixation who tells him about his theory on how to commit the perfect crime: By swapping murders with someone you don't know, each would have no discernable motive or connection to their victim. Anthony, for example could get rid of Haines' vindictive wife who refuses a divorce and in return Haines could bump off Anthony's domineering father. So, of course, when Haines gets off the train thinking that they've just had a nice, hypothetical chat, Anthony disembarks convinced that they've made a deal to carry out the criss-cross killings - and intends to hold Haines to the pact.
This is the extended preview version of Train including "adult content" that was cut for the theatrical release in the U.S. (where there are presumably no adults).
Murder, Video: 1.85:1. Audio: DTS-HD Master Audio Mono. Extras: "Hitchcock and Dial M" and "3D: A Brief History" featurettes, 1954 theatrical trailer; Blu-ray copy.
Train, Video: 1.37:1. Audio: DTS-HD Master Audio Mono. Extras: commentary by Peter Bogdanovich, Joseph Stefano, Andrew Wilson, Joe Alves, Peter Benchley, Tere Caruba, Whitfield Cook, Katie Fiala, Richard Franklin, Hitchcock, Patricia Hitchcock O'Connell, Kasey Rogers, Richard Schickel and Mary Stone, "Strangers on a Train: A Hitchcock Classic," "Strangers on a Train: The Victim's P.O.V.," "Strangers on a Train: An Appreciation by M. Night Shyamalan," "The Hitchcocks on Hitch," "Alfred Hitchcock's Historical Meeting" featurettes. Studio: Warner.
Magical Mystery Tour Collectors Box Set
In September 1967 The Beatles started on their third film, but this one was conceived and was to be directed by the boys themselves. It was to be an alternative to live stage shows and in keeping with the experimental direction the band had been going in at that time, the film was largely unscripted and the narrative kept very loose. In it The Beatles charter a tour bus and go on a bizarre trip with an odd collection of fellow passengers as well as tour director Jolly Jimmy Johnson (Derek Royle), tour hostess Miss Wendy Winters (Mandy Weet), and conductor Buster Bloodvessel (Ivor Cutler). The film, obviously, co-stars Ringo Starr, Paul McCartney, John Lennon, George Harrison, as well as Victor Spinetti and was directed by Bernard Knowles, Lennon, McCartney, George Harrison, and Starr. The 53-minute television film that resulted was aired on BBC1 - unfortunately in black-and-white - on 26 December 1967 and was initially highly unpopular amongst critics and audiences alike. In the 45 years since, however, it has become better liked by Beatles' fans and an essential addition to their collections because of the six songs included in it - "Magical Mystery Tour," "The Fool On The Hill," "Flying," "I Am The Walrus," "Blue Jay Way," and "Your Mother Should Know" - and because people are now more familiar and comfortable with its surreal-style sketch segments and humor.
Magical Mystery Tour was restored at Eque Inc., the company that handled the much-acclaimed restoration of Yellow Submarine. The soundtrack work was done at Abbey Road Studios by Giles Martin and Sam Okell.
The set includes an impressive collection of extras including never before released footage, deleted scenes, commentary by McCartney, new interviews with McCartney, Starr, and other members of the film's cast and crew.
A two-disc collectors box set includes a book and two mono 45RPM Eps, and a DVD copy.
Video: 1.33:1. Audio: DTS-HD Master Audio 5.1, PCM Stereo. Extras: commentary by Paul McCartney, "The Making of Magical Mystery Tour," "Ringo the Actor," "Meet the Supporting Cast," new edits of "Your Mother Should Know," "Blue Jay Way," and "The Fool on the Hill" featuring footage not seen in the original film, "Hello Goodbye" as featured in Top of the Pops in 1967, Nat's Dream - a scene directed by John featuring Nat Jackley not used in the film, poet Ivor Cutler performing "I'm Going in a Field" in a field not used in the film, the filming of Traffic acting out their 1967 hit single "Here We Go Round The Mulberry Bush" commissioned by The Beatles for possible inclusion in Magical Mystery Tour but was not used in the final edit, eight-Page Booklet; DVD. Studio: Capitol.
What Ever Happened to Baby Jane?
Has-been ex-vaudeville child star Baby Jane Hudson (Bette Davis) lives acrimoniously with her sister Blanche (Joan Crawford) who, as grown-up Baby Jane's star was on the wane in the 1930s, became a glamorous movie star (much to the chagrin of Jane)- until Blanche had a mysterious, crippling automobile accident. Hmmmm. . . Anyway, when Jane now discovers that Blanche is planning to sell the decaying Hollywood mansion they haunt together in near-isolation and have Jane committed for being a semi-demented alcoholic, Jane begins to systematically intimidate, abuse, and terrorize her helpless, wheelchair-bound sister.
Directed by Robert Aldrich (Kiss Me Deadly), this 1962 darkly comic, camp psychological thriller, based on a novel by Henry Farrell, was nominated for four Oscars, winning for Norma Koch's Costume Design, Black and White. This 50th Anniversary Edition comes with a fine set of vintage extras including a BBC profile of Crawford, a TNT one on Davis, and the "Bette and Joan: Blind Ambition" featurette which tells of the off- and on-set battles between the Hollywood queens, one of which ended in Davis kicking Crawford in the head.
Video: 1.78:1. Audio: DTS-HD Master Audio Mono. Extras: commentary by Charles Busch and John Epperson, "Bette and Joan: Blind Ambition" featurette, TNT's 1994 "All About Bette," BBC's "Film Profile: Joan Crawford," "Behind the Scenes with Baby Jane" vintage featurette, excerpt from the 12/20/1962 episode of "The Andy Williams Show," Dan-O-Rama Movie Mix trailer. Studio: Warner.
LATEST VIDEO