New Blu-rays for October 16, 2012: Oddballs, Revolutionaries, and Avatar 3D at Last
Moonrise Kingdom
Starting out with a great, bizarre opening scene of kids listening to Leonard Bernstein's "The Young Person's Guide to the Orchestra," Moonrise Kingdom, directed by Wes Anderson (The Royal Tenenbaums, Rushmore, Fantastic Mr. Fox), tells the tale of two troubled on-the-lam 12-year-olds living on an island off the coast of New England during the summer of 1965. Sam (Jared Gilman) is a scout who, because his foster parents find him weird, is going to be returned to Social Services (Tilda Swinton), who intends for him to receive electro-shock treatment. Suzy (Kara Hayward) is a mixed-up girl with rage issues who's always getting into trouble. Camping out in the wilderness together, they fall in love, leading her parents Walt (Bill Murray) and Laura (Frances McDormand), Police Captain Sharp (Bruce Willis), Scout Master Ward (Edward Norton), and the scout troupe to come after them. Meanwhile, a hurricane is brewing off-shore. . .
Moonrise Kingdom is nostalgically old-fashioned, intimate and twee, with deadliest-pan humor, eccentric in its ultra-normalcy. The film captures the over-maturely serious childrens' highly dramatic view of their world while adults - acted by big stars thrilled to be playing (or overplaying) intensely ordinary, madly square characters - are just as hyped about normal occurrences with highly-emoted banalities about bland events. It's as if Quentin Tarantino had made a film for kids (much as Bernstein made records for them) with Tim Burton, under the influence of Jean-Luc Godard. In fact the film's central pair is reminiscent of Pierrot le Fou's couple who run away from civilization on the road to nowhere, complete with the jump-cut reading of letters.
The transfer has fine contrast, with hyper-rich, dated-looking colors filling the coy, bizarrely symmetrical hipster hyperrealist cinematography. The Narrator (Bob Balaban), dressed like an elf in super saturated scarlet coat and pointy green cap, dispenses wisdom against a grey rock background with a wide range of tones. Although there's depth to the sharp and detailed compositions, there's not much volume, and figures aren't too solid, often flat.
In the clear, open DTS-HD Master Audio 5.1 soundtrack, gorgeous rousing and ephemeral classical music (mostly Benjamin Britten but also Franz Schubert, Mozart, and others), Hank Williams, Françoise Hardy, and various oddball pop tunes play mainly in the front channels until we begin building towards a melodramatic crescendo of violent storm and the instruments move off the wall and into the surrounds with lots of drumming along with lightning, rain, and flash-floods all around.
Co-written by Anderson and Roman Coppola, Moonrise Kingdom also co-stars Jason Schwartzman as a scout master and Harvey Keitel as a grand scout master.
Video: 1.85:1. Audio: DTS-HD Master Audio 5.1. Extras: three three-minute featurettes: "A Look Inside Moonrise Kingdom," "Welcome to the Island of New Penzance," and "Set Tour with Bill Murray"; DVD and UltraViolet digital copy for streaming/downloading. Studio: Universal.
Avatar 3D
Finally, for the first time ever, Avatar 3D (2009) - previously only available as part of a 3D hardware bundling offer from Panasonic - is having a commercial release!
Director James Cameron, our own modern-day Cecil B. DeMille, provides an awe-inspiring spectacle set in an astonishingly convincing futuristic 3D world in which old-fashioned, one-dimensional characters run around in a creaky, predictable plot, albeit one with mindbending concepts. But, what the hell! It still makes for a kick-ass home theater experience.
Wheelchair-bound Marine Jake Sully (Sam Worthington) is recruited to step into his recently deceased brother's avatar - a human-alien hybrid he can telepathically control while his real mind and body's in a state of suspended animation - to work on planet Pandora as part of a scientific mission. But he's also secretly also on a mission for the military to infiltrate the primitive but noble Na'vi alien nation to provide intel so that an evil military-industrial group can invade to get control of the rare and precious resource known as Unobtaniumin. And suddenly you feel like you're watching an old Tarzan movie where the Ape Man's unknowingly helping ruthless white traders kill all the natives and steal the elephants' ivory tusks.
The hugeness and technical challenges of Cameron's project, shot with his own personally-developed 3D camera system to create a breathtaking digital world, are quite staggering and provide a thrilling combination of theme-park ride and experience of having actually entered a video game, all to an Oscar-nominated score by James Horner (Glory).
Avatar co-stars Sigourney Weaver, Zoe Saldana, Stephen Lang, and Michelle Rodriguez. It was shot in a 2.39:1 aspect ratio but cropped to 1.78:1 by Cameron, who believes that's the best aspect ratio for 3D films.
Video: 1.78:1. Audio: DTS-HD Master Audio 5.1. Extras: None; DVD. Studio: 20th Century Fox.
Looney Tunes: Volume Two
This three-disc Platinum Collection contains 50 digitally restored and remastered Looney Tunescartoons from 1936-1966 - both the most popular and the lesser known: A Wild Hare, Wabbit Twouble, Buckaroo Bugs, Rabbit Fire, Buccaneer Bunny, Rabbit Seasoning, Ali Baba Bunny, Duck! Rabbit, Duck!, Show Biz Bugs, Drip-Along Daffy, The Wise Quacking Duck, My Little Duckaroo, What Makes Daffy Duck?, Barbary-Coast Bunny, Book Revue, Tortoise Beats Hare, Deduce, You Say, Tortoise Wins By a Hare, Porky in Wackyland, Rabbit Transit, You Ought to Be in Pictures,Porky's Hare Hunt, Porky in Egypt, Hare-Um Scare-Um,Back Alley Oproar, Prest-O Change-O, Little Red Rodent Hood, Elmer's Candid Camera, Canned Feud, Bugs Bunny Gets the Boid, Gift Wrapped, The Bashful Buzzard, Birdy and the Beast, The Lion's Busy, Home, Tweet Home, Strife with Father, Going! Going! Gosh!, An Itch in Time, Zipping Along, A Horsefly Fleas, Scent-Imental Romeo, Hollywood Steps Out, The Foghorn Leghorn, Page Miss Glory, The High and the Flighty, Rocket-Bye Baby, Tabasco Road, Russian Rhapsody, Mexicali Schmoes, and Dough Ray Me-Ow.
Plus, amongst the extras, you get vast quantities of other animations, commentaries, featurettes, and documentaries by and about the talents involved in creating the animations.
Video: 1.37:1. Audio: Dolby Digital Mono. Extras: music-only tracks for Ali Baba Bunny, The High and the Flighty, TabascoRoad,Mexicali Schmoes, Rabbit Fire, Rabbit Seasoning, Drip-Along Daffy, and Barbary-Coast Bunny, music and effects tracks forScent-Imental Romeo and Duck! Rabbit, Duck!, 37 cartoon-length commentaries, "Leon Schlesinger: The Merrie Cartoon Mogul," "Man From Wackyland: The Art of Bob Clampett," "Bosko, Buddy and the Best of Black and White," "Looney Tunes Go Hollywood," "Looney Tunes Go to War!," "A Conversation with Tex Avery," "Forever Befuddled," "King-Size Comedy: Tex Avery and the Looney Tunes Revolution," "Tex Avery: King of Comedy," "Friz on Film," "Real American Zero: The Adventures of Private Snafu," featurettes, "Toonheads: The Lost Cartoons" and "The World of Leon Schlesinger" (includes Bosko, The Talk-Ink Kid, Sinkin' in the Bathtub, Crying for the Carolines, It's Got Me Again, Haunting Gold title sequence, and Schlesinger Production Christmas Party Reels, all with optional commentary), "Friz at MGM" (includes Poultry Pirates, A Day at the Beach, The Captain's Christmas, Seal Skinners, and Mama's New Hat), "A Hunting We Will Go: Chuck Jones' Wabbit Season Twilogy" (includes Rabbit Fire, Rabbit Seasoning and Duck! Rabbit, Duck!," "The Best of the Rest of Tex" (includes The Blitz Wolf, Red Hot Riding Hood, Screwball Squirrel, Swift Shift Cinderella, King-Size Canary, Bad Luck Blackie, Senor Droopy, Wags to Riches, Symphony in Slang, Magical Maestro, and Rock-A-Bye Bear), "Private Snafu" (includes Coming!! Snafu, Gripes, Spies, The Goldbrick, The Home Front, Rumors, Snafuperman, and Censored), and "Mr. Hook" (includes The Good Egg, The Return of Mr. Hook, and Tokyo Moves) documentaries, and 28-page booklet. Studio: Warner.
Olive Films Roundup
A whole slew of titles come out this week from Olive Films, some all-time classics, some lesser-known titles from big-name auteurs.
Letter From an Unknown Woman
A shy, romantic girl (Joan Fontaine) falls in love with her handsome, impoverished concert pianist neighbor (Louis Jourdan). And so begins her lifelong passion for the man who never remembers her as he lives his dashing decadent life of wasted opportunities and unrealized talents. It's only when he receives a letter from an unknown woman and flashes back to relive the times he unthinkingly was sharing with her - the timid girl who helped him out when he was poor, the young woman he had a brief affair with (who unbeknownst to him had his baby), the older woman willing to abandon her child and husband for love of him - that he realizes what he could have had and could have been. But too late . . . all too late. This 1948 classic strudel set in circa-1900 Vienna was directed by Max Ophüls (Lola Montès, The Earrings of Madame de. . . ., La Ronde).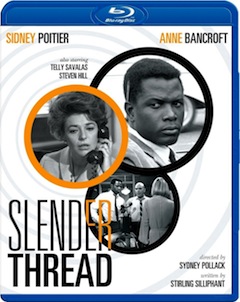 The Slender Thread
In the 1965 directorial debut of Sydney Pollack (The Firm, Tootsie, Three Days of the Condor), Alan (Sidney Poitier), a Seattle college student manning the phones one night at a crisis clinic, receives a call from a woman named Inga (Anne Bancroft) who claims to be calling to out of a need to talk to someone, having just taken a lethal overdose of pills. While he speaks to her he tries, with the help of a psychiatrist (Telly Savalas) and a detective (Ed Asner), to find out about Inga in order to locate her. Over the course of the conversation, he learns more about her life and why she wants to end it.
The Sterile Cuckoo
An oddball teenager, Pookie Adams (Liza Minnelli), leaving her small-town home for her first year in college, meets uptight biology student Jerry Payne (Wendell Burton) and, despite their differences and personal oddities, they become friends, and then more, as they explore their own developing paths and the pitfalls that awaited love in the 1960s.
Cuckoo (1969), adapted by screenwriter Alvin Sargent from the 1965 novel by John Nichols, was directed by Alan J. Pakula (Sophie's Choice, All the President's Men, Klute). Minnelli was nominated for an Oscar for Best Actress in a Leading Role and Fred Karlin and Dory Previn for Best Music, Song (for "Come Saturday Morning").
Three Secrets
In this 1950 film from director Robert Wise (The Sound of Music, West Side Story, The Day the Earth Stood Still), a five-year-old boy is the sole survivor of a devastating plane crash in the mountains. When the newspapers reveal that he had previously been adopted and that the crash occurred on his birthday, three women separately begin to wonder whether he's their own biological son, for each had given one up for adoption five years ago. As they wait to together for the rescue team to answer their questions, each of them thinks back . . . back. . . . One (Eleanor Parker) had an affair with a Marine during the war and became suicidal, another (Patricia Neal) gave birth after divorcing the child's father, and the third, a chorus girl (Ruth Roman) got involved with a wealthy guy and was dumped once she became pregnant (and just finished doing five years five years in prison for shooting the rat dead). Who's child is it - and what'll they do about it?
Up Tight!
Up Tight! is an update of The Informer, John Ford's 1935 film about Irish revolutionaries, this one set in the black-power world of Cleveland circa 1968. Tank (Julian Mayfield), though upset and enraged by the assassination of Martin Luther King, Jr., refuses to go along with his buddies from a militant political group, The Committee, on a heist to boost guns and ammunition. During the robbery a guard is shot dead and Johnny (Max Julien), the leader, is identified. An informant (Roscoe Lee Browne), working for the Cleveland police, tries to trick Tank into telling Johnny's whereabouts and Tank, heavily conflicted about the whole scene and generally losing it, squeals on his friend to the fuzz himself, thus becoming a threat to the group.
Uptight was directed in 1968 by Jules Dassin (Rififi, Topkapi, The Naked City) and co-starred Ruby Dee, Raymond St. Jacques, Jason Bernard, and Frank Silvera. The soundtrack was performed by Booker T. & the MGs.
Woman and Three Secrets, Video: 1.37:1. Thread, Video: 1.85:1. Cuckoo and Up Tight! , Video: 1.78:1. Audio, all: DTS-HD Master Audio Mono. Extras on all: None. Studio: Olive Films.