New Blu-rays for November 6, 2012: Sunset Boulevard, Ready for its Close-Up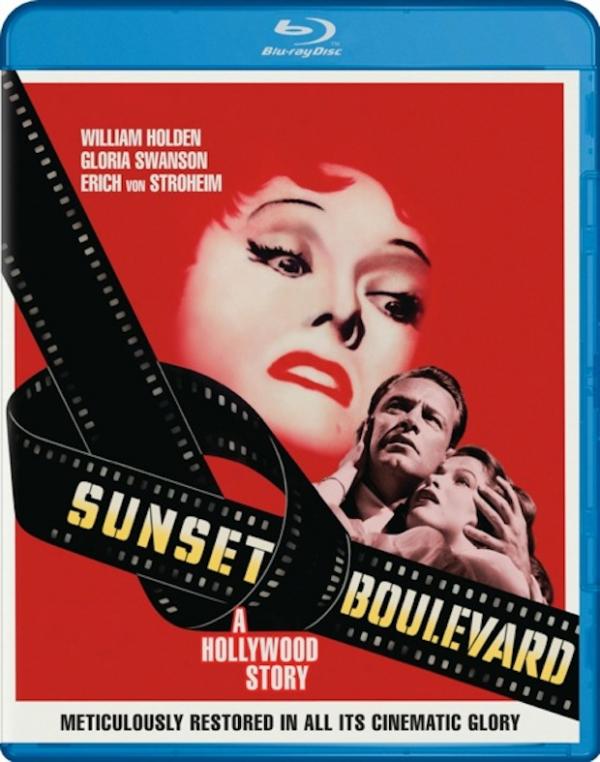 Sunset Boulevard
After having his latest screenplay rejected by the studios, screenwriter-on-the-skids Joe Gillis (William Holden), chased by a pair of repo men, pulls into an open garage in what seems to be an abandoned, run-down mansion. It turns out to be owned and occupied by faded silent-screen star Norma Desmond (Gloria Swanson), her butler-chauffer (and former director) Erich von Stroheim, and her recently-deceased monkey. Desmond is a self-absorbed has-been who desperately clings to the past - when she was BIG - and lives on denial, fuele by desperately delusional dreams of a major comeback.
On learning that Gillis is a screenwriter, she offers to hire him to stay on to edit and polish his script so that she can send it to her old director, Cecil B. DeMille, and have him shoot her in her comeback role as Salome. Down and desperate, Gillis agrees to do the job, intending to play her along, living in luxury in her gloomy mausoleum of a home until he can get back on his feet financially. Unfortunately, the longer Gillis stays, the more attached Norma becomes and he soon realizes he's the new monkey. Guided by Holden's deliciously droll, disillusioned narrational voiceover, the bizarre tale by writer/director Billy Wilder enthralls with its delicious Hollywood gothic-noir atmosphere, lighting, and cinematography, unforgettable characters and performances, and brilliantly witty, dry humor and dialogue.
Although none of the original nitrate materials of this 1950 classic survive, the restoration was made from a Library of Congress-owned acetate 35mm duplicate negative vintage print created at the time of Sunset Boulevard's release - the restoration team having conducted a worldwide search for the earliest generation elements - as a primary source for scanning at 4K, tonally balanced using extensively researched documentation in order to remain faithful to the look created by Wilder and cinematographer John Seitz. No original sound materials survived either, but the work done on the film's original mono soundtrack in 2001–2002 was expanded upon by the incorporation of a variety of digitally cleansed source elements (including optical soundtrack negatives, music and effects tracks, and partial music master materials) into the final restored soundtrack.
Sunset Boulevard was nominated for 11 Oscars, including Best Picture, winning for Best Writing, Best Art Direction and Best Music. It was named by the American Film Institute the 12th greatest American movie ever.
Video: 1.37:1. Audio: Dolby TrueHD Mono. Extras: commentary by Ed Sikov, author of "On Sunset Blvd: The Life and Times of Billy Wilder," "Sunset Boulevard: The Beginning," "Sunset Boulevard: A Look Back," "The Noir Side of Sunset Boulevard," "Sunset Boulevard Becomes a Classic," "Two Sides of Ms. Swanson," "Stories of Sunset Boulevard," "Mad About the Boy: A Portrait of William Holden," "Recording Sunset Boulevard," "The City of Sunset Boulevard," "Franz Waxman and the Music of Sunset Boulevard," "Behind the Gates: The Lot," "Paramount in the '50," and "Edith Head: The Paramount Years" featurettes, Morgue Prologue script pages, "The Paramount-Don't-Want-Me Blues" deleted scene, Hollywood location map, production and publicity gallerie. Studio: Paramount.
The Amazing Spider-Man 3D
Based on the Marvel comic book by Stan Lee (also executive producer) and Steve Ditko, this rapid remake/retake action adventure, The Amazing Spider-Man, retells the character's origin story, last experienced in director Sam Raimi's Spider-Man film series.
Peter Parker (Andrew Garfield), who was abandoned by his parents as a boy and raised by his Uncle Ben (Martin Sheen) and Aunt May (Sally Field) is now a bullied, nerdy, science-whiz, high-school student outsider, who yearns from afar for beautiful classmate Gwen Stacy (Emma Stone; her father, Captain Stacy, is played by Denis Leary). Parker one day discovers a mysterious briefcase that belonged to his father, setting him off in search of the facts behind the disappearance of his parents. It contains a complex algorithm that leads him to Oscorp and Dr. Curt Connors (Rhys Ifans), research scientist and his father's former partner, who, having lost an arm, is working on a process to regrow human tissue much as reptiles can. . . Hunting about in a restricted area of the Oscorp facility, Parker is (of course) bitten by a special genetically-modified spider and finds himself endowed with strange new powers including super-strength and speed, the ability to stick to surfaces, and heightened instincts. Soon, Parker feels the need to create a spidey suit and mask (natch) and a ultra-tensile "biocable" spider-web spinner to allow him - following Uncle Ben's shooting - to go out looking for vigilante vengeance as Spider-Man! Which, of course, eventually leads him to a falling out with Connors' grouchy alter-ego, The Lizard, who threatens the entire city as super-villains have a tendency to. Connors tries to disperse his serum across the city and make everyone into lizards, but only manages to do so in the Wall Street area.
Director Marc Webb had previously only made the rom-com-dram (500) Days of Summer, and so was probably hired - and given the aid of screenwriters James Vanderbilt, Alvin Sargent, and Steve Kloves and storywriter James Vanderbilt - to creates a more psychologically-driven story, and together they've succeeded in bringing a more realistically complex Parker/Spider-Man to the screen - along with all the must-have kick-ass, swinging special effects that make home theater such a fun way to absorb lessons on the human condition.
A 2D version, which includes DVD and UltraViolet digital copies, is also available. In addition to the extras in this three-disc set, the Blu-ray 3D set contains an image progression reel and a "3D 101 with Marc Webb" featurette, providing a look at the 3D techniques used for the film and allowing viewers to toggle through three scenes from the film at different levels of 3D.
You can also get a limited edition 3D gift set of the above with two figurines.
Video: 2.39:1.Audio: DTS-HD Master Audio 5.1. Extras: commentary by director Marc Webb and producers Avi Arad and Matt Tolmach, "Rite of Passage: The Amazing Spider-Man Reborn" 90 minute documentary made up of seven behind-the-scenes featurettes including "Development and Direction," "Casting," "Costumes," "On Location: LA," "On Stage: Sony Studios," "On Location: NY," and "Post Production and Release," stunt rehearsals, deleted scenes, 16 pre-visualization sequences, archives gallery, image progression reel and the "3D 101 with Marc Webb" featurette, "Amazing Spider-Man Second Screen App" which can be used with the Sony Tablet™ S, Xperia Tablet™ S and iPad including interviews, storyboards, concept art, pre-visualization sequences, and stunt rehearsals; 2D Blu-ray, DVD, and UltraViolet digital copy for streaming/downloading. Studio: Sony.
Rashomon
A priest (Minoru Chiaki), a woodcutter (Takashi Shimura), and a commoner (Kichijirô Ueda) take shelter from the storm inan abandoned gatehouse on the outskirts of Kyoto. Both the priest and the woodcutter are witnesses in a criminal case - a rape and murder involving a bandit (Toshirô Mifune) - and have testified to a judge. But both men are unsure about the facts, having only witnessed part of what went on, nor do they know the relevance or the sequence of the events, or the motives behind the crimes, and they're unsure as to the veracity of the statements of the people involved. The commoner, like us, sits in silence, listens to the discussion and tries to understand.
Widely considered one of the greatest films ever made, Akira Kurosawa's Rashomon (1950) is a fascinating drama that examines the nature of perception and truth and how our reality is shaped by our beliefs and expectations. Kurosawa uses oft-contradictory flashbacks and striking imagery - black-and-white cinematography by Kazuo Miyagawa - that communicates the complexity and multifaceted nature of any situation or experience, any small piece of life, in the process revolutionizing film language.
Video: 1.37:1. Audio: Japanese LPCM Mono with new English subtitles. Extras: commentary by Japanese-film historian Donald Richie, video introduction by director Robert Altman, excerpts from The World of Kazuo Miyagawa documentary on Rashomon's cinematographer, A Testimony as an Image sixty-eight-minute documentary featuring interviews with cast and crew, archival audio interview with actor Takashi Shimura, original and rerelease trailers, illustrated booklet featuring essay by film historian Stephen Prince, an excerpt from director Akira Kurosawa's "Something Like an Autobiography,"; and reprints ofRashomon's two source stories by Ryunosuke Akutagawa, "Rashomon" and "In a Grove." Studio: The Criterion Collection.
360
360 is a dramatic thriller inspired by Arthur Schnitzler's circuitous 19th-century classic play La Ronde (made into a classic film in 1950 by Max Ophüls). In it, Brazilian director Fernando Meirelles (City of God, The Constant Gardener) and screenwriter Peter Morgan (The Queen, Frost/Nixon) examine the intertwined lives, bodies, and interactions of a range of characters of very different backgrounds and personalities - played by Anthony Hopkins, Jude Law, and Rachel Weisz, Jamel Debbouze, Lucia Siposova, Johannes Krisch, and Moritz Bleibtreu - to paint a portrait of sexual and romantic life across Europe and America in the 21st century. An attempt by an British businessman in Vienna to cheat on his spouse sets off a series of consequential events that flow out to Paris, London, Bratislava, Rio, Denver and Phoenix in a dazzling, multi-faceted, multi-perspective narrative played against the interconnected historical background of the international banking crisis, the ever-expanding ripples that became the Arab Spring, the Euro-Zone chaos, and the possibility of global pandemics.
Video: 2.39:1. Audio: DTS-HD Master Audio 5.1. Extras: "Coming Full Circle: The Making of 360" and "AXS TV: A Look at 360" featurettes, behind the scenes picture-in-picture comparisons. Studio: Magnolia.
Guys and Dolls
In this the 1955 adaptation of the hit 1950 Broadway musical based on Damon Runyon's stories - book by Jo Swerling and Abe Burrows, music and lyrics by Frank Loesser with orchestrations by Alexander Courage, Nelson Riddle, and others - Nathan Detroit (Frank Sinatra), who runs the best floating crap game in town, desperately needs to find a new safe location for the players because the heat, in the form of Lieutenant Brannigan (Robert Keith), is big time crawling all over him and getting up in his business. The Biltmore garage would work, but for that Nathan needs to come up with a thousand bucks, so he gets the idea of persuading big-time gambler Guy Masterson (Marlon Brando) to take on a bet against him that would be a sure loser: taking a pretty but professionally prim virgin missionary (Jean Simmons) to Havana, the sin city of the era, to have a good time, and seduce her. Masterson takes the bet but he hadn't gambled on the missionary unwittingly making him fall in love with her.
The film is filled with memorable numbers and marvelous performances, including two perfect ones by supporting players recreating their roles from the Broadway production - Vivian Blaine, who sings "Adelaide's Lament" about her post-nasal drip from never being able to get Nathan to the altar, and Stubby Kaye who plays Nicely-Nicely Johnson and permanently owns the showstoppers "Fugue for Tinhorns" and "Sit Down, You're Rockin' the Boat." In addition choreographer Michael Kidd and director Joseph L. Mankiewicz stage and shoot terrifically spirited and dynamic dance sequences helping make Guys and Dolls one of the great fifties' musical comedy films.
Video: 2.55:1. Audio: DTS-HD Master Audio 5.1. Extras: "The Goldwyn Touch," "From Stage to Screen" on the adaptation from Broadway to Hollywood including the exclusion of certain songs such as "My Time of Day" and "A Bushel and a Peck," and "More Guys and Dolls Stories" featurettes, musical performances feature allowing you to see the songs back-to-back. Studio: Warner.
Patton
Co-written by Francis Ford Coppola and Edmund H. North, but directed by Franklin J. Schaffner (Planet of the Apes) after the studio fired the film's original director - Coppola (two years before he made The Godfather) - Patton (1970) is nonetheless a brilliant and pitch-perfect biography of one of the most extraordinary and controversial military leaders of World War II. George C. Scott was born to play Patton, and his no-holds-barred performance helps create a well-rounded, three-dimensional portrait of this charismatic and ruthlessly glory-seeking, larger-than-life figure, the consummate man of action, but also a philosopher, historian, and brilliant strategist. Instead of the traditional biopic dealing with the making of the man, Patton has no scenes of his life other than those involved in combat, planning, and his sometimes magnificent, sometimes notorious and disastrous public life, and through these episodes Patton manages to make a great war film, too.
After America's defeat at the battle of Kasserine Pass in World War II - their first tussle with the Germans - a new commanding officer is sent in who can whip the green troops into shape and deliver a daringly conceived, incisive fight to German Field Marshall Erwin Rommel (Karl Michael Vogler) - General George S. Patton. The film goes from his confrontation with Rommel in North Africa and follows him and his troops through his campaigns in Tunisia, Italy, France, and Germany, focusing on his rivalry with British General Bernard "Monty" Montgomery (Michael Bates) during the Sicily campaign and as they fight their way through Europe.
Patton has been remastered since its Blu-ray release in 2008 and is presented here in an immensely improved picture, all the detail having been brought out from the 65mm film it was shot in.
Patton won seven 1970 Oscars Best Picture, Director, Writing, Sound; Film Editing; Art Direction-Set Direction; and Best Actor (Scott). The film co-stars Karl Malden, Michael Bates, and Edward Binns and has a masterful score by composer Jerry Goldsmith.
A DVD of extras is included.
Video: 2.20:1. Audio: DTS-HD Master Audio 5.1, Dolby Digital 5.0. Extras: introduction by Coppola, director's commentary, "History Through the Lens: Patton - A Rebel Revisited," "Patton's Ghost Corps," "The Making of Patton," production still gallery accompanied by Jerry Goldsmith's complete musical score; behind-the-scenes still gallery accompanied by an audio essay on the historical Patton. Studio: 20th Century Fox.
LATEST VIDEO